---
Keep it all in one place.
You could skip a trip to the gym after you run to and from the backyard barbecue for all the little things you need in the kitchen—ingredients, utensils, cutting boards, knives, spatulas, pots, pans, and the list goes on and on. You could enjoy yourself among the company of your friends much better if you had Camp Chef's Patio Cart already holding everything you need. Not only does it have multiple storage options for all the aforementioned items, as well as a spot for large propane tanks, but it's also sized to fit camping stoves as large as Camp Chef's pizza oven.
Details
Portable patio cart rolls from the kitchen to the patio
Stainless steel face stays strong in truck beds
Top pull-out drawer and two folding side shelves
Top surface sized to fit Camp Chef Italia Artisan Pizza Oven
Item #CCF002D
Material

[face] stainless steel

Dimensions

[top] 16 x 25.5in [height] 34in [side shelf] 16 x 12.5in

Recommended Use

casual

Manufacturer Warranty

limited
Reviews
Q&A
Overall Rating
3.5 based on 13 ratings
What do you think about this product?
View
Selecting an option will reload the available reviews on the page
5 out of 5 stars
July 3, 2022
I love it
I love this it's very sturdy and matches my smoker. I read the reviews but I disagree it's good quality. Now I'm going to buy a griddle that fits on top so exciting

Originally reviewed on campchef.com
2 out of 5 stars
March 20, 2022
Garbage!
The holes were not milled accurately making assembly challenging. One of the fold up side tables broke within one week. The whole thing started rusting within 1 mo despite purchase of the proper vinyl cover. Garbage!

Originally reviewed on campchef.com
1 out of 5 stars
December 27, 2021
Made wrong. Flimsy drawer
It was welded together wrong, the screw holes didn't line up, the drawer doesn't fit and keeps falling out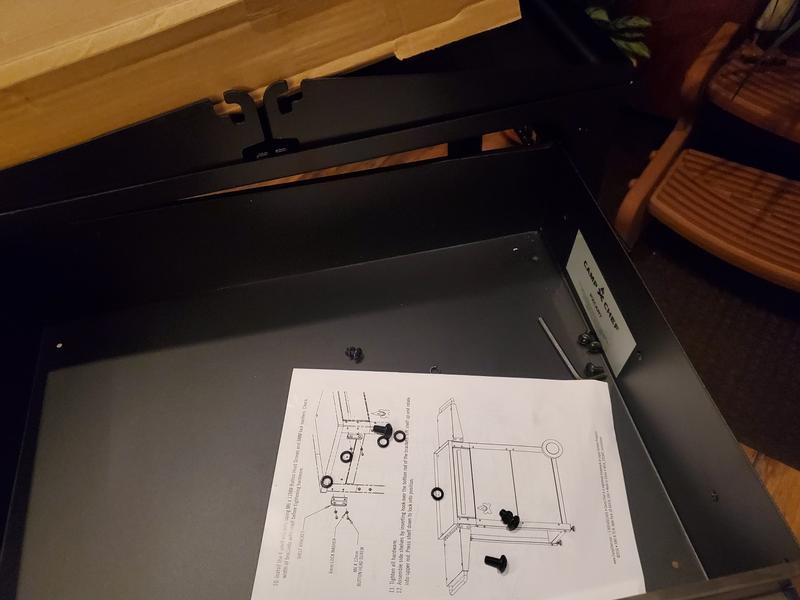 Originally reviewed on campchef.com
5 out of 5 stars
May 4, 2021
Nice piece of equipment
Well made easy to assemble and fits your pizza oven perfectly.

Originally reviewed on campchef.com
4 out of 5 stars
September 15, 2020
Great, sturdy cart!
It is a welcomed addition to my Versatop grill. It was nice to get it off the picnic table. The cart is solid and we'll built. I'm waiting for the cover to come back in stock.

Originally reviewed on campchef.com
4 out of 5 stars
August 16, 2020
Sturdy cart with one Death Star flaw
After reading the reviews I decided to buy this cart. I ordered it 2 weeks ago and it arrived with a damaged front draw. I emailed customer service with pictures of what was damaged. They sent out replacement parts and they arrived a week later. So, I just finished putting it together and here's my list of pros: 1. Side shelves are sturdy as I pushed down on them with considerable force. 2. Overall the cart is well made and up to my expectations of Camp Chef based on everything I've bought from them during COVID-19. 3. Moves easily and feels like it won't tip over. List of cons: 1. The Death Star flaw is the drawer. It feels flimsy and that's what broke on mine when it was shipped to me. The brackets and slide mechanism seem cheap and not up to Camp Chef standards. I'm hoping when using the draw that it doesn't fall out of the sliders. I worry that putting utensils in it will cause it to fall out of the sliders. 2. The instructions do not contain a parts list and some of the washers were missing and I had to buy replacements from the local hardware store. 3. The instructions were not clear as there were 2 different types of screws/bolts. The instructions referred everything as if the same screw/bolts were used. 4. The instructions were not clear on the axel as there's a nut and washer. In the instructions it only mentions the nut. 5. The replacement parts didn't come with any instructions on how they were to be used. You have to figure it out as the assembly instructions don't mention the sliders.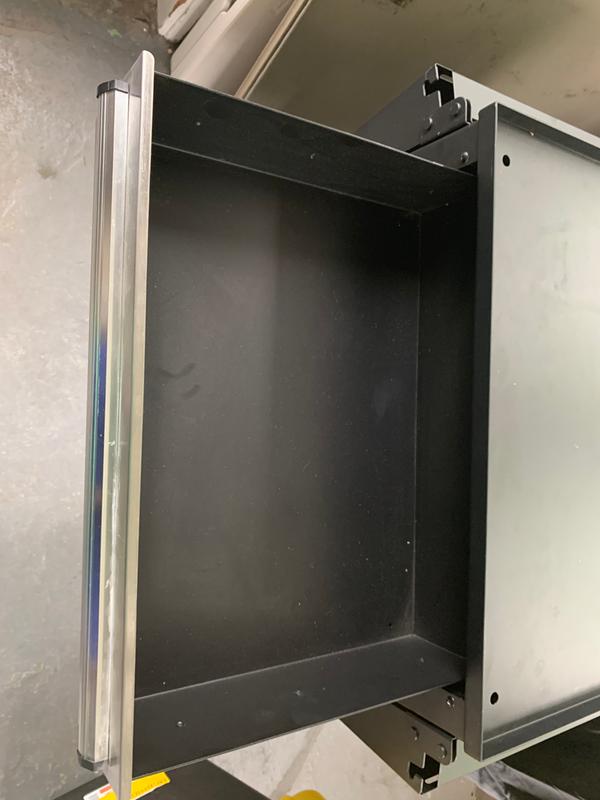 Originally reviewed on campchef.com
1 out of 5 stars
May 29, 2020
Not Happy
Received the cart today, so excited to get it set-up so we could set-up the pizza oven we bought earlier in the year. WE COULD NOT complete set-up because the box contained 3 left and 1 right leg. UGH, now we have to gather everything back up and wait until they can send us another one (after we register)

Originally reviewed on campchef.com
5 out of 5 stars
May 20, 2020
Great value.
Very solid built and makes grilling and smoking more convenient.

Originally reviewed on campchef.com
3 out of 5 stars
April 13, 2020
Want to like it but too many flaws
I bought this through an authorized retailer. I bought the cart, the cutting board and the cover. In short, the cart does not seem to match typical Camp Chef quality. The fold out 'wings' are about half the thickness of the ones on my Woodwind Smoker. The frame was slightly bent right out of the box, to the point that the drawer would not open. I was able to bend it to correct the issue. One of the threaded holes had bad threads and just strips the bolts (I tried two bolts with the same result). One of the most disappointing and surprising aspects is that the hole for the propane tank is on the right hand side of the cart instead of the left side. From what I have seen, all propane take connections on Camp Chef grills/smokers are on the right side of the grill/smoker, so it would only make sense to 'mount' the propane tank on the left side of the cart. In the end, the cart will work for the intended purpose but I am disappointed with the quality and design.

Originally reviewed on campchef.com
5 out of 5 stars
January 25, 2020
Excellent cart!
We received the Camp Chef Artisan Pizza Oven for Christmas and wanted a stand to host it. We found this one on the Camp Chef site, read the reviews, and jumped in. The cart arrived when promised. It is rather heavy and awkward in the box, but it is packed very well and there was no damage from shipping. The assembly took about 45 minutes (yes, I do read the instructions...) and was very straightforward. The cart is very solid and supports the oven very well. The side shelves could seat a little more firmly, but they are sturdy and serviceable. I particularly like the leg levelers - my patio is comprised of pavers and the levelers ensure that the cart/oven will not wobble on the uneven surface. I am very pleased with the cart!

Originally reviewed on campchef.com
Need Expert Advice?
Our Gearheads Can Help
Do the utensil hooks for the side shelves come with?
What size cutting board fits the patio cart
is this made to fit the italia artisan oven?  will it fit right in?
can I put Camp Chef Ranger II Blind Stove on the top of this cart? it is big enough?
do they have a cover for this cart # pzcart if so what the model number Thanks
Will the oven fit on it as well? 
California Proposition 65
This product can expose you to chemicals including Lead which is known to the State of California to cause cancer and birth defects or other reproductive harm. For more information go to www.P65Warnings.ca.gov.