Mountain Series Rainier 2X Two-Burner Cooking System
---
Why We Like The Mountain Series Rainier 2X Two-Burner Cooking System
Camp Chef provides us with all we need to enjoy cool mornings filled with mounds of our favorite plates of food. The Rainier 2X Combo grill and stove give plenty of room to dish out plates of bacon and pancakes on its non-stick griddle, while at the same time heat up our coffee for our friends before they even wake up.
Details
Weekend camp cooking system that's great for groups
Aluminum and stainless steel design is sturdy and durable
Included non-stick aluminum griddle makes for less cookware
Updated regulator enhances propane flow for better efficiency
Lid morphs into 3-way wind barrier for hassle-free cooking
Matchless ignition lights up fast to get your day going
Stainless steel drip tray makes clean up easy
Item #CCFZ03O
Material

[griddle, grill] non-stick coated aluminum, [drip tray] stainless steel

Fuel Type

propane

Heat Output

[total] 18,000BTU, [tube] 8,000BTU, [burner] 10,000BTU

Piezo Ignition

yes

Includes

regulator adaptor for 1lb propane cylinder, durable carry bag, non-stick aluminum griddle

Dimensions

[cooking] 23.5in x 12in, [griddle] 14in x 9in, [cooking area] 267sq in, [system height] 4in

Claimed Weight

16lb

Manufacturer Warranty

1 year
Reviews
Q&A
Overall Rating
4 based on 11 ratings
What do you think about this product?
View
Selecting an option will reload the available reviews on the page
5 out of 5 stars
October 13, 2023
Very nice little stove and grill/griddle
I'm very impressed with the flame control. The griddle works great. Am able to fit both 10 and 12 inch Dutch ovens with feet on burner with grill/griddle removed. The burner puts out lots of heat to cook in Dutch oven prior to baking with coals not on the stove of course. Wind control is also great . I am used to my old Coleman propane stove. Pizio lighter worked well. Very happy with this stove ! Maybe not the arrangement of stove grill/griddle for everyone but perfect for me!

Originally reviewed on campchef.com
5 out of 5 stars
October 25, 2022
Perfection
The Rainier stove is great! There is so much you can do with it between the stove top and the gridle; the possibilities are endless! It is exactly what I have been looking for and is perfect for all car camping adventures!

Originally reviewed on campchef.com
5 out of 5 stars
July 25, 2022
Factory Freak
I read many reviews some good some bad. I spent 30 years in design so I understand manufacturing & assembly pretty well. All parts must have tolerances because nothing can be made perfectly. Parts can go together tight, louse or just right. back in the muscle car era the term Factory Freak (FF) was coined and represented a car that was much faster than identical cars off the assembly line. Statistics say that one out of 100,000 cars would by chance go together with perfect tolerances and end up balanced & blue printed and about 30% more horse power. Well my stove is a FF. All the parts fit perfectly, the flame controls have precise adjustment & allow simmering or intense heat. I made a frittata in a covered cast iron pan on the single burner which required extremely low flame. Those worried about having enough heat should refer to the review where the gentleman melted his grill. Aluminum melts at about 1200 degrees & that should be plenty of heat for most cooking tasks. The griddle & grill work great with surprisingly even heat across the entire surface. The stove cleans up easily even with drippings in the bottom. This stove is perfect for any cooking task. The only criticisms are: 1. the grill storage pocket in the bag is too tight; 2. It would be nice to have a place to stow the regulator tube; 3. Adjustable feet would be lovely. I plan to put rivnuts in the 4 holes in the bottom for screw in legs. All in all a great product. Plus you can always use it to cast aluminum figurines, just save your beverage cans.

Originally reviewed on campchef.com
4 out of 5 stars
July 4, 2022
Good but a few quirks
I bought this for the griddle and single burner combo. Exactly the combination I was looking for. These 2 features perform flawlessly. Cooking is easily controlled and cleanup is simple. The griddle handles food for 2 or 3 easily and the stovetop boils water, etc in short time. Now for the cons: I immediately bought the hose and adapter to utilize the camper lp or bigger lp bottles. Why this is not included is beyond me. It all works fine with the small green bottles but I hate the stiff neck, awkward adapter they connect to. Secondly, the grill is useless. If actually used as a grill the grease, etc has no good place to go and is a mess to clean. Also, the grill portion didn't last at all. The attached picture shows how the coating completely burned off. Now this is not a deal killer for me because I have no intention of using the grill anyway. I am perfectly satisfied with the griddle and burner.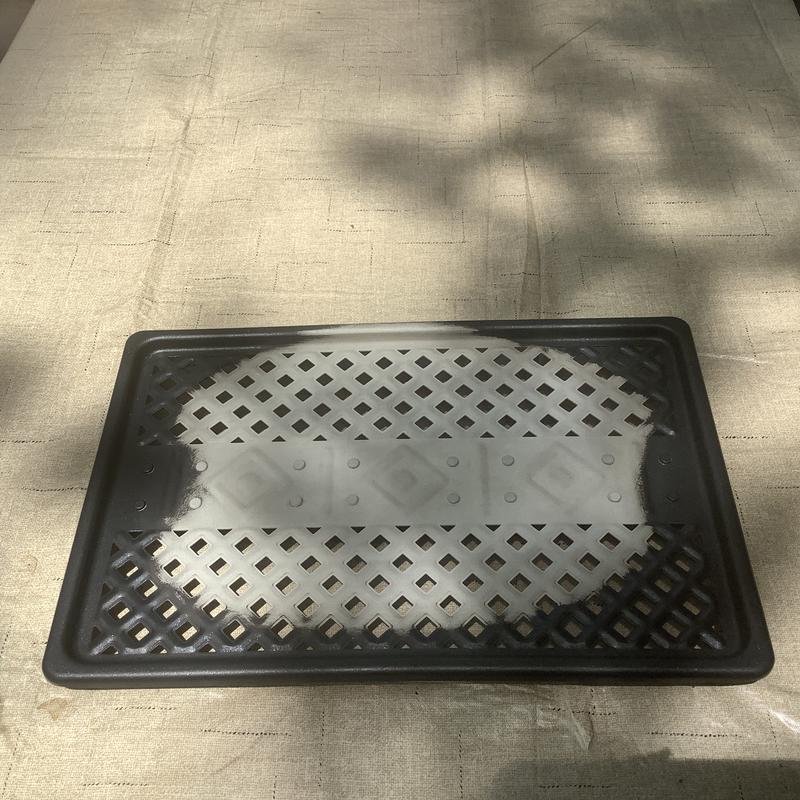 Originally reviewed on campchef.com
2 out of 5 stars
June 4, 2022
Disappointed in Rainier griddle
I love Camp Chef products but wish I would have just bought a 2 burner instead of this flimsy griddle. Warped after first use on 50% power. Wish they had a more solid replacement.

Originally reviewed on campchef.com
5 out of 5 stars
May 23, 2022
Great Versatile Camp Stove
This is the stove everyone wants me to bring on camping trips. Very much like the stove (especially the temperature controls) and have had no problems. I got a hose adapter to run straight from 5 lb propane botte to stove. The griddle is a bit thin and takes some care to keep it from warping. Grate does get messy but the unit is pretty easy to clean. After over 3 years of use mine is still going strong. I go camping at least once a month and a week at a time in the summer.

Originally reviewed on campchef.com
2 out of 5 stars
July 5, 2021
Not worth the price - consider another model
First camp chef product I've bought and kind of disappointed. Bought on 6/20/21 for family use at the beach, some family camping and hunting trips. This thing wilts in the wind and the left/grill half refuses to light in a 10 mph wind. When it is lit it won't cook food in wind unless the lid is closed somewhat which puts the lid supports into the food. Additionally the regulator is very positional and leaks gas unless it's held just a certain way.

Originally reviewed on campchef.com
4 out of 5 stars
May 13, 2021
Close to perfect camp stove - Needs some more work
Pro's: 1.Carry Bag 2.Grill and Griddle Plate - Yes, they are flimsy but functional - Just be patient and cook at a reasonably low temp and they won't warp much, and if they do they're flexible as are the tabs to secure it in the slots on the grill. 3. 10,000 BTU burner boils water quickly and pan fry's well and provides evenly distributed heat. 4. Performed exceptionally well in high winds coming off the San Juans down in southern Colorado (no flameouts at all) Cons: 1. The side wind panels do not fit into the slots on the grill very well at all, ended up securing them with some strong magnets I happened to have in my truck, worked! 2.There is no place for the grease to catch if you're cooking something a little fatty. I just lined the burner with foil which worked decent but cooking bacon got a little messy, if you want less mess cook Turkey bacon or leaner cuts of meat, if not you can still make it work with a little creative ingenuity and foil. 3. Fuel - Stop forcing people to use the green fuel canisters they are such a waste and cumbersome to deal with. You're an outdoor company maybe do your part in helping customers maintain a lower carbon footprint. Luckily, I have an adapter that I can hook up to the annoying canister arm that I can use on a 5lb propane tank but it's still pretty inconvenient having to hook it up that way. Overall I love its versatility and performance, just needs a few more improvements to be perfect.

Originally reviewed on campchef.com
3 out of 5 stars
April 20, 2021
Ranier Grill
I was a little disappointed in the quality. The wind shields don't fit well in the slots and the grill grate and giddle are too thin.

Originally reviewed on campchef.com
4 out of 5 stars
February 20, 2021
Just what I was looking for
Perfect for frying up breakfast and heating coffee at the same time. The grill surface turned out to be about useless though- the drippings go straight under the burner and are a mess to clean up, and the grill burned right through after just a few uses. The flat griddle works great though.

Originally reviewed on campchef.com
Need Expert Advice?
Our Gearheads Can Help
How is this different than the Everest or EverestX2
Can the griddle come off and use that side as a regular stove top?
Can new cooking grates be purchased? Mine didn't last through the first couple uses. Not as durable as I had hoped they would be. The coating scrapes off easily.