Free 2-Day shipping on orders over $50. Learn More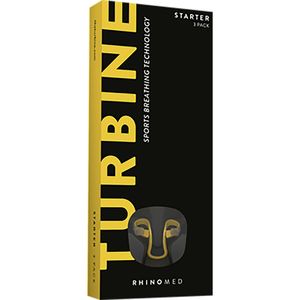 Free gift with purchase!
Turbine Nasal Dilator - GWP
Details
Small is smart.
We'll admit that we generally prefer to avoid trainers whenever possible. The idea of sitting in one place and spinning our legs is less than appealing, when given the option of embarking out outdoor adventures, however there are times when it isn't an option — typically due to intensely foul weather that is beyond bearable, even with the nicest winter riding gear. Trainers pose their own set of challenges, though, a big one being the space they take up and their weight, secondly the incessant whine of their fly wheel as you spin along. Solving both of these problems, and allowing you to commit to spinning away when the weather is just too foul to greet head on is the Blackburn Design RaceDay Fluid Portable Trainer.
Packing down to a tiny enough package to slide under your coffee table, or carry over shoulder through airports, the RaceDay Fluid Portable Trainer is ideal for those with limited space, especially in comparison to the tank-like 40lb trainers. Its structure telescopes in both length and height, so it can fit all sorts of sizes and styles of bikes — plus it comes ready to run with 9mm-QR , and adapters for running 12mm and 15mm through axles, accommodating 100 and 110mm spacing, so you can throw your modern mountain bike on for a spin if you're so inclined. It accepts wheel sizes from 24-inches to 29-inch/700c, and tire widths from 23c to 2.3-inches. The trainer works like a hybrid between a trainer and rollers, mounting your fork in place, and keeping your rear wheel intact spinning on two fluid rollers. The dual fluid rollers provide resistance that add up to 650-watts of smooth and quiet resistance, so your work out can be as tough as you want it to be without waking up your roommates. At the end of your work out, it takes just a couple of minutes to fold up into a sub-15lb package, with a carrying bag included.
A trainer for limited spaces and training out of town
Two rollers generate 650-watts of quiet resistance
Folds down into a compact, travel-ready package
Lightweight build comes in underneath 15-pounds
Includes adapters for 9, 12, and 15mm axles and boost spacing
Telescoping frame works with various bike breeds and sizes
Designed for ultra-quiet resistance that won't wake your roommate
Item #BLB003W
Tech Specs
Includes
trainer, carrying bag
Dimensions
[unfolded] 18 x 32.4 x 56.6in, [folded] 7 x 7.5 x 20.5in
Manufacturer Warranty
limited lifetime