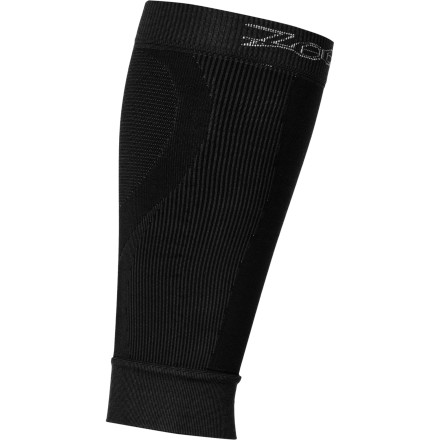 If a training day is typically characterized by shin splints and painfully tight calf muscles, check out the Zoot Ultra CompressRx Calf Sleeve. Not only do they limit fatigue and reduce recovery time, its open sleeve design also allows you to wear your favorite socks.
The Ultra Calf Sleeves use Zoot's CompressRX fabric to provide graduated compression. This means that the compression strength is highest around the ankle, gradually reducing compression pressure towards the calf. Think of it as squeezing a toothpaste tube from the bottom-up. The strategic constriction of veins increases pressure and aids the flow of deoxygenated blood back to the heart. Additionally, compression is believed to limit the muscle damage and fatigue caused by vibration from repetitive ground impacts.
The Zoot Ultra CompressRX Calf Sleeves are made of SyncroRX, a polypropylene and spandex blend that wicks moisture away from your skin so you don't overheat in summer temperatures. They are available in the colors Black and White and in five unisex sizes from X-Small to X-Large.
What do you think about this product?
Have questions about this product?
This is for a pair, right? (rather than...
This is for a pair, right? (rather than for a single sleeve?)
Best Answer
It is indeed a pair.