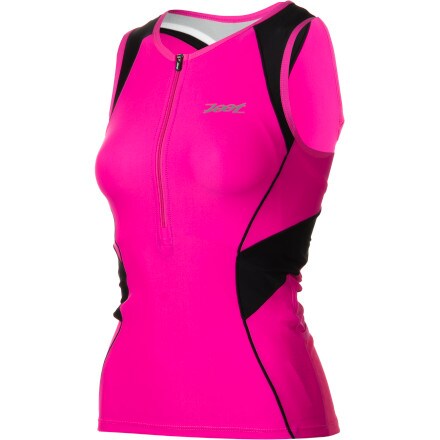 Detail Images
Description
Comfort is a right.
If you're like us, you're annoyed with most triathlon tops. Too often, they're simply a misguided adaption of a cycling jersey -- just chop the sleeves off and call it day. Luck for us all, however, that Zoot designed its Performance Tri Women's Tank with the motions and needs of triathlon in mind. Accordingly, this top's seam structure is cognizant of the three disciplines that it'll be used for.
Zoot used its Endura fabric for the construction of the Performance Tri Tank. Endura is a 200g blend of both nylon and Xtra Life Lycra, meaning that it provides an assuring level of support to the muscle groups. However, given the material's four-way stretch, this support doesn't come at the cost of impeding your lungs' ability to expand. As a result, pulmonary functions remain uninhibited, while your muscles are protected from the fatigue-inducing muscle oscillation that occurs as a result of road vibration and foot impact. And, in addition to the aforementioned, the material is highly-breathable and quite effective at managing moisture. So, you'll remain cool and dry throughout your two land legs of the race. Furthering this concept, Zoot also constructed the bra-lining from the highly breathable Power Mesh fabric.
In terms of fit, you'll find that this jersey is well suited for both the bike and the run. It doesn't feature the same level of seam contouring that's found in a pure cycling jersey, but the elongated rear hem makes up for this. So, you gain the coverage necessary for the cycling position, while still maintaining the close, non-shifting fit required for running. Additionally, Zoot constructed the jersey using its proprietary SeamLink stitching. With this technique, the stitch profile is lowered, creating a next-to-skin fit that's free from chafing. And securing this fit, the Tri Tank includes a 10 inch front zipper and light elastic bottom hem.
For added support, the Tank includes a built-in bra. And for storage of your race nutrition or bottles, it also features three rear pockets.
The Zoot Performance Tri Women's Tank is available in five sizes from X-Small to X-Large and in the colors Atomic Blue/black, Hot Coral/graphite, and Pink Glow/black.