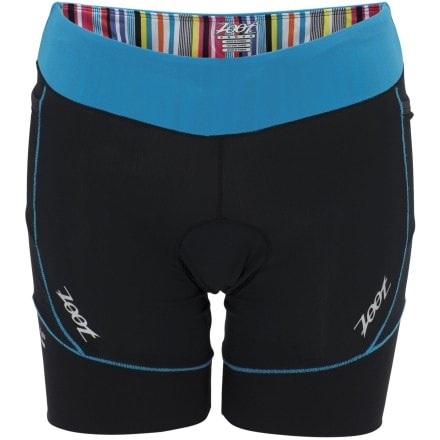 Detail Images
Description
Fan favorite.
While it's not advisable to blindly follow the crowd, some things are popular for a reason. Case in point are the Zoot Performance Tri 6in Women's Shorts. Declared as the best selling women's triathlon shorts in Zoot's history, the Performance Tri delivers near-perfection in every aspect of its construction.
Zoot incorporated three different fabrics for the construction of the Performance Tri shorts. And while all three materials work harmoniously towards the same objective, we're not hesitant to say that Zoot's BIOwrap provides the most pronounced results. Zoot's BIOwrap is orientated as a proprioception panel with a 240 denier spandex composition. Those are some big words, we know, so let's break them down. Starting with 'proprioception panel,' this means that the panel is designed to account for the sensations that are enacted from within the body itself. Everyone has what are called 'proprioceptors.' These are cells and nerves that emit stimuli to account for your body's position in movement. Or, in more basic terms, think of balance. Your unconscious sensory correction of staying upright is attributable to these cells. And when you're body is performing repetitive, practiced movements, their impact on the required muscle groups also become predictable. So, the BIOwrap design uses specific paneling to account for your body's internal movements. Even more impressively, over time, this localized support will train your muscle's non-visual sensory movements, and accordingly, it will enhance your body's proprioception.
The shorts' other panels consist of both the Endura+ and Endura 3D fabrics. Starting with the former, this material was incorporated in order to assist in moisture management. Accordingly, it's been strategically placed in the shorts to pull moisture away from the skin and transport it to the quick-drying surface of the material. As for Endura 3D, Zoot placed this at the legs for its high levels of stretch and breathability. So, you maintain a complete freedom of movement, while also maintaining a consistently cool temperature within the shorts.
In terms of fit, these shorts are cut with racing in mind. To achieve this, Zoot incorporated a six-inch inseam and its proprietary stitching, SeamLink. This technique minimizes the stitch profile along the seams, providing a next-to-skin fit that nearly eliminates the risk of chafing and abrasion.
Furthering this level of comfort, Zoot included its Integra SBR 1D chamois. This insert features a minimalist construction as to provide enough support for the bike leg without inhibiting comfort in either the swim or run. And because of the swim, Zoot also designed the Integra to be water-resistant and quick-drying. So, you won't be racing soggy after T1.
The Zoot Performance Tri 6in Women's Shorts area available in six sizes from X-Small to XX-Large and in the colors Black, Black/atomic blue, Black/pink glow, and Black/fire print.
Share your thoughts
What do you think of the
ZOOT
Performance Tri 6in Women's Shorts
? Share a...