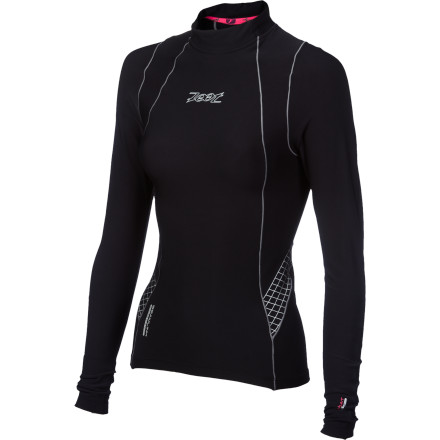 Detail Images
There isn't a physical discipline that we know of that can't benefit from compression technology. And when it comes to winter training, the same can be said about warmth. However, looking with a historical perspective, the selection of warming compression tops has been far and few between. Luckily, that's all changed with the Zoot Performance CompressRx THERMOmegaheat+ Women's Mock.
Now, we know that the term 'compression' is thrown around rather loosely within the industry, but there are a handful of true compression-driven designers out there, with one of the foremost being Zoot. Accordingly, you'll find that the pieces like the CompressRx Mock are actually close to medical grade. How is this possible from a sports piece? Well, to start, the Mock uses a 20 x 10 compression level that specifically targets the muscle groups used in endurance exercise. So, according to Zoot's graduated compression ideology, each group, or zone, of compression works to stabilize the back and core areas. Effectively, this improves blood flow to the heart by accelerating the circulation. These core principle encompass what Zoot calls its ZoneRx and CRx designs.
Of course, maximizing circulation is vital to both long, top-output exertions and recovery. But, we've found that most compression pieces are lacking in the field of muscle support. Over a run or ride, your muscles are constantly under assault from the detrimental effects of road or impact vibration. Over time, this variable will cause major muscle fatigue. So, to minimize this effect, the Mock features Zoot's Dynamic X Proprioception panel with a 240 denier spandex composition. Those are some big words, we know, so let's break them down. Starting with 'proprioception panel,' this means that the panel is designed to account for the sensations that are enacted from within the body itself. Everyone has what are called 'proprioceptors.' These are cells and nerves that emit stimuli to account for your body's position in movement. Or, in more basic terms, think of balance. Your unconscious sensory correction of staying upright is attributable to these cells. And when your body is performing repetitive, practiced movements, their impact on the required muscle groups also become predictable. So, the Dynamic X design uses specific paneling to account for your body's internal movements. Even more impressively, over time, this localized support will train your muscle's non-visual sensory movements, and accordingly, it will enhance your body's proprioception.
This is all made possible by the 240 denier spandex design. And while you likely have a grasp on the supportive qualities of spandex, you're probably wondering what the significance of '240 denier' is? Basically, a denier is a unit of measure pertaining to grams-per-9000-meters. So, the Dynamic X panel's thread weighs 240 grams per 9000 meters of material. And while this seems minute on the quantitative scale, keep in mind that most cycling jerseys are measured on the micro-denier scale, or, less than one gram per 9000 meters. This is important, because the with the higher denier rating, the Mock will maintain its compressive qualities longer and operate more consistently.
The warmth aspect is where the Mock's Megaheat construction really shines. Basically, Zoot designed it with your sweat in mind. And while the fabric rapidly pulls sweat away from the skin, through an infused chemical process, the sweat itself generates an insulating heat. Additionally, Megaheat also amplifies the sun's ultraviolet rays for accessible warmth. Ultimately, these processes equate to comfort, which is only further accentuated by the Mock's soft-to-touch nylon face and SeamLink stitch construction. So, you can expect a next-to-skin fit that aids in the pinnacle of compression assistance.
The Zoot Performance CompressRx THERMOmegaheat+ Women's Mock is available in the color Black and in five sizes from X-Small to X-Large.