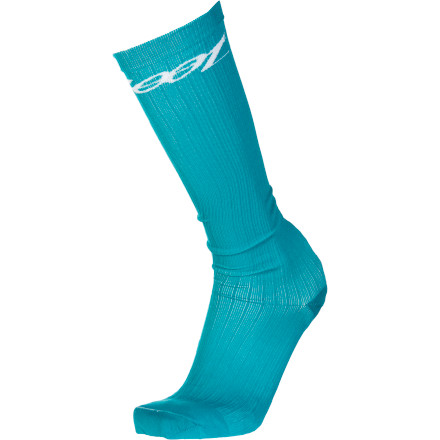 Detail Images
Compression socks are a great addition to any endurance athlete's dresser drawer. Compression fabrics stabilize muscles to reduce damage during exercise. The Zoot Women's Performance CompressRX Socks are made from Zoot innovative CRx compression fabric.Graduated in its design, the CRx fabric is made to compress the most at your foot and ease up as it gets closer to your calf; forcing blood flow from the bottom of your legs back to your heart. This reduces lactic acid build-up in your calves and feet, which helps your muscles recover faster. Moisture management and a thin construction keep your temperature regulated and your feet blister free. The "Y" shaped heel construction ensures the heel stays uniform with the rest of the sock as it compresses.
The Zoot Women's Performance CompressRX Sock sizing is based on the circumference of your calf, take this into account before buying your usual sock size so you have the best fit for your legs. The socks are available in Patriot Pink, Green, Dark Pink, Purple, Bright Green, and White. The sizes run Small through Large.

What do you think about this product?
Have questions about this product?
i got my 1st pair as a gift from my bf. i use them more for work than for exercise; at times i can be on my feet all day operating. these are GREAT compression stockings/socks-- my legs feel much better at the end of the day after wearing them. my bf knew i liked them so much, i got 2 more pairs! well worth the price. i wear a size 6.5-7 shoe & got the S. fits just fine.