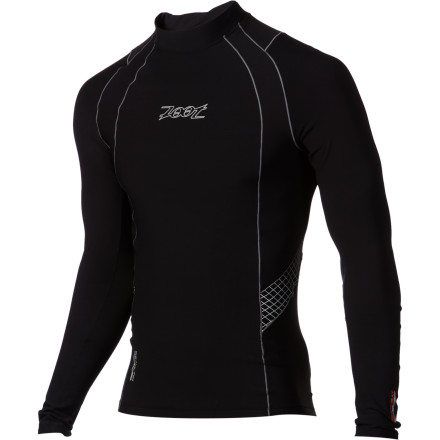 Detail Images
As far as mid-weight, long-sleeve layers are concerned, most athletes want warmth, a body-contouring fit, and soft feel against the skin. And not surprisingly, the Zoot Performance CompressRx ThermoMegaheat+ Mock provides all of these things. However, it also delivers strategic compression that's designed to improve athletic output, while decreasing recovery time after vigorous training sessions.
The CompressRx Mock primarily uses Zoot's ThermoMegaheat+ fabric. This material is a fleece-backed nylon that's infused with 20% spandex. Accordingly, the fabric stretches in four directions, ensuring a conforming, second-skin fit that follows your movements. It insulates against the cold and swiftly transports moisture away from the skin. ZoneRx fabric also covers specific areas of the upper body in order to provide muscle support, while limiting the fatigue and soreness that's caused by excessive muscle vibration. A heavier-weight, 240-denier Dynamic X Proprioception panel supports the back. And if you're not familiar with the term, proprioception describes the way that your body determines and regulates the position of its various moving parts in space. Basically, the panel's strategically placed, heavier-weight compressive fabrics assist proprioceptive function and help you stay more balanced. More obviously, the added support helps you maintain good posture. Your mom will be happy for this.
The Zoot Performance CompressRx ThermoMegaheat+ Mock has reflective logos for heightened motorist visibility in low-light conditions, while its flatlock seams limit abrasion and ensure that the fabric stays close to your skin. The mock is available in the color Black and in four sizes from Small to X-Large.