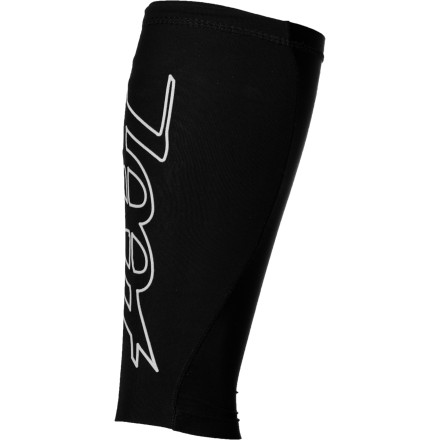 We have touted, and are practitioners of, post-exercise muscle compression. But compression doesn't need to start after a workout, and Zoot enables this with the Women's Performance CompressRX Calf Sleeves. Slip on the calf sleeves before you head out for triathlon training, and you'll feel the difference compression makes during your bike/run brick workout.
The CompressRX sleeves use graduated compression with tenacious 240 denier spandex. The design places the most compression at the ankles, gradually reducing towards your knees. This promotes circulation so your muscles receive more oxygen and can perform better and recover faster. Compression also translates to reduced calf strains and soreness after long runs and hill repeats on the bike.
Starting muscle recovery before your workout has ended isn't the only reason to wear these sleeves. Zoot uses BIOwrap construction throughout the sleeves, encasing your muscles in support to reduce impact muscle vibrations. This support helps reduce early muscle fatigue, shortening your recovery time. Since you aren't always running under the high-noon sun, reflective logos keep you visible to motorists in low-light conditions.
The Zoot Women's Performance CompressRX Calf Sleeves come in Black and White and are available in five sizes, X-Small through X-Large. Please note:You will want to measure the circumference of your calf to find the size the best fits your legs.