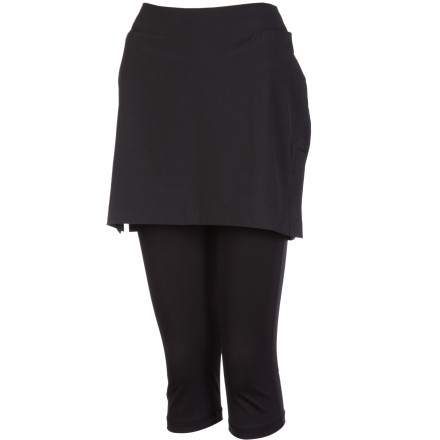 Detail Images
Breaking from the norm, the Zoic Damsel Skirt with detachable Taryn Tight skillfully rides the line of style and utility. Bicycle clothing has always provided a challenge to designers who seek asthetics over utility or performance. It's even gone so far as to compromise frames (drab-colored Women's road bikes of the 70s quickly come to mind). All in the name of riding in a skirt.
Thankfully, modern frames are designed with safety and performance foremost, and products like the Damsel Skirt let you ride comfortably without settling for dull spandex. But what's best about this tight/skirt combo is it's easy to remove the tights post ride and don the skirt.
The detachable nylon tights are stretchable to hug your legs without being constrictive. This encourages optimal muscle performance, and excellent support for natural pedaling. There's also a low-profile, non-cushioned fleece pad to quickly wick away moisture and ensure comfort.
The 19in inseam Damsel Skirt's made from partially recycled polyester, but to ensure freedom of movement, Zoic added a touch of spandex for stretch. It's constructed from three panels for an anatomic, cycling optimized fit and. For easy on/off, the center-back seam contains a hidden zipper.
Internal elastic waist adjustment tabs allow you dial in fit, and there are buttoned vents on the skirt allow extra airflow and range of motion. To keep important items secure, Zoic added an external, rip-and-stick key pocket along with a rear zippered pocket for electronics.
The Zoic Damsel Skirt with Taryn Tight comes in three colors; Black, Black Plaid, and Castle. It's available in sizes X-Small to X-Large.