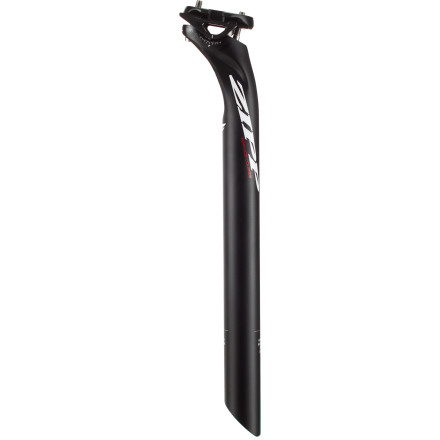 Colors
Description
Dial in the fit.
A two-bolt clamp assembly allows a wide range of angle adjustment for Zipp's Service Course Seatpost. So much so, that you can perfect your saddle tilt, and, once adjusted, the two-bolt assembly will simply not slip out of adjustment. But, that's not the extent of the Service Course's features.
Zipp engineers paid special attention to the length of the clamp assembly. On the lower portion, it's designed to be a bit longer than what you might see on other seatposts. Essentially, this is to support the saddle rails if you favor to ride at the rearward position. And in this day and age of super-light rails, we view any extra insurance against damage as a welcomed friend.
For this iteration of the Service Course, the seatpost forgoes carbon fiber in favor of a one-piece, 3D forged design. If you pay close attention to the Grand Tours, you'll notice that this is a reoccurring trend in the peloton. The reason is simple. For the cost of a few grams, the seatpost becomes stiffer, stronger, and more comfortable that its carbon fiber counterparts. In fact, we find that road vibration is better dispersed, while power is better conserved during hard seated exertions.
The Zipp Service Course Seatpost is available in both 27.2 and 31.6mm diameters and in 330 and 350mm lengths. Additionally, it's being offered with either a 0 or 20 degree setback.
Great seatpost for the price!
Familiarity:

I've put it through the wringer
Wanted a cost effective but non carbon alternative seatpost to match my all black Zipp 202's and Zipp cockpit. Not a bad price and who cares about the grams. It's how fast your engine is!!
Unanswered Question
I just put in an order for a Ridley bike from Comp Cyclist. It comes with the zero setback Zipp Service Course seatpost. Is it compatible with a saddle with 9 x 7mm carbon rails? I plan to order a saddle with carbon rails, and I believe this might be important to know. Thank you in advance for your time!
Quality Post
Familiarity:

I've put it through the wringer
Two bolt design gets the job done. Takes a bit to set things in place, but once there your saddle won't budge. The finish on this entry level seat-post is a beautiful matte black. The next level SL post is a beautiful polished deep black. Nice gear.
I'm more of a pragmatist when it comes to seatposts, so I tend to eschew the weight weenie ti hardware and go for more sensical designs. That is one of the reasons why I like the Service Course seat post. This is a really well built post, although it is not a terribly light post. The set up is a bit finicky since the fixing bolt is in a recessed part of the post, but this makes for a sleek look once everything is all put together. The notching on the clamp makes it easy to dial in the saddle angle but has proven to securely hold the saddles position.