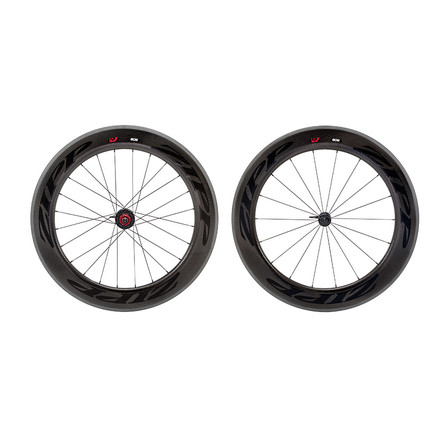 Colors
Description
The best.
When your race isn't disc-friendly, the Zipp 808 Firecrest Carbon Clincher is the next best thing. For 2015, the wheels have been given a new hub for an even smoother, more durable ride.
Zipp's carbon rims are made using its Multi-Material Co-Molding process by which a 200-gram, aluminum hoop is fused to a carbon rim. Using a carbon resin manufacturer that specializes in Formula One, Zipp developed a resin that is able to handle the high heat of braking.
As for the rim itself, Zipp has embraced the "wider-is-better" mantra that spaces the bead hooks farther apart, allowing for greater tire-to-ground contact without increasing rolling resistance. Zipp also uses both woven and unidirectional carbon fibers to build each rim. While the unidirectional fibers are used for the tensile and compressive loading within the rim, and to allow for a slight amount of compliance, the woven fibers strengthen the spoke holes. The braking surfaces are laid with a silica-ceramic fabric and woven carbon. These combinations of carbon fiber make the 808 Firecrest Carbon Clinchers the strongest in the Zipp lineup. The rims are 81mm deep and 27.5mm wide, but if you are nervous about being swept away in the wind, the rims have been designed using computational fluid dynamics to control airflow, regardless of the direction from which it originates.
The wheels have been built with Zipp's 88 front hub and its new 188/V9 on the rear. This new hub has larger precision Swiss steel bearings for increased durability, and it provides an increase in lateral stiffness over its predecessor. The spokes are Sapim X-Ray with 18 on the front and 24 on the rear in a "new" virtual three-cross pattern. Zipp advises that riders of the 808 Firecrest do not exceed 250 pounds.
Compatible with 11-speed Shimano/SRAM or Campagnolo
Skewers, valve extenders, rim strips, and brake pads included
Rider weight should not exceed 250 pounds