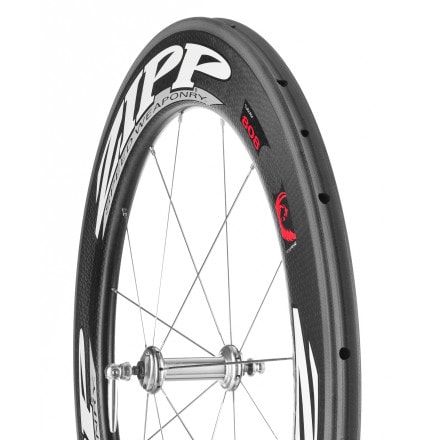 Description
Lighter, faster, and ready to win
Like its toroidal predecessors, there's little about the Zipp 808 Tubular Wheel that isn't another evolutionary leap forward in aerodynamics. At 81mm deep, the rim is already in a league of its own, with aerodynamics exceeding that of most disc wheels (plus the added benefits of lightness and better stability in crosswinds too). The biggest difference in comparison to many other deep rims on the market is that the toroid shape is far wider on the hub side of the rim. Where the others are using a V-shape, this toroid design creates more of an oval if you viewed the tire and rim in cross-section.
This shaping, along with Zipp's dimpling has been tuned to provide massive aerodynamic advantages in comparison to what you might consider as 'standard' semi-aero road wheels. But that efficiency is not limited to straight line riding on flat roads. True, the 808s are as fast as some discs, but they have been tuned to deliver that performance without sacrificing rideability. The toroid shape is optimized to push the center of pressure towards the hub. Translated, this means that crosswinds will affect these wheels less than other designs of similar depth.
Zipp built their reputation on aerodynamics, so, of course, you can bet that Zipp developed the 808 Carbon Clincher Wheels in the wind tunnel, long before they even thought about production. They built non-structural 3D prototypes to begin the process, tested shape after shape, then refined them into the final design. It's an exhaustive development process, but it gives Zipp engineers the information they need to know about drag coefficients and also wattage required to spin the wheels in the wind.
The Zipp aero story is a well-known one, but there's another new theme with the 808 -- one typically glossed over in discussions of carbon clinchers: Heat-dissipation. Increased heat dissipation equals increased safety. Years of testing led to the development of their heat-resistant resin system. As you bomb down long, high-speed descents with hard, heavy braking and rim temperatures reaching 500 degrees F, there's no risk of a burst sidewall with Zipp full carbon clinchers. The new resin system was a must-have to ensure the stability and durability of the clincher sidewalls. However, the braking performance is exactly the same as their other carbon rims, and the silica-ceramic composite used in the braking track gives even, fade-free performance in any weather conditions as long as you use Zipp's Tangente Cork pads.
Zipp uses unidirectional carbon throughout, but the clincher sidewalls and outer rim wall use woven carbon as it adds the toughness needed for the clincher shape. The wheels roll on Zipp's 88 front and 188 rear hubs. They both use 17mm aluminum axles for strength and supreme stiffness, and they have a preload adjustment so that you can dial them in to that bearing nirvana, just between a bit of play and slightly too tight. Speaking of bearings, Zipp's Swiss-made bearings enjoy a reputation for exceptional smoothness.
Part of their design process examines spokes, both shape and count for each wheel. Their wattage testing from the tunnel helped Zipp determine the appropriate configuration for the 808 Carbon Tubular to combine best performance with best "feel" for the rider. To that end, they've equipped them with 16 radial spokes in the front and 20 spokes in the rear wheel, split between both sides -- crossed on the left and radial on the right. The Sapim CX-Ray stainless steel ovalized spokes are far and away the best in the industry. They're lighter than most round butted spokes, and the coining process used to produce their aerodynamic shape makes them stronger and very durable. They are anchored to the full-carbon rims with Sapim alloy nipples.
One more design aspect of note is the width of the 808 Carbon Clincher. Using the 303 as a testbed, Zipp experienced many benefits by using a slightly wider rim. Firstly, the aero properties are best exploited when paired with a like-sized tire. And since most of us train and even race on 23 - 25mm tires, the use of a wider 27.5mm width at the braking track "fits" the tires better for optimum aerodynamics in addition to changing the shape of the tire for a few more benefits. These are due to increasing the total air volume inside the tire. This increase in volume increases the cornering contact patch without increasing the rolling resistance. It also allows you to ride at a slightly lower air pressure as the straighter sidewalls possess more stability and deflect less against obstructions on the road and against cornering forces. The chance of pinch flats with straighter sidewalls is also lessened. All good things.
Zipp 808 Tubular Wheels are light enough to use for road racing and certainly aero enough for your next time trial. All of this, coupled with a tubular tire, makes for an unbeatable wheel offering. The rim is a Matte Clear over carbon and the spokes and hub are Silver. A Zipp steel skewer is included, as well as Zipp Tangente cork brake pads.
Please Note: Zipp's cork brake pads are designed specifically for use with their carbon clinchers. Use of brake pads other than these is highly recommended against and will void the wheel warranty.