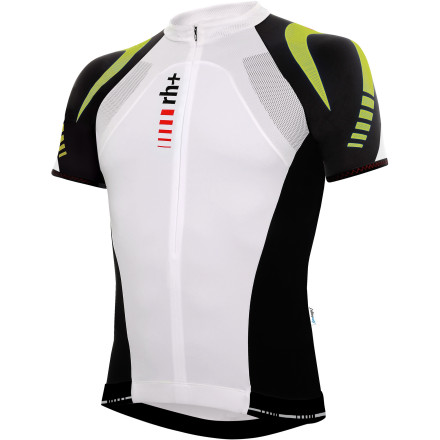 Detail Images
Holding a 'ProLogic' designation in the Zero RH + arsenal is no easy task. These designs are reserved for the dedicated cyclist that demands nothing short of perfection. And believe us, the new ZeeKey Jersey delivers just that. Well, that, and a pretty amazing name.
The body panels of the ZeeKey jersey were constructed with the Firedry Gold fabric. Zero RH +'s Firedry is a system of materials made into four versions that are distinguished by different weights and stretch characteristics. As with all of the Firedry fabrics, the Gold is lightweight and breathes exceptionally well. It also incorporates highly-elastic fibers that support the body's muscle through a full range of motion. However, what sets the Gold iteration apart from the other variants is its super-soft feel against the skin and added stretch. The front and rear torso panels were constructed with this fabric due to its ability to firmly hold your core muscles in place while riding. Zero RH + also targeted both sides of the spine and underarms with its Burnout mesh fabric in order to further ventilate your body and increase moisture transfer. These inserts have been partially bonded with ultra-flat smooth seams, keeping you both supported and irritation-free. Additionally, they have been engineered to hold their shape, and because of this, they've been formed positioned as a kind of Kinesio applique. Even better, the mesh has been perforated with Zero's proprietary 'burn-out' technique, where, as you guessed, the apertures are burned into the fabric at an almost micro-level.
The jersey's panels were joined together using a technique known as 'preformed anatomic construction.' This method of cutting the individual panels on a curve provides a comfortable, natural fit, especially in the crouched riding position. Zero RH + knows that this tucked-in fit requires special attention to areas prone to fabric bunching and pulling, which is why it notched a 'V' shape in the back of the neck for a free range of head motion. It also rounded out the bottom hem and treated it with a generous, 5cm-tall elastic/microfiber gripper in order to keep the jersey's lower half secure.
Finishing details on the ZeeKey include a bonded invisible front zipper, four rear pockets, and reflective elements. The jersey's three traditional pockets stash your extra clothes and nutrition, while the central zip pocket keeps your smaller valuables safe.
The Zero RH + ZeeKey Jersey is available in the color Black/white/foliage green and in six sizes from Small to XXX-Large.