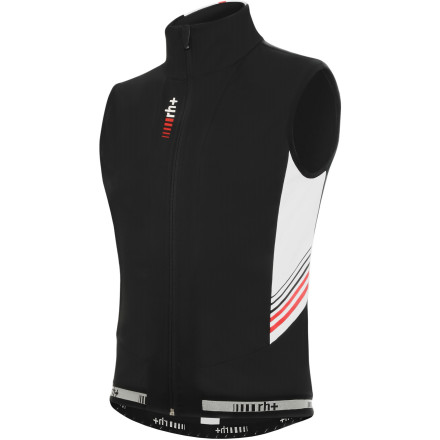 Sure, it's easy to trivialize something like a vest. After all, most cycling vests are basic in fit, serve a minimal purpose, and are derived from plastic-based fibers. However, this level of ineptitude sparked the creative brain of the Italian innovator Zero RH+. As a result, its Willing Vest uses the finest windproof fabrics, a cut more akin to a race-day jersey, and a level of protection on par with a technical winter jacket.
Starting at the front of the body, Zero RH+ used the ultralight Airdry Gold 250 fabric for its construction. As you might expect from its name, this material is completely windproof, and accordingly, it staves off the main source of winter chills -- headwind. As for the second principle of this fabric, the dry, Airdry Gold 250 has the heaviest insulation weight, yet the finest construction, of the five Airdry iterations. 250 has a three-layer, open knit construction that maintains a high-level of breathability. Essentially, the fabric creates an internal micro climate that's singular to you. So, during intense aerobic exercise, the material allows excess heat to escape from the insulation layer. And not only does this keep your temperature well regulated, it also decreases moisture accumulation as well. But, if your core temperature is insurmountable, you can make use of the vest's full-length front zipper with self-locking slider for on-the-fly heat dumps.
At the rear of the vest, Zero RH+ has placed its Icedry fabric. This material is highly breathable and malleable, yet its primary focus is placed on insulation and moisture management. It also contributes to one of our favorite features of the Willing vest -- its precise, jersey-like fit. Not only does the vest provide a softer, more conforming construction than most winter jerseys, but vest's shape and construction is based on a preformed anatomic design. This means that the cut has been coordinated to the predictability of your body's movements. So, when you move, the vest moves with you, not against your skin. Accordingly, the vest is free from abrasion, and with its second-skin fit, you won't experience any bothersome flapping in the wind.
To secure the fit, Zero RH+ placed its Fund Grip Fit Anallergic 360 gripper at the torso's hem. This gripper provides a gentle, yet effective hold that will prevent shifting while you're changing positions in the saddle. It will also eliminate the vest from sagging when its one rear cargo and one rear zippered pockets are carrying bulky loads.
The Zero RH+ Willing Vest is available in the color Black/white and in five sizes from Small to XX-Large.