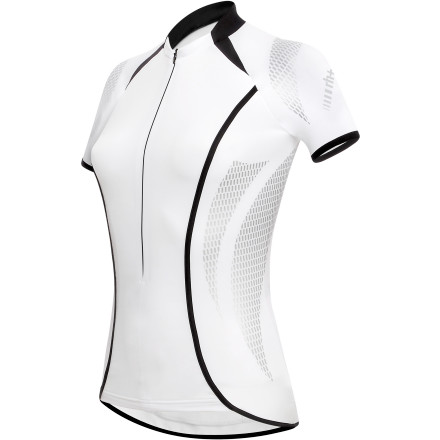 Detail Images
Zero RH +'s Stretch Control Women's Jersey was designed to support your upper body using its system of differentiated stretch panels. Stretch Control is an innovative configuration of variable-stretch fabrics that add tension in strategic areas of the jersey. And because these areas of added tension are printed onto the top layer of the jersey's fabric, Zero RH + controls exactly how much tension is added to provide precise support where you need it most. On the other hand, areas without the appliques offer the greatest freedom of motion.
The Stretch Control Jersey is made with Zero RH +'s Firedry Gold 100 fabric. This moisture-wicking, breathable fabric keeps you dry and comfortable during hot summer rides. Firedry was created in four different weights -- Gold 100 being the lightest. It's also abrasion- and wear-resistant and provides exceptional aerodynamics. Range of motion is enhanced using Stretch Control appliques, which have been strategically placed throughout the top. These panels provide differentiated stretch as a means to give you varied resistance and support in the side, sleeve, and back zones. Conversely, the chest and abdominal panel is free of the appliques, letting the Firedry fabric fully expand in relation to your breathing movements.
Zero RH + used a preformed, anatomic design on the Stretch Control jersey. This gives you a comfortable, natural fit, especially in the riding position. To make it easier to quickly ventilate during an intense climb, Zero RH + added a 3/4-length zipper to the front of the jersey. Three generous rear pockets handle your extra clothes and nutrition, while a smaller zippered pocket stores your valuables. Reflective appliques keep you seen by motorists in low-light riding conditions, and a rounded bottom with microfiber waist gripper keeps the jersey in place.
The Zero RH + Stretch Control Women's Jersey is available in five sizes from X-Small to X-Large and in the colors Black, Nectarine, and White.