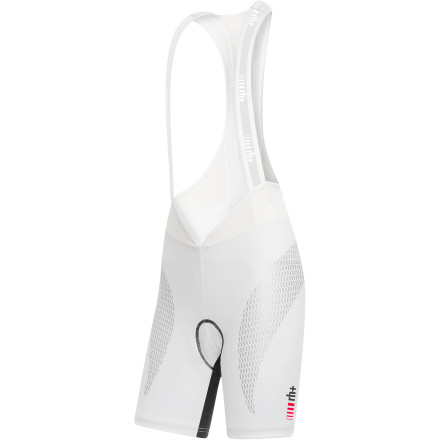 Detail Images
Weather isn't always your worst enemy. On long rides, constant road vibration can fatigue even the best-conditioned riders. Over the past few years, bike apparel companies have developed different systems to battle this vibration and give your muscles the support that they need to work more efficiently for long periods of time. While we have used many of these systems, and find some of them to be very beneficial on long rides, the Zero RH+ Stretch Control System stands out from the rest because of its innovative design that gives Zero RH+ the ability to locate varied amounts of muscle support in precise areas of the short.The Stretch Control System is used on, among other products, the Women's Stretch Control Bib short.
The Stretch Control Bib Short is made with Zero RH+'s Firedry Gold 100 fabric. This moisture-wicking, breathable fabric keeps you dry and comfortable during hot summer rides. Firedry is offered in four different weights–Gold 100 being the lightest. It's also abrasion- and wear-resistant, and provides exceptional aerodynamics.
Stretch control is an innovative system of appliques that add tension in strategic areas of the short. Because these areas of added tension are simply printed onto the short, Zero RH+ can control exactly how much tension is added, and can provide precise support where you need it. On the other hand, areas without the appliques offer the greatest freedom of motion.
Because the overall comfort of a pair of bib tights cannot exceed the quality of the chamois that they contain, the Stretch Control Bib Short features the exclusive Uranus chamois. This hand-sewn insert features high-density foam that evenly distributes pressure as you move in the saddle. We also want to point out that Zero RH + constructs the Stretch Control Bib Short on a curve. This ensures that the Uranus conforms to the body's shape in a cycling position.
Gradual Fit straps secure a proper anatomic fit. Also, the inserts on the back and lumbar regions have been made from a breathable mesh that keeps you from overheating. Flatlock seams through the shorts reduce chafing and irritation. Reflective elements on the rear make you more visible in traffic to make your ride home safer.
The Zero RH + Women's Stretch Control Bib Short is available in the colors Black and White/Black and in sizes X-Small to X-Large.