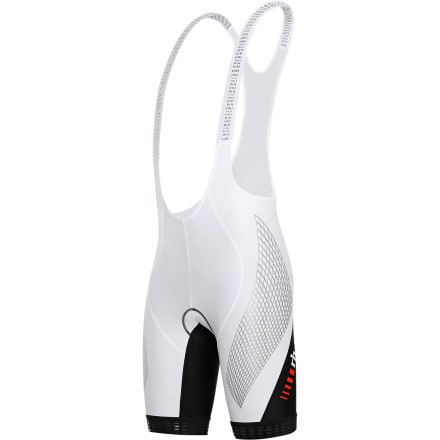 Detail Images
Description
Support exactly where it's needed.
Muscle support is the big buzz word among cycling apparel companies these days. That's because it's been proven that supported muscles are less affected by shock and vibration, and therefore take longer to fatigue. Although quite a few manufacturers offer products that support your muscles, few can claim to target this support as precisely as Zero RH+'s Stretch Control Bib Short. Designed around the Stretch Control System, this is a fully featured bib short with Zero RH+'s venerable Uranus chamois pad, abrasion-resistant panels, and open mesh braces.

Zero RH+'s Stretch Control System allows designers to apply support and resistance to targeted muscle groups. They did this using rubberized stretch appliques in precise locations on the bib short. Because these appliques are simply printed on the bib short, they are able to vary the amount of effort it takes to stretch them, as well as place them exactly where they want this resistance to occur. On the other hand, areas without the appliques offer the greatest freedom of motion. This is the most controlled system of stretch and support that we've seen, and you can feel the difference during and after your ride.

The Stretch Control Bib Short is made with Zero RH+'s Firedry Gold 100 fabric. This moisture-wicking, breathable fabric keeps you dry and comfortable during hot summer rides. Firedry is offered in four different weights–Gold 100 being the lightest. It's also abrasion- and wear-resistant, and provides exceptional aerodynamics.
Because the overall comfort of a pair of shorts cannot exceed the quality of the chamois contained within, the Stretch Control Short features the exclusive Uranus chamois. This hand-sewn insert features high-density foam that evenly distributes pressure as you move in the saddle. We also want to point out that Zero RH + constructs the Stretch Control Short on a curve. This ensures that the gender-specific Uranus conforms to the body's shape in a cycling position.
The Zero RH + Stretch Control Bib Short is available in the colors Black and White/Black and in sizes Small to XXX-Large. Flatlock seams through the shorts reduce chafing and irritation. Reflective elements on the rear make you more visible in traffic to make your ride home safer.