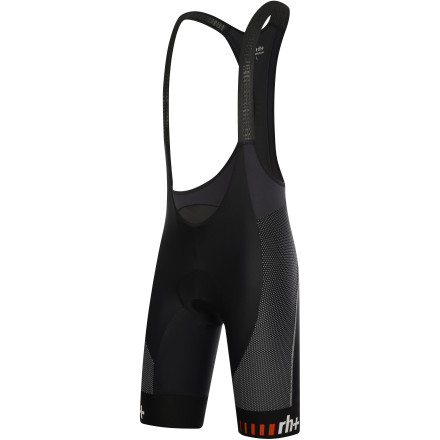 Detail Images
Compression and muscle support are terms thrown around by manufacturers of cycling gear. And, although quite a few manufacturers offer products that support your muscles, few can claim to target this support as precisely as Zero RH+'s Stretch Control Bib Shorts. Designed around the Stretch Control System, this is a bib short with Zero RH+'s venerable Uranus chamois, abrasion-resistant panels, and open mesh braces.
Zero RH+'s Stretch Control System allows designers to apply support and resistance to targeted muscle groups. It did this using rubberized stretch appliques in precise locations on the bib shorts. Because these appliques are simply printed on the bibs, it is able to vary the amount of effort it takes to stretch them, as well as place them exactly where it wants this resistance to occur.
The shorts were made with Zero RH+'s Firedry Gold 100 fabric. This moisture-wicking, breathable fabric keeps you dry and comfortable during hot summer rides. Firedry is offered in four different weights—Gold 100 being the lightest. It's also abrasion- and wear-resistant and provides exceptional aerodynamics. Flatlock seams throughout the shorts reduce chafing and irritation. Reflective elements were also added, making you more visible in low-light conditions.

Because the overall comfort of a pair of shorts depends immensely on the insert used, the Stretch Controls feature the exclusive Uranus chamois. This hand-sewn insert features high-density foam that evenly distributes pressure as you move in the saddle.
The Zero RH + Stretch Control Bib Shorts are available in sizes Small to XXX-Large. They come in the colors Black/blue surf, Black/bright yellow, White/black, and Black/black.