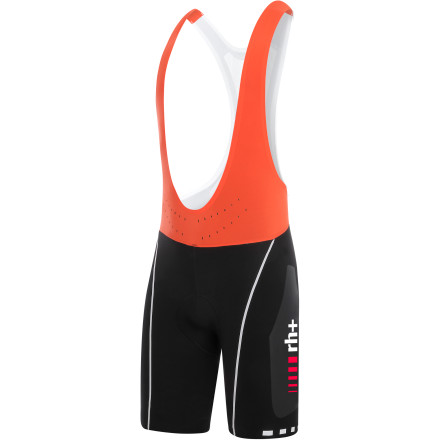 Detail Images
Do you remember your parents telling you that if something sounds too good to be true, it probably is? Well, they were absolutely correct–most of the time. Then again, that was before Zero RH+ invented the PW Dryskin Bib Short. The folks at Zero RH+ dug deep into their bag of technological tricks to create a truly amazing piece of cycling apparel.
The big story here is Zero RH+'s Dryskin fabric. It's shuttle woven instead of using the traditional charmeuse technique, so absolutely no stitching is required because the seams are welded. This eliminates the chafing and irritation caused by overlapping seams. Dryskin is offered in two densities–an ultralight version for jerseys for enhanced breathability and a dual-density material for shorts and bibs that offers enhanced muscle support. This four-way stretch material is 35% lighter than traditional fabrics. It's moisture-wicking and breathable to keep you dry and comfortable in the harshest weather conditions. It's also abrasion- and wear-resistant, and provides exceptional aerodynamics.
The PW Dryskin Bib Short comes with Zero RH+'s Pluton chamois pad. This hand-sewn pad provides shock-absorbing cushion to reduce fatigue and numbness over the course of your ride. The Pluton's exceptional moisture management keeps you dry and comfortable when you most need to be. The gender-specific Pluton pad is made from high-density foam with a low compression coefficient that ensures effectiveness after hundreds of miles in the saddle.
The bib portion of the PW Bib Short is made using a technique of preformed anatomic construction. This provides a comfortable, natural fit, especially in the crouched pedal position. The mesh back panel forces cooling air to pass through the bib to keep you cool and further speed sweat evaporation. As with the shorts, all seams are welded, rather than stitched, to eliminate chafing and irritation. Zero RH+ also laser-cut additional ventilation holes that allow air to pass through without any irritating seams.
The Zero RH+ PW Dryskin Bib Short comes in sizes Small through XX-Large and is available in the colors Black or Black/orange.