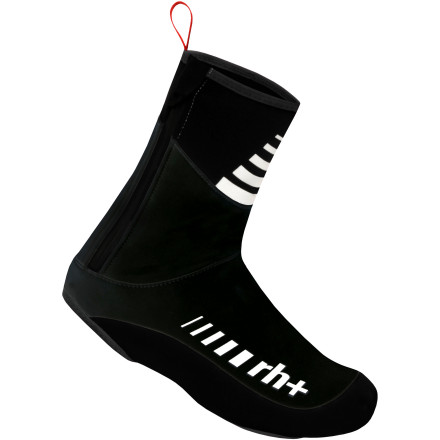 Detail Images
We know that the dressing process is the most detestable aspect of winter cycling. Even further, the act of getting in and out of shoe covers blends the maddening with the macabre, for an utterly terrible experience. And even further, all of your work is typically for naught, as the disparity between a cover's promises and actuality tend to be miles apart. However, it doesn't need to be that way. With Zero RH+'s Happyfeet Shoe Covers, you get a wind and waterproof construction that's both warming and comfortable. Most importantly, the fit of the covers is nothing short of impeccable.
For the Happyfeet, Zero RH+ used the ultralight Airdry Gold 250 fabric. As you might expect from its name, this material is completely windproof, and accordingly, it staves off the main source of winter chills -- wind. As for the second principle of this fabric, the dry, Airdry Gold 250 has the heaviest insulation weight, yet the finest construction, of the five Airdry iterations. 250 has a three-layer, open knit construction that maintains a high-level of breathability. Essentially, the fabric creates an internal micro climate that's singular to you. So, during intense aerobic exercise, the material allows excess heat to escape from the insulation layer. And not only does this keep your temperature well regulated, it also decreases moisture accumulation as well. So, you can ride confidently knowing that your feet will be both dry and warm.
As for the fit, Zero RH+ based the shape and construction on a preformed anatomic design. This means that the cut has been coordinated to the predictability of your feet and ankles' movements. So, when you move, the covers moves with you, not against you. Accordingly, the covers are free from abrasion, and with its second-skin fit, you won't experience any bothersome flapping in the wind. And to ensure that the covers will conform to both the shape of your shoes and your feet, Zero RH+ has also blended in neoprene. Not only does this addition aid in the fit, but as neoprene's wet suit application shows, this material gets warmer when wet -- ideal for winter riding.
Securing the cover is an offset, rear zipper that runs from mid-heel to the top hem above of the ankle. This system allows an easy entry and exit of the covers, but if you're feeling challenged nestling in to the toe, the covers also feature a pull-loop at the rear.
The Zero RH+ Happyfeet Shoe Covers are available in the color Black and in five sizes from Small to XX-Large.