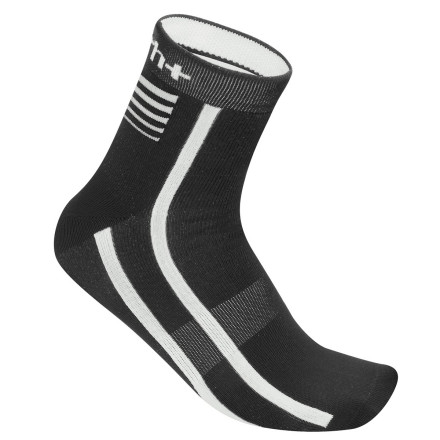 It's a beautiful summer morning, and you're heading out for a century ride to end the weekend. As you kit up, you slip your feet into a pair of socks that you know are less than desirable for a long ride - stiff, stuffy, and scratchy. We hope that you have a backup. Expand your comfort horizons, and get your feet into a pair of the ultra-plush Zero RH+ Dynamic 6 Socks.
Zero RH+'s Dynamic 6 Socks are constructed from the breathable and stretchy Firedry Gold 100 fabric. Efficient at controlling the temperature of your feet, the material also demonstrates excellent moisture management characteristics. This means that your feet will still be dry and comfortable when you hit the metric century mark. Dynamic socks are built with variable tension in the plantar region to limit overall stretch. This reduces both wrinkling and sock movement in your shoes, and in turn, reduces hot spots and abrasive discomfort.
The Zero RH + Dynamic 6 Socks are available in White/blue surf, Black/white, White/red, and Red/white. They come in sizes Small/Medium, L/X-Large, and XX-Large.