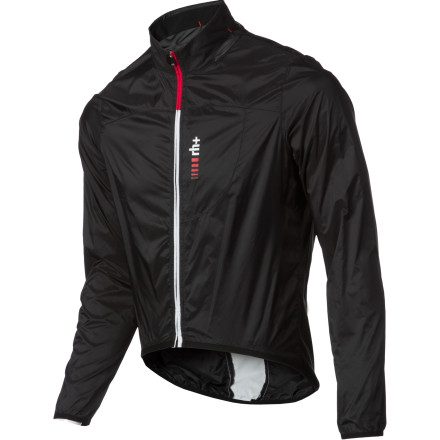 Detail Images
Zero RH+ designed the Acquaria Pocket Jacket with one goal in mind -- to keep the wind off of you. And not surprisingly, the Italian titan achieved its goal.
Made from the venerable Airdry fabric, the jacket serves as a confident shield against chilly winds of all severities. Basically, this is due to two properties -- the quality of material and the quality of fit. For fabric, you can say without hesitation that Airdry lives up to the two words that comprise its name, 'air' and 'dry.' It does both. This is made possible by Airdry's featherweight composition as well as its naturally breathable characteristics. So, not only will you gain warmth from its windproof design, but you'll remain dry from its moisture wicking capabilities and efficient vapor evaporation.
For fit, the Acquaria features a multi-panel construction in order to accommodate the movements of cycling. So, when you're moving in and out of the saddle, the jacket will move with you and not against your skin. And of course the jacket does in fact fold up into its collar, ultimately becoming small enough to easily fit into a jersey pocket -- thus the name. With this level of storage ability, you gain the versatility to start off the day protected, and if the weather clears, to ride uninhibited in your jersey.
The Zero RH+ Acquaria Pocket Jacket is available in the color Black/white and in six sizes from Small to XXX-Large.