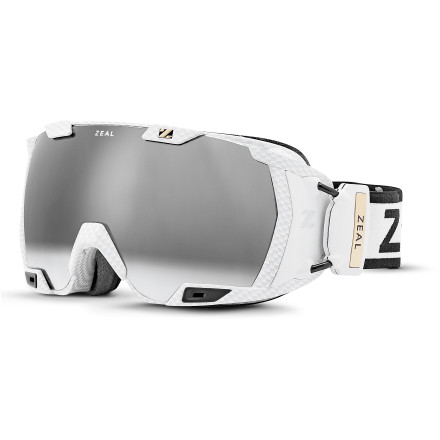 Detail Images

Community Images
Description
One goggle to do it all—and then some.
Whether you have a bet going, you're competing in a contest, or you're just plain curious, you can track all the data from your last in-bounds or backcountry adventure with the Zeal Z3 GPS Polarized Photochromic Goggle. That's right—it's a vented goggle that protects your eyes, changes tint according to the conditions, and displays and records information from your runs. And, of course, you get great optics, too. We can't think of any other functions you could possibly stuff into one pair of goggles.
Easy-to-read in-goggle display allows you to view navigation and performance-based information in real time with the built-in accelerometer, temperature sensor & barometer
Stats tracked include speed, distance, altitude, vertical odometer, chronometer, time, temperature, run counter, and jump stats
System controlled by a remote you can wear on your wrist, arm, or the goggle strap and is powered by a rechargeable lithium ion battery
Download information to your PC or Mac to plot your runs on Google Earth and share on social media networks to prove that you actually did what you said you did
Spherical lens shape offers excellent optical quality and large field of view
Polarized lenses reduce glare from snow, reducing eye fatigue
Photochromic technology makes the goggles lighter or darker according to light conditions
No Fog lens treatment and passive AirFlow system that brings cooler outside air in and evacuates warm, moist air keep your googles fog-free
Microfiber sack included
They worked for a couple days but never downloaded the info so it was visible. They shut off and quit working after a few uses. The company refused to answer any emails. Negative five stars.
Unanswered Question
Can these be turned on/off and used without...
Can these be turned on/off and used without the Wireless Remote?
A great synopsis on the Zeal Z3 Goggle.
Unanswered Question
Can you Listen to music?
Does anyone know where the temperature...
Does anyone know where the temperature sensor is? The real outside temperature is showing -1c thought the goggles are show +6c. ? The temps seem way out In all ranges.
I experienced the same problem - seems like the goggles pick up some body heat
Same here. had same thought as above that body heat was picked up.
Awesome Idea, Poor execution, so close!
Lenses are fantastic, Technology is out of this world, Interface is truly amazing. but the visibility OUT of these goggles is downright dangerous. They sit significantly farther OFF of your face, forward, and the components on the either side of the goggle itself restrict your peripheral vision. There is restricted visibility also, up and DOWN while looking ahead. Using these on a busy mountain, resort, or trail is very risky, esp for snowboarders who already have to over come blind spots. Its sort of like looking forward through a shoebox. very disappointing, because these would have been awesome, they would have been my last goggle.

I feel its much safer to use a regular wide view goggle with a good GPS strapped to your arm or pack that you can glance at. The HUD in the goggles is not restricting, its the goggle conforming to accept the hardware that makes the field of vision so closed in. total bummer :( hopefully in the near future this will be sorted out, and i can buy the next generation.
Unanswered Question
when you buy this product from this site...
when you buy this product from this site does it come with mod live?
I was hesitant to buy a new product like this, but I like to think I spend a ton of time on the mountain so I treated myself. It's nice to have nice things.

It didn't even need a whole run to set in, these goggles are superb! This product exemplifies what I thought only existed inside the world of James Bond and Mission Impossible. It works without bugs, the free software that comes along with it is simple to use and makes sharing the day with friends really easy. When we got back to the chair my buddy Dan was asking "did we hit our high speed yet?" It's become a constant when we are riding together, there are higher goals for us now Ha!

I've used Zeal's photochromic lenses for the last couple years and I couldn't imagine going back. Forget about changing lenses when the sun goes behind a cloud, put on your Zeals and just go ride. Needless to say I was impressed Zeal supplied the Z3 with only the best lens option.

Would I do it again? Would I recommend it to a friend? In a heart beat, I think this product is worth considerably more than what I paid here on Backcountry.
These goggles are AWESOME!Super clear lens and the options on the GPS are so cool! My favorite gadget since the iphone!
These things are so rad! The screen is super clear the lens fades from light yellow (flat light conditions) to dark rose (sunny conditions) and the optical clarity is like nothing I have ever seen through a goggle. Definitely worth the investment! The info provided by the MOD is awesome!
Write your question here...How long is the...
Write your question here...How long is the expected battery life? Is the battery on the GPS unit user replaceable?
Best Answer
It lasts for about 8 hours, a full day on the Mtn.
So I am curious if temperature matters on the battery life? I have a first gen HD zeal goggle and the battery is only good for about 2 hours (granted video is a lot more power draw intensive then location telemetry), but i have noticed that on a cold day (getting near zero) battery dies in about 30 minutes etc. So for others with this goggle does it really last 8 hours in all conditions etc.? Thanks


Does these have trail map display capability?...
Does these have trail map display capability? I believe the Recon Ready goggles using the Mode Live do have that capabiity but I don't know about these goggles.
Not yet. But I wouldn't be surprised to soon see a software upgrade that would allow it.
You will need modlive to view maps, the z3's are using the regular mod hardware. You can purchase the add on from recon separately, but I believe next year's model will have that included
Are these goggles roomy enough inside to...
Are these goggles roomy enough inside to accomodate eyeglasses? I know that Recon does not suggest wearing eyeglasses for safety reasons but....
Depends on the glasses. I have relatively small, but not tiny, frames that fit. Larger glasses probably won't work. It helped to notch a spot in the foam for the temple pieces.
Anyone out there with soft contact lenses...
Anyone out there with soft contact lenses that have used these? I'm concerned that I might not be able to accommodate to the display while wearing contact lenses.
I'm not quite sure that I understand your concern. I've never used the goggles with the GPS feature, but I wear soft contacts and ski with Zeal goggles using the PPX lenses and I love them. I really can't see any reason why contacts would be a problem with these.