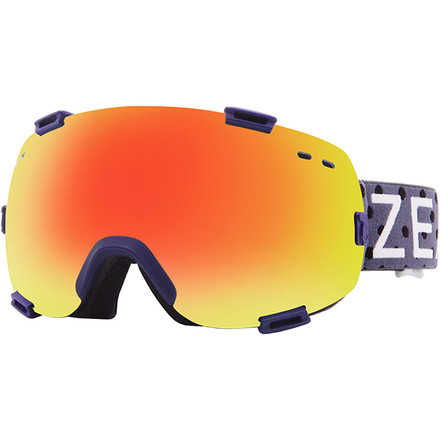 Colors

Detail Images

Videos

Community Images
Description
A high-end workhorse of a winter goggle.
Replace your quiver of snow goggles with the Zeal Voyager Goggle and never look back. The rimless lens and frame interface offers maximum peripheral vision and venting, without sacrificing anything in the way of impact protection. One look through Zeal's optically precise Optimum lens will have you convinced that this should be your go-to goggle for storm days, bluebird days, and everything in between.
Optimum Lens is Zeal's finest lens design, crafted from top-shelf materials and shaped to provide crystal-clear optics
Lens design includes multiple vents and an anti-fog coating that keep your vision clear of moisture
Every Voyager comes with a bonus low-light mirror lens for stormy days
Impact-resistant frame flexes to absorb the hardest hits
Dual strap system allows for plenty of adjustment so you can dial in the most comfortable fit
Solid Stitch construction utilizes heavy-duty thread to increase the durability and longevity of the goggle strap
A double-beaded layer of silicon keeps your goggle strap securely in place on a helmet or around a hat
Amazing peripheral vision. Both the lenses look amazing, and have amazing line of sight. The phoenix lens is amazing for almost any day, and the bonus low light lens is only really needed on the flattest of days. Overall amazing. Would recommend.
Amaze balls!
Gender:

Female

Familiarity:

I've put it through the wringer
Love love love these bad boys! Fit amazing, huge visual field, awesome green tea color, grippy strap rocks, and a great lens variety to choose from! The only times I've had vent issues was on super puking powder days where snow got inside the lenses :( We just got 51 inches in the past 72 hours and it was face shots galore...only time I've had fogged lenses. BUT...take them off the helmet to air out, drink a beer, and they dry out pretty quickly. Love the mirrored lenses too... Best goggle EVER! Plus they're made in CO...feels great to support my local peeps!
Unanswered Question
any recommendations for a helmet that works well with these
Essential addition to my shred gear!
Gender:

Female

Familiarity:

I've put it through the wringer
The Voyager goggle fits perfectly snug on my face, very cozy. It provids a huge amount of visual range and looks cool to boot.

The Voyager goggle quickly became the best goggle I have put on my face to date. It wasn't often that I needed to change out the lens due to low light. The Phoenix Mirror lens was up to par with how I wanted my main lens to perform, even when the clouds were nuking big 'ol fatty flakes. I was able to make out every bump and obstacle effortlessly. It was only when the sky was so overcast and gray and just absolutely miserable looking that I had to whip out the Blue Sky low light lens. Once that bad boy was on there it was almost as if the sun was shining through a very thin layer of clouds.

The Phoenix Mirror lens seemed to have a very slight color gradation from top to bottom, lighter to darker, when looking through the lens which I actually like very much! It seemed to make all the variations in light on the snow more visible. And when the massive snow came.

The Zeal Voyager goggle has been a super comfy, basically a new best friend, can't shred without, essential addition to my shred gear.

http://coloradic.com/
Are there any Rx eyeglass wearers that are...
Are there any Rx eyeglass wearers that are owners of these goggles? Could you share your impressions related to the fit between your glasses and these goggles? I'm a guy, 5'-9", wider head, 6" temple to temple, glasses frame 5-1/2" x 1-7/8".

Thanks, Mark
They'd probably be a really tight fit...I'm a smaller female and I've got a pretty narrow temple and tried my glasses under them. They were tight for me and a tad uncomfortable.
Love these goggles!!
Gender:

Female

Familiarity:

I've used it several times
I love everything about these goggles...great fit, snug but with no pressure or pinching on the nose/face. Great visibility and they never once fogged up. They work well with my Sweet Protection helmet and the mint color is fun.
They rule.
Familiarity:

I've put it through the wringer
These pretty much instantly became my favorite goggles. They fit great and have awesome clarity and field of vision. It's really nice having the bonus low-light lens, too. Even better, they are super easy to change out.



I attached an elegant selfie for an idea of how they look/fit. I'd guess I probably have a small-medium sized head/face.
Each individual lens is dual lens, meaning it's two lenses fused together to keep out fog.






Can anyone recommend a good case for these?...
Can anyone recommend a good case for these? Otherwise I'm gonna buy another Oakley soft vault.
Best Answer
Hey Ash,



The Oakley Soft Vault is a good choice, I have one myself. However, the Smith Goggle Case is also really solid one. Item# SMI0152
A mini clinic on the Zeal Voyager goggle.
Worked like a charm on my recent trip to CO.

PROS:
- The fit nicely with a helmet on
- Gave great range of sight.
- Changing lenses is super easy.

CONS:
- Fogged up just a tiny bit on a really warm day when I was drenched....but not as bad as my other pair

I would recommend to others and purchase again. I think everyone on my trip wants a pair now after letting them try them out for a while.
I've got a big head. I've never had a goggle be too big. These did not form a seal on my face. The sides of the goggle left a gap between my skin and the foam in the temple area. I thought they'd bend to seal it, but they didn't. They went right back in the box and sent back. I was very disappointed, as the field of vision was impressive. No seal. No deal.
Bought these puppies for a jaunt out to Copper Mountain and they exceeded expectations. Their comfort was only rivaled by visibility. The low-light lenses are an amazing bonus. At twilight, I swear visibility improved when I put the Voyageurs on. Mad style points. Ladies love to check their hair and make up in the spotless reflection. Get these gogs!

Bottom line: A bit pricey, but more than make up for it in functionality and style.
Great Goggle BUT Inside Lens Scratches Easy
Awesome pair of goggles. The red lens is polarized and therefore doesn't require much tint.(dogfunk site says not polarized but Its definitely mirrored so not sure) Anyways, this mirroring means it excels in sunny conditions without having to make everything amber (or any dark color). Rather the color difference is fairly minimal, and highlights and defines the snow in one of the best ways I've ever seen. In my experience the traditional amber lenses I've used in the past obscure the snow too much. The red lens adds the slightest bit of amber/yellow that is just right IMO. They have performed well in high to med sun so far. I have not tried the lighter blue lens yet but looks promising.

BUT..... The inside lens scratches SO easily it's a little ridiculous. I followed the instructions on the ZEAL site to use the inside of the pouch they came in to wipe the lens. But I guess there were little pieces of ice in the snow I was trying to wipe out and I scratched them really badly with just a few gentle passes. And I was consciously trying to be gentle and not scratch them. Got really frustrated because this was my FIRST day using them. Other than that they have been a great goggle. Will be contacting Zeal to see if I possibly got a defective lens.

Otherwise FIVE STARS
Best Optics
Gender:

Male

Familiarity:

I've put it through the wringer
For the money the best optics on the market. Zeal nothing more to say!
Really happy with these goggles- great fit, fog resistant, high quality optics, really easy to switch lenses. I got the metal mirror lenses which have been awesome on the few bluebird days I have ridden this season. The free extra lens was a surprise - I expected them to be pretty plain low light lenses but they are actually mirrored and graduated (blue tint at the top and amber red darker from the middle down).
Handsome goggle
Familiarity:

I've used it several times
This goggle is so good in person. Awesome detailing from the stitching the the lens finish. Comes with 2 lenses and is super easy to swap from one lens to another.