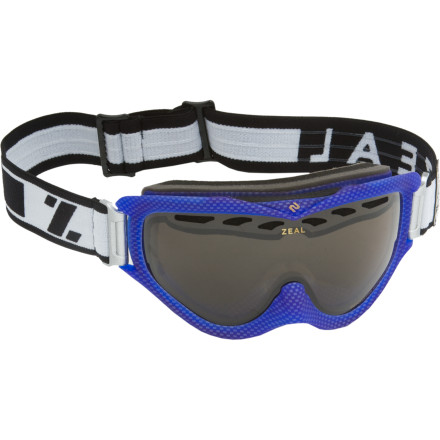 Detail Images
i bought the link sppx, felt like the foam...
i bought the link sppx, felt like the foam was touching the side of my eyes. think it was because of the spherical aspect of the google. would the det fit my i guess larger head
Hey, the Detonator is their largest goggle... the link is definitely for smaller faces... I have a large noggin as well and loved the Detonator when I was rockin' it...
Does as advertised...super goggle and lenses create more ski time instead of equipment adjustment time.
they adjust very well to chaning light conditions. when the sun is away you really see the differences in snow surface that lies before you. helps a lot to keep up the speed while boarding even when the light gets dimmer.

fits my giro helmet well.
Great looking but didn't fit with my helmet.
Love these goggles. Lenses work great under all conditions and certainly beats having to decide which lens to use each day or getting stuck with the wrong one once the weather changes. Be warned that the medium/large size listed runs pretty small, though still fits my helmet fine. Very satisfied.
Skied seven days in them over Christmas/New Years in conditions ranging from falling snow, to flat light, to bright sunlight... and the lens was awesome. Performed as advertised. Great contrast, always a great light level thanks to the photochromic feature. And, GREAT field of view, thanks to the spherical lens shape.

Reminded me of my Serengeti Vermillion lens sunglasses from back in the day.

Fits great under a Gyro Seam helmet.

And though they are not advertised as OTG (over the glasses), I could have worn these over my Lindberg titanium eyeglasses. (Opted to sport contacts instead.)
ive only used these for two days but in variable light conditions they were excellent. i didnt even notice the goggles changing - basically your vision remains fanastic no matter what the visibility. I dont find them too dark - they have improved this in the 2010 version. i dont think the perpherial vision is any better than my old goggles - but the photochromic lens is the real winner. Im very satisfied.
I have the 09 PPX version.The fit,material,construction,and just about everything else is awsome about these goggles except light transmission.The only good use you could have with them are in sunny conditions.When the weather gets little cloudy,the photochromatic lenses don't lighten up enough so you have hard time seeing.I bought these goggles thinking I'll only need these for all weather conditions,but I ended up buying Smith goggles with sensor mirror lenses for seeing in overcast conditions.
I hate to give such awesome goggles a 3 star rating but they just don't fit my face. Too much air leaking in below my eyes. I don't wear a helmet so that is not the issue. I have a small face. The Photochromatic function is fantastic going from above tree line to shaded gullies. Unfortunately I returned them after one day of use and traded them for a pair of Oakley A-frames. So If they fit your face I would definitely recommend these.