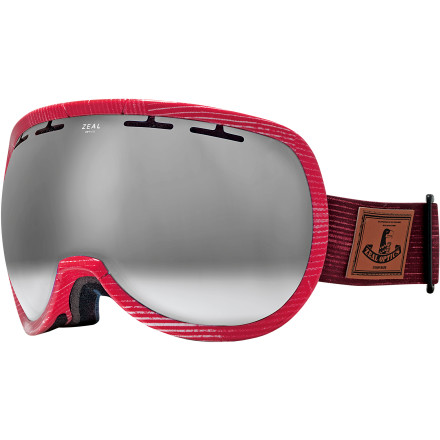 Colors

Detail Images

Community Images
Description
They say 'maximum visual surface,' we say 'huge.'
You'll see everything from behind the massive lens of the Zeal Level Goggle, and we really mean everything. Unique colorways and a peppering of stylized textures differentiate each colorway of the Level goggle, but every Level offers the same oversize and optically precise Optimum lens. Best of all, this goggle is still helmet-compatible so you don't have to ditch your brain bucket just for all that extra protection for your eyeballs.
Optimum Lens is Zeal's finest lens design, crafted from top-shelf materials and shaped to provide crystal-clear optics
Lens design includes multiple vents and an anti-fog coating that keep your vision clear of moisture
Impact-resistant frame flexes to absorb the hardest hits
Dual strap system allows for plenty of adjustment so you can dial in the most comfortable fit
Solid Stitch construction utilizes heavy-duty thread to increase the durability and longevity of the goggle strap
A double-beaded layer of silicon keeps your goggle strap securely in place on a helmet or around a hat
Great frame, poor lense
Familiarity:

I've put it through the wringer
These guys are definitely huge. I ski switch a lot (most of the time, at least on the front side) and the periphery just can't be beat. I've looked at other goggles at SIA on-snow-demo and I just can't find a wider-angle frame than these. Also, they sit very comfortably on my face, but that's a personal preference.
The lense, however, is mediocre. If you wipe them when they get wet on the outside, sometimes the tint can wipe off too, even using proper chamois for cleaning. I've taken a few tumbles and after pulling the goggles out of the snow and shaking the snow out of the inside, water would inevitable get trapped between layers in the lense and put a big bummer in your day. A good plus to their lense is that its optically nearly perfect all around the lense and also, Zeal pre-pregnates the plastic that's closest to your eyes with anti-fog stuff, so you can wipe the inside of the lense w/o wiping off the anti-fog stuff they spray onto other lenses.
Do you have the replacement lense for the peruvian gold goggles. My dog got a hold of it and chewed up the lense. Too bad theae ones aren't on sale anymore. I really just the lense replaced? Best goggle ever!
Hey Edu,



Unfortunately we do not have the Zeal replacement lenses at this time. You can always contact Zeal directly for them @ www.zealoptics.com and they should be able to set you up with a replacement lense.
These MOFOS are HUGEEE
Familiarity:

I've used it once or twice and have initial impressions
I liked the looks of these bad boys online, especially with the Alchemy Mirror Lense. I tried these on, and they were GIANT!!! My Eg2s look reasonable in comparison. That said, I wish I had a bigger face, cuz these things are DOPE. If you have a big head, these make it worth the high school bullying.
Great goggle w/ excellent field of view
Gender:

Male

Familiarity:

I've put it through the wringer
I've had these goggles for two seasons now, and they are certainly my favorite. I've also owned Dragons and Spy goggles (still keep the Spys as a backup pair).



First, I noticed some folks commenting on fit. Any goggle can vary in fit and where they land on an individual's face. For me, I have a big head- I use a large Salomon Ranger helmet. With that helmet and these goggles, everything lands on my face right where it should be. They also fit my friend who has a very small head- the way her helmet fits her allows for this though, and I can certainly see that with a lower brim it may hit your nose.



In any case, assuming they fit right, the field of vision is excellent- pretty much what you'd expect from a goggle this large. I have the "Supply Black" version, and I did buy a 2nd lens for use at night. The lens it came with has been great for all other conditions, from full sun to overcast, but it definitely is a bit dark for night usage. Which is OK with me- most people don't wear sunglasses at night, so why expect day time goggles to work at all hours? These also never fog up on me, and I sweat a good amount when I snowboard.



I also had a good experience with customer service on these- I scratched the first lens on a face first wipeout on something in the east coast snow/ice mix. I called them up (at the time, they were owned by Maui Jim, not sure if they still are), was able to speak to a person right away, and they told me to send the lens in and they sent me a replacement free of charge.



So, overall I highly recommend these lens. Certainly check the fit, but if they do, I think you'll be happy. Pick up an extra lens if you have access to night snowboarding/skiing.
Great Goggle!
Familiarity:

I've put it through the wringer
Got the made wood, alchemy goggle and colours were true to the picture, and looked great! Amazing peripherals, and face fit. I could see if someone had a larger nose that this goggle would need a high-forehead helmet due to pressing on the bridge of the nose, but I did not have a problem with that. This goggle was not the best for night riding, but I still used them on well lit runs without a problem.
A mini clinic on the Level goggle, By Zeal!
Zeal Rider, Austen Sweetin in the Level
A sweet shot of Zeal, Snowboarder Austen Sweetin in the level goggle.
These goggles are great. When I put them on i can see the frame of the goggles at all. I wore them all weekend snowboarding and the never once fogged up! The only complain I would have would be that at night it was harder to judge the dips in the snow because of the tint. Other than that they were awesome.
Purchased these several weeks ago, but item differed from photo. The bluebird lens is not mirrored as in the picture and the frame is different also. Was a bit disappointed, but kept the goggle anyway. It works well and the field of vision is great. No fogging and a crystal clear lens. Unfortunately it doesn't do as well in low light as I had anticipated.
are the henley/bluebird mirror mislabeled? it...
are the henley/bluebird mirror mislabeled?

it looks like it should be the phoenix mirror
i don't think its mislabeled, the same photo is listed on many websites as the Henley Black/Bluebird Mirror.
right, I just think it's funny how both bluebird mirrors look the same on the level. the other goggle models call that lens the phoenix mirror. the first-gen henley comes with bluebird mirror
These have an amazing field of view, great lens, and they look killer. But, when worn with my helmet, their large lens put pressure on the foam that went beneath the bridge of my nose. Ordinary goggles sit higher, so it's a non-issue. The pressure on my nose interfered with my ability to breath through my nose. At altitude, oxygen is important. It's even more important than an amazing field of view. This was my second attempt at finding some Zeals that fit, and they are the second style I've had to send back. I'm disappointed with the brand, as it seems they place form over function. I won't be buying any more Zeals.
Crazy field of view!
Familiarity:

I've used it several times
These goggles have a crazy field of view! I find most goggles with big lenses are stifled by the inner foam/frame, not showing the field of view they exemplify from the outside. Not the level! This goggle fits great, is helmet compatible and you can really see as far as the lens advertises from the front. Great colors as well!