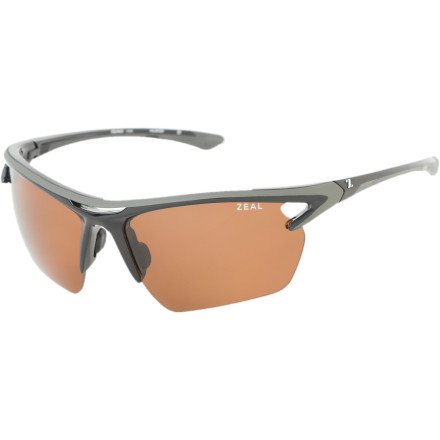 With one stride at a time and the polarized Zeal Equinox Sunglasses shielding your eyes, you blow through your normal six miles and lose count as your body, soul, and the landscape meld into one. Nothing can break you out of your zen-like running trance with your steps setting the rhythm and this sporty shade's polarized lenses blocking the harsh UV rays and reflecting glare.
Z-Resin frame provides a durable, secure fit with ProFlex technology, but is made from castor bean oil, a sustainable plant that reduces carbon emissions
Polarized Hyperion lenses reduce glare, resist scratching, and provide optical clarity, especially on the water, snow, or road
Highly curved lenses enable ample peripheral coverage while running or riding a bike
Adjustable MyFit nose pads allow a custom, secured fit for your more active days outdoors
Medium fit works well for women
are these 'copper' lenses dark enough for...
are these 'copper' lenses dark enough for really bright sunny conditions?
Hey Stwennik,



The copper lens only allows 14% Visual Light Transmission (VLT) and would be pretty perfect for bright days.
Zeal Equinox Sunglasses - Polarized
I got these as an update to some lifestyle Zeals that I LOVE and I wasn't disappointed!
I wear these while cycling Wasatch Canyon Rim and they have yet to let me down. Great fit, good wrap and awesome lens.