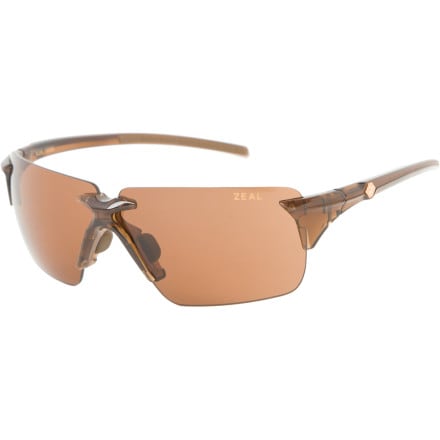 Detail Images
Description
Hard to the right and then hard to the left.
You're driving your boat at breakneck speeds trying everything you can to dump the stubborn tubers that are dragging behind you like parasites. You don't have time to worry about is your sunglasses slipping off. The Zeal Eos Sunglasses use high-tech materials to protect your eyes and stay in place.
Hyperion lenses give you the toughness of polycarbonate with the clarity of glass
Z Resin, made from natural castor oil, creates light, strong, and flexible frames without damaging the planet
SPF film is imbedded directly onto the lenses to block 100% of UV radiation and 95% of HEV rays that can jack up your eyes
Environmentally friendly manufacturing process
Hypoallergenic ProFlex Rubber lines strategic inside spots to prevent slippage
Share your thoughts
What do you think of the
Zeal Eos Sunglasses
? Share a...
Lightweight; great for hiking/biking
Member since
Posted on
Always avoided sunglasses because I could never find a pair that would stay on while I hiked/biked. I have an oily/combination complexion and a rather flat nose so most sunglasses tend to either sit too low and not cover the top part of my vision or would slip off due to sweat/oil. Tried these out and am still using them now for all my outdoorsy activities and driving too. Been four months and I am enjoying how these glasses help block the brightness of the sun without dimming out too much. Frameless style covers all of my vision without blocking anything out! Also easier to clean; no cracks for dust and such to embed. Lightweight and nose support help minimize the dents on my nose and help them stay on without much slipping. Sleek design sits flush against my face/head and fits under my helmet.

After four months of flipping the arms open and closed one of the screws began to loosen a wee bit. Managed to catch that and tighten it back up before falling out/losing it. I imagine most glasses have this problem anyways?
Great for running and cycling
Member since
Posted on
I just ran a trail race in these this weekend, and they were AWESOME! I don't always like the Polarized lens in my performance glasses, as it can make me feel dizzy. This still reduced glare, brightened the trail, and was light on my face. Awesome price for the performance.