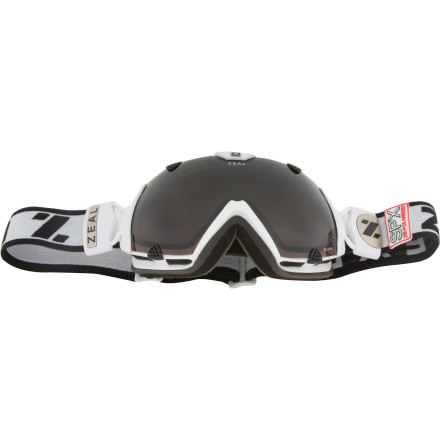 Detail Images
Good visibility, protection from harmful UV rays, and no fogging when your body heats up is what you get from the Zeal Eclipse SPX Polarized Goggle. The spherical shape of the lens increases your peripheral vision, so you'll see more of the mountain and get a better overall experience on the snow.
The in-mold lens design cuts out a large amount of frame material, reducing overall bulk and weight
The polarized lens blocks light reflected off horizontal surfaces (snow), which reduces overall glare and increases visibility
Pivoting strap attachments ensure an ideal fit with or without a helmet
100% UV protective lens
Anti-fog coating is guaranteed to never wear off
Bad things first, they are for a large face. I thought my head was big...but these feel a little large.
Other than that, they are superb. I've worn them on dark powder days and very bright sunny days, and they work great for both. Definitely a better performer in the higher light, but then again most lenses are.
Has anyone worn these with a Bern Baker...
Has anyone worn these with a Bern Baker helmet? I am curious to know how they fit.
I have a mate with this combo and he is very happy with it
I have worn these goggles now for a season and absolutely love them. My only slight gripe with them is that they are bigger goggles and took a bit of time to get used to, but once used to them I wouldn't go back.
Though the field of vision is tremendous, the goggle pinches my nose enough to where I cannot breathe - and I have a fairly average to large sized head. I figured I would just deal with this, until they began to fog up terribly each day. Went with the I/O's and have been much happier.
Doesn't come with the Hard Case anymore!!
Advertised by Zeal on their website and the packaging that this is supposed to come with a hard case, apparently this isn't true anymore according to Zeal. Just a heads up to anyone that may be purchasing and expecting the Case. It makes you wonder though if they are falsely advertising anything else or of the quality of the product for 200 bucks. The goggles work well other than that, its just annoying when manufacturers are false advertise something.

No blame to backcountry on this of course because they don't indicate either way on their website.

The lens does come loose very easily as someone else had commented so you have to be careful when putting them on and off, especially over your helmet.
I just got these goggles the other day... Took them out snowmobiling and they are rad. They work awesome in all light, great ventilation and look good too. I have a pretty big noggin and they fit large on me, if you've got a small melon, you'll probably wanna look for a different goggle.
I didn't find them comfortable at all. They just felt too large (and I have a big head).
Great googles, a little big though
Get lenses! The googles work well in all light. These are the first pair of polarized googles I've purchased, and I must say I'm a fan.
Very comfortable, fog free in any weather conditions, even in heavy snow.
I just got the SPPX model (one step up) all I can say is AMAZING. fits great with a Giro G9 helmet, does not fog, and the lens auto tint is the best. You forget you are wearing goggles. They are the best there is