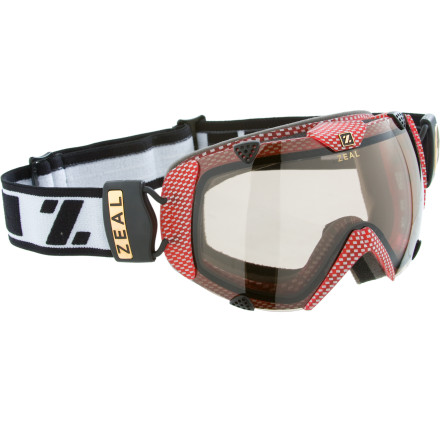 Detail Images

Community Images
Quite possibly the most important part of any snow-enthusiasts' gear is the eyewear. Zeal made the Eclipse Polarized Photochromic SPPX Goggle so you don't have to have more than one lens for changing conditions. Since light usually changes during a full day of skiing, snowboarding, or mountaineering, Zeal made the Eclipse with a Photochromic lens.
Photochromic polarized lens automatically adjusts the tint in changing light conditions, which means it performs incredibly well in everything from low light to bright sun
In-mold lens design reduces bulk and the pivoting strap attachments make it ideal for use with a helmet
Anti-fog coating is guaranteed to never wear off
Spherical lens provides superior peripheral visibility and light refraction
In-mold lens design reduces overall bulk and weight
What is the sizing standard for this google?...
What is the sizing standard for this google? Whats in stock is L-size.
The sizing on the straps for this goggle is one size fits all. The frame size is for medium/large faces.

Unfortunately it looks like this goggle is out of stock. I would suggest checking back in a couple of weeks for more inventory.
Zeal Eclipse
Gender:

Male

Familiarity:

I've put it through the wringer
Great goggle. Bought them for photochromic capability but they do not vary with the light. Have looked to buy replacement lenses and cannot find them. The company website is awful as you cannot determine the difference between Detonator and Eclipse or anything else cannot find what other lenses are available for different lighting conditions. Seems like a very good product produced by a very poorly managed and marketed company.
I can not review yet the lense but the fit. I ordered 3 different models, the link so far is the only one that still lets me breath. My boyfriend tried them as well- same problem.
Best goggle I have ever owned!
Gender:

Male

Familiarity:

I've used it several times
I returned the iON goggle and exchanged it for the Eclipse. I have had three ski days so far and I am extremely satisfied! The fit for me is just right for both my face and helmet. I appreciate the Polarized lenses on those sunny days. The lens performs great in low light... flat light must be respected otherwise you will hurt yourself. What a joy it is NOT to change lenses during the day! This is for the skier who is passionate and expects quality. There are other really good ski goggles. Alpina for instance makes a sun lens that connects to your goggle with a built-in magnet. The Eclipse has met all my expectations/requirements. I hope I never forget them somewhere!
Great lens, average fitting
Gender:

Male

Familiarity:

I've used it several times
I have spent quite some time deciding between Oakley Airbrake and this goggle. I decided to try both. I have used this goggle for 2 weekends during bright light condition as well as cloudy day. The lens photochromic feature really works well. I can see the slope surface really well in all light conditions, starting from morning bright daylight until darker and shadowy afternoon towards the last lift. It beats the needs of bringing and changing lens, such as Oakley Airbrake, even though it's very easy to change lens in Airbrake. However, the nose fitting is not as good as Oakley Airbrake. I don't have big nose, and there is quite a gap between my nose and Zeal Eclipse goggle. There is no nose gap when I wore the Oakley Airbrake (standard version; not the Asian Fit version), which I think a big plus for Oakley. Because the outer side of the nose fitting is higher than the inner side, there is a small viewing dead zone in the middle, unless you push this Eclipse goggle a bit lower. Even though the nose fitting is not as great as Airbrake, I still choose to keep this Eclipse goggle instead of Airbrake, because I don't need to bring extra lens. I hope Zeal will make a better nose fitting and eliminate viewing dead zone like the Oakley Airbrake.
These goggles are amazing! The polarized/photochromic combo is second to none and for the price point, you can't beat it. I highly recommend these.
These goggles look very similar in size/shape...
These goggles look very similar in size/shape to the Smith I/O. Can anyone confirm? I have the Smith Vantage helmet and am hoping these goggles pair as nicely as the I/O's.
Hey,

They are not quite as similar as you'd think. They will still fit fine with a smith helmet though.
Thanks Josh. Can you elaborate a little? Similarities, differences, etc..
I own a few pair of I/O's and I find them less bulky for one. The nose bridge seems a bit taller/more accommodating in the I/O's. I also really like the "vaporator" technology with the I/O lens where it has a little hole in the lens to allow it to breathe, I've yet to have my lenses fog up on me. The I/O's have a strap clip which provides a much easier on/off, especially with helmets. Lastly the I/O's have a truly rimless design where the Eclipse has the 4 large silver clasps encroaching on the lens as well as the different styled outriggers. All in all I'm sure the Zeals' work great for some people but I will be buying Smith for the foreseeable future. Hope that helps.
I am looking to buy goggles (prescription)...
I am looking to buy goggles (prescription) to wear under my ski-doo helmet. I wear glasses but they are constantly fogging and I cannot see. Does anyone have any experience with this.
The only prescription goggles I've ever found have been more like sunglasses with one lens for each eye. If you want traditional goggles, look at the Smith TurboFan goggles:

http://www.backcountry.com/smith-knowledge-otg-turbo-fan-series-goggles
Try rxgoggles.com. They make clip in inserts for your goggles. I've used them for several years with good results. The price is reasonable as well.
Zeal gets it, I love them.
There was a day when I had different pairs of goggles for different weather patterns, and I was out there guessing which way it was going to go every morning. On the recommendation of a friend I bought an Eclipse from Zeal directly and will never go back. From pre dawn skin adventures to bluebird Colorado sunshine I've never found myself wanting a different lens. I don't care how easy it is, why bother with all that nonsense snapping lenses in and out? Carrying lenses with you on a hut trip? no thank you.

I have managed to fog the thing once when I was climbing with my buddy Kyle in durango but that's a matter of temperature regulation, Kyle is stronger, better suited to the environment, and prettier than me so I was cooking on that ascent. It was nice to learn from Zeal customer service that you can't ruin their antifog by cleaning the inner lens so they last longer than I expected.

Oh, probably worth noting that I did damage the lens really badly in one of my classic "terrain park miscommunications" and Zeal was really awesome to deal with when I needed help in the middle of a road trip. Without a doubt, they went above and beyond to get me a replacement.

I no longer wear the eclipse.. I gave them to Kyle this year, 3 seasons old and still a strong gear hook up. Today I ride in Zeal's Z3 GPS goggle.
Slick optics, with a few issues.
Fit, comfort and reliability mean nothing if the optics are subpar and these Optics are NASSA worthy, have to be in the conversation when discussing the upper echelon of goggles. That doesn't mean they are perfect! YES, optics are great but these goggles have a few cons: photochromics are iffy at best, if your making first tracks or getting pushed off the slops by patrol (to tight with light). Then if the sun pops out, yes they do darken but nothing like some glasses on the market. They do the job but one starts to wonder, if there was a bit more tinting ness these would be awesome! Don't get me wrong, the polarized optic visuals are great. First rate all the way. For a straight forward review: low light to dark, hi light not dark enough. For the frame's they may need post-production tweaking to get your desired liking!
For use walking / light hiking, they do fog up
I use these goggles for walking and light hiking in the northeast during the winter. They are not used for skiing. In this application they do fog up during certain weather conditions. If there is a strong wind they won't fog. Otherwise, they do. I honestly can't tell the exact weather conditions in which they fog or don't fog. It's sufficiently annoying that we're trying other goggles (Smith I/OS and Smith I/O) which a BC gear expert says do better at not fogging and are even more reliable and better performing than the Smith Phenom goggles with a fan.

I will say that other than (!) the fogging, the vision is great and the adjustment to light conditions works very well. So for downhill skiing applications where you have a strong breeze to create ventilation they may be great. But not for walking or light hiking.
These goggles kick ass and I love them. I see there is a lot of debate going on over there anti-fogging capabilities. In my experience, the only time they ever seriously fogged up was going from 0 degrees outside into a hot, overly crowded bar. Yet they still cleared up fairly quickly. Other than that though any other perspiration, such as from breathing heavily into a fully zipped jacket, cleared in seconds.
No fog??, you mean never?? These goggles fogged up within the first 10 minutes of wearing them. Vastly overstated claim. To be realistic they are a little better than most ANTI-fog goggles but not perfect. Size is large but ok.
Wore these goggles skiing Niseko,Hokkaido,Japan in January 2011 - continuous snowfall and -15C all week. Luckily I tried them with my Giro G9 helmet before I left. The fit was no problem but for the foam pinching around my nose a bit, trimmed that with scissors to a perfect fit. Unfortunately the clips holding the lens to the frame are a joke. Extreme care must be taken when removing the goggles otherwise the lens will easily become partly detatched = goggles fall apart. Decided to carefully fix this by glueing the lens in with automotive adhesive sealant. Key word here is carefully! The lens stayed in place and no wind driven snow entered through the now sealed large gaps between the lens and frame.
It is worthwhile noting that this goggle has been discontinued, probably for good reason - too fragile. Lens IS good, even ok for night skiing if you have to. Liked the anti slip beading on the strap, excellent for helmet use. Take care with ice on the foam surrounds, allow it to melt before removing it, the foam is easily torn otherwise.
Buy Zeal but check how the lens is secured, needs to be secured around the entire edge not with small clips.
Happy skiing
Awesome Lens, Massive Size
Like others have acknowledged, these goggles are very large. I'm a pretty big guy (210 lbs, 6 feet), and still these were so large they pinched my nostrils to the point I had to breathe through my mouth. I opted for the Zeal Detonator. Same lens, smaller goggle frame. Skied seven days in them over Christmas/New Years in conditions ranging from snow, flat light, bright sunlight... and the lens was awesome.

Reminded me of my Serengeti Vermillion lens sunglasses from long ago.

I wanted these to work out... with a helmet, you look a like a fighter pilot in them... very cool. But alas, too large.

btw... the Detonators fit great under a Gyro Seam helmet.
I used these goggles the past couple of weeks snowboarding and they are unbelievable. The lenses change from a super dark to super light. They work super well in all conditions even when the weather changes.
Does this goggle work with an eye glasses...
Does this goggle work with an eye glasses inside? I am very interested in the product, but don't know if it fits if I wear my glasses.
according to backcountry, they do not, but check on zealoptics.com, they sell an Rx piece that attaches to the bridge of the goggles, it's only 25 bucks
If you have small-framed glasses it will work. I have worn them that way. You may want to notch the foam where the temple pieces come through. Zeal's specifically over the glass model is the Rapt.
Great Goggle, With 1 Shortcoming
Pros:
I spend all winter on the snow working. I go through A LOT OF GEAR. All I can say about these are they are amazing AMAZING. The Fit is great (the are big but so am I)they fit perfectly with a Giro G9 helmet, and for once a company has an anti-fog that actually keeps goggles from fogging. As far as the lens auto tint goes, I don't know how I have skied with out it. You forget you are wearing goggles. They are the best there is.

Cons: The lens is held on with the triangle clips around the frame, so when you take them off or need to pull them over your helmet you need to make sure you don't pull on the lens. If you do it can come on clipped in a few spots. So, just grab them by where the strap attaches and you should be good to go!

Over all: Buy these or another SPPX lens goggle from zeal. The auto-tinting lest may seem a bit over the top but it is 100% worth it!
Are the tint variations on these legit?...
Are the tint variations on these legit? Basically, is it worth getting this pair or carrying an extra pair of goggles. I have two pairs of A frame oakleys but they have 6 seasons of wear on them and am thinking of replacing them. The oakley goggs have awsome lenses, and i have never heard of or used zeals. So basically how do these stand up versus the other big boys? anyone, anyone, bueller, bueller?
Best Answer
I have a pair of the Zeal Link goggles with the PPX lenses and I love them. As an idea of how well the changing tint of these work, I used these on a summit climb of Cotapaxi which started at 11:30 pm and ended around 9:30 the next morning. I put these goggles on at the very beginning and I took them off at the very end and I had no trouble with them at any point along the way. the clarity of the lenses is impressive and they offer several goggles to accomodate different face sizes. I recommend Zeal's goggles to anyone looking for a high-quality, versatile pair of goggles.
Awesome goggles but NOT one size fits all. These are characterized as Medium/Large in fit. I am 5'11" and about 170 with a medium sized nose. The goggles are too big for me. They pinch my nostrils inward, inhibiting my breathing a bit. Zeal has two other models in the SPPX line - the Detonator which is Medium/Large and the Link which is Medium. I am exchanging the Eclipse pair I bought (the one from Men's Journal)and getting the Link.
Bought these for my husband, who has a pretty large face. They are really great goggles, he liked the features, but they were really, really big. We returned them and bought the Zeal Links.