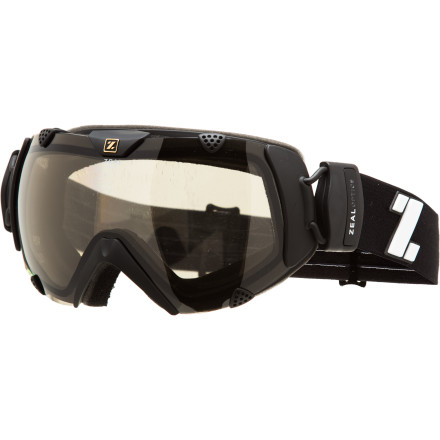 Colors

Detail Images

Videos
Description
It can keep the sun in the dark and show you the light.
The Zeal Optics Eclipse Goggle with Polarized Photochromic lens is smarter than you are—it always knows which lens tint is right for the light. Photochromic technology allows the lens to automatically adjust its tint to match the light conditions, and the polarized lens coating takes the bite out of harmful glare. Drop into the park, some powder, or a few slackcountry runs while wearing this wide, comfortable goggle, and never look back.
Photochromic polarized lens automatically adjusts the tint in changing light conditions, which means it performs incredibly well in all types of light
In-mold lens design reduces bulk, and the pivoting strap attachments make it ideal for use with a helmet
Anti-fog coating is guaranteed to never wear off, and top vents help with airflow
Spherical lens provides superior peripheral visibility and light refraction
In-mold lens design reduces overall bulk and weight
Spectacularly good lens
Familiarity:

I've put it through the wringer
The Photochromic/Polarized lens is the best I've experienced, providing outstanding clarity in wide variety of lighting conditions. I've used it in all conditions, from blinding snowstorms, impenetrable fog, and dazzling sunlight at 12,000 ft. The lens do adapt slowly (as do your eyes by the way), so caution when plunging into shadows of tree skiing from a brightly lit slope is a good idea., you may not be aware of how dark the lens has become in bright sun on and open field of snow. The situation is definitely better than being stuck with a dark lens in the trees though. You don't notice the changes in lens density during normal weather changes as they adapt faster than the weather can change, providing good visibility throughout.

The goggle can squeeze the nose, particularly if your helmet forces it to ride lower on your face. A common complaint for this goggle. I trimmed the foam around my admittedly "fat" nose which solved this problem for me. Good field of view, and essential feature these days if you don't want to get run down by snowboarded bearing down on you with his back toward you (never mind the out of control boarder).

Have had some problem with the inner lens cracking for no apparent reason, but Zeal has promptly replaced lens. Outstanding service. The cracked inner lens did not really interfere much with utility, lens did not fog as result, but the cracked line was visible in field of vision and would have been aggravating for more than finishing up the day.
Changing Conditions? Rock these
Familiarity:

I've put it through the wringer
Love wearing these when I am not exactly sure what the weather is doing up there (think wedding crashers). The lens will lighten or darken depending on light conditions, which is a huge plus. Nothing worse than realizing you brought your blacked out pair of goggles on the cloudy day.
Pinch my nose.
Familiarity:

I returned this product before using it
Lovely goggles. Great quality, nice look and sharp lines. Color options are vast and give you that 'fighterpilot' look when paired with a helmet.



Thing is, you cant breathe and the clips on the side dont pair well with a helmet. So I returned them and hope to find a pair of Zeals that dont make me a mouth breather.




Good for taller/larger faces
Familiarity:

I returned this product before using it
I had a fairly wide nose and Zeal Links worked really well for me. Photochromic lens worked perfectly in most of the conditions (except for really dark greybird days). But, alas, the lens got cracked and I decided to replace it with Eclipse. The cutout for the nose is pretty deep in the Eclipse and the google is pinching my nose (. I'll be returning them and looking for Zeal Link or Fargo (Zeal support indicated that they are similar in shape to Link). That's the only reason for 3 stars. Otherwise, I would be putting 5.



Zeal support said that the closes shape to Zeal li




Unanswered Question
over glasses?
get them!
Familiarity:

I've used it once or twice and have initial impressions
i have a big face so i know for a fact that they fit comfortably on me and i have a pretty sick view of the field but i have not tested them out on snow yet for the polarization and Photochromic test although in the dark its pretty clear to see things in my opinion and does well in the sun! personally i love them because they aren't some waky cool looking color for the lens which i wouldn't really care for because i would hate to see everything in blue or red or whatever and they come in some dark black or brownish color which doesn't throw me of my game haha but if you want a sick goggle with polarization and not changing the lens then get them if your not into polarization then get the anon m2! if i wasn't for polarization i would get the m2!
in the darker days wouldn't the polarized...
in the darker days wouldn't the polarized goggles make clarity not as good as a clear or yellow lens? i know they can adjust but how much and as i said in dark days when glare isn't there would i able to see less with polarized while the tint is low or adjusted






Best Answer
The polarization only block reflected light interference and can only help make the image more clear. Its the photochromatic capabilities that change the visual light transmission(VLT). For this lens the VLT is from 18% -43% which will allow more light than your standard rose lens but not as much as a yellow of clear lens. I don't know if I would recommend this lens for night riding but for overcast days these goggles will work fine.
Zeal Eclipse Goggle - Polarized
I took the plunge and purchased these and used them at Mt Baker in late March.

It was snowing most of the time I was there and on day one it was as wet as I have ever been but these goggles didn't fog up and offer the best view I have

experienced in my ski career. I gave them to the others in my group to try

and they all agreed they were outstanding. I wasn't aware of the lens changing density but I could always see perfectly so I am sold on these things.
Strap hinge broke right out of package!
The plastic hinge that holds the strap to the goggle seems to have a quality issue. One side broke as soon as I stretched the band to get ready to try it on. The plastic on that hinge seemed very brittle & flimsy, prone to the breakage that I observed. The hinge on the other side is identical, but seemed a little less brittle. This does not seem to be an isolated incident from a quick search online.
Best Answer
Yes they are, I guess SPPX is the old name for these lenses. Now they call them Automatic (nicer name for photochromic I guess) Polarized. Just bought the 2014 model in the Zeal store in Boulder yesterday and they're really nice. Major difference between the way the 2013 model fit my face and the 2014 though. The 2013s pinched my nose shut entirely while the 2014s are some of the most comfortable goggles I've tried on.
"SPPX" is not a model name, it is a designation Zeal uses (or used to use) meaning "Spherical/Polarized/Photochromatic". This means:



a) the lens is shaped like a portion of a sphere. This allows truer optics than a "flat curve" lens shape.



b) polarization blocks interference from light reflected off of surfaces such as water, snow and ice, enhancing clarity



c) photochromatic means the light transmission changes depending on light conditions - in lower light, the lens is more transparent, and in brighter light the lens is darker.




Very comfortable fit for a regular to smaller face. Forms well to my helmet and holds on tight! Great lens clarity and the transition in given lighting is AWESOME!
Are these the 2013 model? Thanks
Are these the 2013 model?



Thanks
Zeal Eclipse
Gender:

Male

Familiarity:

I've put it through the wringer
The lens is nice, the photo chromatic does work in many varied lighting situations. Scratches very easily and fogs, if that fog freezes hope you brought another pair of goggles.

The frame material is light but almost to light. It does not provide a rigid frame so if you grab the middle with one hand you will pop out the lens almost every time. I may have used and abused the lens but the frame issue has been there since day 1. All and all I would save some money and go with the link http://www.backcountry.com/zeal-link-sppx-goggle, the rigid frame is definitely the way to go.