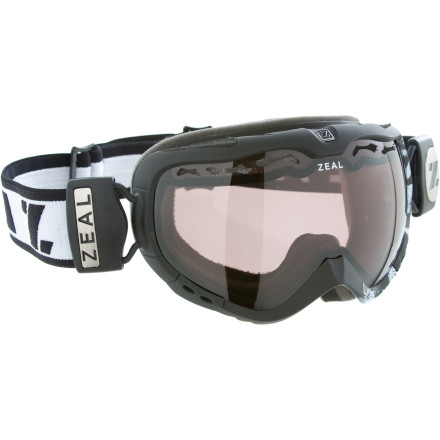 Detail Images

Community Images
For spherical, fog-free vision without looking like you're wearing a welder's mask, rock the Zeal Dominator SPX Polarized Goggles. These low-profile snow goggles fit small to medium faces and feature Zeal's spherical ZB-13 lens, which gives you unrivaled clarity, protection from glare, and UV rays. The Dominator SPX's in-molded NO Fog treatment and laser-cut venting in the lens prevent fogging, while triple stage face foam wicks moisture to ensure a comfortable fit. Like all Zeal goggles, the Dominator SPXs fit seamlessly with a helmet, are guaranteed for life, and have interchangeable parts.
Just got these in the mail today, tried them on with and without my helmet (Giro G9) and I have to say they're just too damn small. They pinch my nose almost shut and I can feel my eyelashes touching the foam. I'm by no means a big person either.. 5' 6" 125 lbs... figured when I read small to medium face they would fit. And no I don't have a freakishly big noggin. I'm super bummed too because these are some sweet ass goggles and I have to send them back.
I have nothing bad to say about this goggle. The lens worked amazingly well on my recent trip to Winter Park where we had sun the first day, 10" of snow throughout the second day, and overcast skies during others. I never even had the thought to switch my goggle. I've had some bolle's in the past that would fog up occasionally and the lens was only good in bright light. These just plain work, and as a snowboarder I like the extra field of view the spherical lens contributes. I wear it with my Smith Variant Brim helmet, and couldn't be happier.
Does anyone wear these with a helmet?...
Does anyone wear these with a helmet? Curious if there's any issues.
great helmet compatibility with just about any lid out there.
Noah Howell rips his skins while wearing his Zeal goggs in the Ruby Mtns, NV
These goggles dominate! In all light conditions, they performed great. Definitely not for larger faces. No fog ups over 4 great days snowboarding in Washington. I will be recommending these to all my friends and family.
Incredible fit, non-fog, good looking...and they really work. I've bought three of these goggles for myself and family members and would continue to buy this exact brand and model. Zeal Dominator SPX Goggles ROCK!!!
Great goggle, its just not for people with larger faces