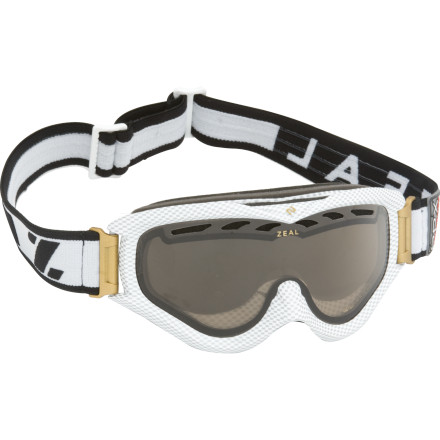 Detail Images
Weather conditions change daily while you ski or ride, and you shouldn't have to swap out your goggle lenses to accommodate. Check out the sick Zeal Detonator PPX Polarized Goggle. The Photochromic lens change whenever the light changes, so you get sweet clarity in low morning light and super sunny afternoon light. Ski powder or bask in the sun on the chairlift—the polarization cuts glare, and fulltime lens vents and fused anti-fog treatment keep out the mist.
I have the SPPX version, which have a spherical lens as well as the polarized and photochromic features. They perform very well. I love the photochromic feature, as they adapt to the light instead of having to change lenses always. I will admit, they fog up sometimes even though they have an anti fog treatment. But, for me the photochromic makes up for it. Awesome goggle.
Zeal Detonator PPX Goggle
I do not recommend these. On my first use in a snowstorm water drops formed between the lenses. The lenses are supposed to be sealed. When I called Zeal, the technician admitted that it must be a manufacturing defect. That said, they still charged me a $10 processing fee. It's past my 30 day return policy so I'm stuck.
I got the SPPX goggles at the start of last year's season. I skiied about 60 days under a variety of conditions (obviously).

The most positive comment I can make is that probably on 8-10 days numerous skiers were making comments on the lifts or in line about how the light was too flat and they couldn't see.

Each of these times, I thought to myself "Gee, I'm not having any problem at all seeing what is coming at me". Mind you, I'm not saying that it made things like a bright, sunny day. But I am saying that it turned a marginal or no-ski day into a managable day. To me, this is worth it.

I'll also note that on bright, sunny days I was very pleased with what appeared to be better definition of the snow. I do recommend.
Very satisfied with this goggle. fits my face well, (med/lg)with great field of vision. best fit I have found with my Boeri helmet. Photo/Chro works well. Nice venting.
Great, but get the SPPX if you can afford it
I saw the PPX on sale, and since I already own the Detonator SPPX, I thought I'd get another pair. The fit is the same, the quality is the same, but there is definitely significant optical distortion with when I look to either side due to the lack of spherical optics.

There are very few goggle options that are SPHERICAL and PHOTOCHROMIC, not to mention POLARIZED. As far as I know, Zeal is the only option. The distortion with peripheral gaze might not bother some, but it really is annoying to me, and I returned the goggles.

Zeal makes excellent goggles. But from now, I think I'll purchase only spherical goggles.
The combination of Photochromatic and plolarized is absolutely fantastic. I am fussy about lenses and these have no distortion, the contrast and color in bright conditions is stunning, soft on the eyes and reduces all glare. Transitioning to low light they are excellent. Mine change to a slight gray in low light which is surprisingly effective. For one goggle does it all, this is the one.

I understand the sppx (spherical) transitions to let even more light in in low light conditions. Worth a try if all else is equal.
anyone know if they fit with a smith hustle...
anyone know if they fit with a smith hustle helmet?
I haven't tried it with the Hustle myself, but I've got a buddy working that combination with no complaints.
I can't knock these goggles much based on my experience, but let it be known that the Detonator models do not fit well with a Giro G10. Just a little to wide Left to Right. Returned to find one with a better fit for my particular brain bucket.
I love these goggles. By far best on market. Just used them for a week in park city in different conditions each day. From sunny to fog and dead light they were incredible! I give them 2 thumbs up! I am a customer for life!