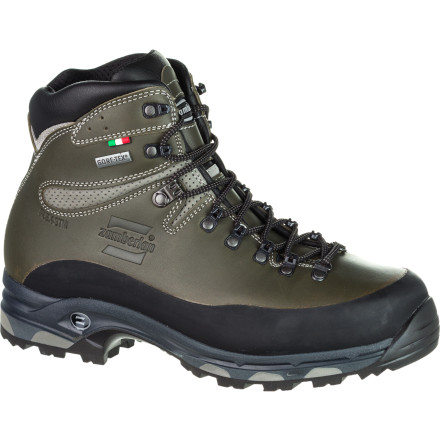 Detail Images

Videos
There are flimsy hiking boots that you can wear for a season or two, and then there are handcrafted-in-Italy leather boots that you can backpack in for years and years. The Zamberlan Voiz Plus GT Boots are the latter type. These premium leather boots were designed and made by a family-owned Italian company. The people behind these boots are avid hikers who pride themselves on premium, old-school craftsmanship. But don't worry; they're not afraid of a little technology, either. These boots combine the best of both worlds.
Hydrobloc waxed leather uppers repel the elements and stand up to all the abuse the rocky trail can throw at them
Vibram produced its StarTrek outsole exclusively for Zamberlan, giving the sole superb grip, good downhill braking, a toe-climbing zone, and wide lugs that are easy to clean
Slight rocker in the outsole gives you an extra-smooth stride
Waterproof breathable Gore-Tex membrane won't let your feet get wet in the occasional stream crossing or rain storm
Dual-density PU midsole uses a low-density layer for cushioning and a higher-density layer for shock absorption, and interior Microtex lining manages moisture
TPU stabilizer under the arch adds structure and protects the foot from sharp and uneven surfaces underneath
This boot's last is 3mm wider than regular Zamberlan lasts, which means that it will fit the average foot, but if you have wider feet, this is a really excellent option
Quality boot
Familiarity:

I've used it once or twice and have initial impressions

Fit:

True to size
Bought these to summit Mt Adams last year. They are very well built boots and have a great fit. My feet were warm throughout and boots worked great with strap on crampons. Only issue I had were blisters on my heels which I typically don't get, but these had no breaking in before the hike.
Unanswered Question
I wear a 12.5 wide in bates combat boots A 13 wide in saucony running shoes and Oakley "combat" boots in a 12.5 regular are too narrow. what size do I need In these beasts? Thanks.
Unanswered Question
Has anyone use crampons with the Vioz Plus? Are the Black Diamond Contact Strap Ons going to fit and will the boot be rigid enough for using with the cramps?
Quality and Comfort
Familiarity:

I've put it through the wringer

Fit:

True to size
I've had these boots about a year, and used them in all 4 seasons in varied terrain, with or without a load. They felt broke in after about 10 miles. No leaks in streams, rain, ice, and snow so far. In the talus on the La Sal Range and the volcanic rock in Southern Utah, the soles have been phenomenal for stability on sharp and uneven surfaces. I've been backpacking with a 40# pack, and they've lived up to the claim on helping your stride with a load. Even tried them backcountry snowshoeing, just to see how they'd perform. Maybe a bit heavy for average snowshoeing, but with a pack and steep ascents they did great. As far as the claims by others that these boots are heavy, they are about the same as other true backpacking boots I've worn. Before buying I compared them with similar versions from Asolo, Lowa, & Scarpa and ultimately went with Zamberlan this time, because of the comfort. I don't have wide feet, but they felt good in the toe box right from the get go, and let's face it, in a world of brown and black boots, the Waxed Forest looks cool. I've worn them without adding aftermarket insoles, and haven't really had hotspots or discomfort, other than one blister in the first full day wearing them, while figuring out my lacing pattern preference. Overall I'm impressed with the craftsmanship and comfort.
Zamberlan 85th Anniversary Video
Zamberlan 85th Anniversary Video
Solid, but heavy
Familiarity:

I've put it through the wringer

Fit:

True to size
Took it for 3 trips to India and Nepal. Super solid and rigid boots. Your ankles will be safe. However, they are very heavy and rigid - most of strain will be passed to your knees - I irritated my knee recently. Also, they will start to leak water despite goretex if you don't use shoe polish everyday. Once I was walking over 6 hours in a heavy rain and they leaked water. The shoes got terribly heavy and because of it almost dangerous. Now I polish them daily if I expect rain. Btw, the zamberland shoe polish is ridicolusly expensive - maybe someone can recommend economical replacement?

Overall very good shoes for heavy weight backpacking to keep your ankles protected.
Zamberlan Vioz Plus GT RR wide last
I need a wide boot and the RR (wide last) version of Zamberlan's Vioz Plus GT works best for me. I usually wear a U.S. size 11 1/2 so I purchased size 46 (U.S. size 12) and they fit perfectly. Zamberlan states the RR last is 3 mm (1/8 inch) wider than usual which provides more room for people with wider than normal feet. EE and EEE size feet need the RR wide last version of this boot.
Fantastic build
Familiarity:

I've used it several times

Fit:

Runs large
Ok so I bought these boots just over a year ago with the intention of heavy backpacking, but alas knee surgery needed to happen. These boots are by far some of the best boots I have ever owned in terms of build quality. The leather is superb, the fit is great(aside from one thing which I will get to), and they feel as though they will outlast me! A really bomb proof boot! I normally wear a 45 and went with a 44.

My only complaint that I can find however is that the stitching on the left boot appears to be off a bit. When I first got these boots I received a nice hole in my sock (nice pair of ice breakers)and ankle after ten minutes where the stitching on the inside rubs the entire time. Not certain if This is sizing, but the other right side fits and works great. I'm still working on them a bit and put down some tape along the inside to lessen the rub a bit, but will update this after a bit more testing. Has anyone else had this issue?

I was planning on trying to take them from Australia to Russia jan-August, but we'll see what happens now. They may be a bit warm for that trek anyway.
Perfect backpacking boots
Gender:

Male

Familiarity:

I've used it several times

Fit:

True to size
I initially purchased them because of the width. I should wear size 12US but normally have to purchase sz13US to get the width I need for my toes. I got sz47 (sz12.5US) and they fit perfectly. I was very pleased with the width of these.



I have put a little over 50mi on them so far. I did get a blister on my Achilles. I have not had a blister since those first few miles. Even after crossing creeks and walking in the rain with a 35lb pack I have had dry happy feet.



These truly are backpacking boots and not hikers. Great heavy duty support and Vibram soles for good traction. Add in comfort, Gore-Tex, full rand and beefy leather construction and it could possibly be the perfect boot.



They look a little rough in the photo but dry happy feet came out of them :)



**UPDATE**

After wearing these on recent vacation I now have about 130 miles on them. One thing I have discovered is that I can not use my green superfeet in these. It's no big deal because these boots are fine without them. My heel locks in the cup well and if I wear the inserts it raises my heel enough that I get a blister on my Achilles area. I have backpacked over rocks and through many streams and my feet have stayed dry inside and out. Temps were between mid 30's and mid 70's and I was always comfortable in them.



Of course everyone's foot is different but I am confident that if these fit your feet you will not be disappointed!
How much do these boots weigh?
How much do these boots weigh?
On average about 3 lbs 8 oz. for a pair.
Zamberlan Vioz Plus GT RR Boot - Men's
While I would say these superb boots are a bit much for simple hiking, for backpacking these boots are outstanding. I have had a 50+lb pack and straddled sharp pointed rocks in water and felt like I was walking in new top of the line tennis shoes on a sidewalk. Not only could I not feel the point of the rock dig into my foot, but my feet were completely dry and did not slip. After a long day on rough terrain, these boots still felt unbelievable comfortable. Have always worn with SmartWool socks. My wife then purchased a Zamberlan boot and loves them as well!
Is there a way to get the boots re-soled?...
Is there a way to get the boots re-soled? That is the only issue I have with these boots. The soles wear out before anything else.
Zamberlan does resole there shoes, check out www.feetfirst.resoles.co.uk

They should be able to tell you if they have stateside repair. If they do not, there are quite a few companies out there that do resoling. Just do a quick search and you will find companies that can do the job for a reasonable price.
These are actually pretty easy to resole. All Zamberlan backpacking boots are resoleable, which is awesome because that basically means they'll last forever.
Zamberlan Vioz Plus GT RR Boots
Gender:

Male

Familiarity:

I've put it through the wringer
Absolutely love the boots. This is my third pair. The only issue I have is the soles wear out before anything else.
Unanswered Question
i travel alot in wet colder regions,i also...
i travel alot in wet colder regions,i also hike in rough areas which including fording streams,snow,rocks and boulders,mountains etc..also do the same in warmer climates.i have the zamberlan trekker which has proven itself quite well.i am hard on the shoes and wear them pretty much off the beaten track,rougher the better.aside from my trekkers which other zamberlans are up to that kind of use.any suggestions?
Right out of the box, my Vioz were ready for everything I would put them through. I expected some break-in would be required, but not with these. Total treking comfort from the start.

I found the boots to be extremly stable with excellent traction. Certainly the best purchase I've made this year as far as my backpacking equipment goes.
These boots are tough and comfy. My feet stay warm when its 30 degrees. The shank feels very sturdy and should be a great support when climbing wood poles.
Does the tongue guesset connect the tongue...
Does the tongue guesset connect the tongue all the way to the top of this boot?
Yes, the tongue gusset goes all the way to the top for maximum waterproof protection.
Very well made and rugged boot
I purchased these for long trail backpacking and hunting. While I'm still in the break in period I have been very impressed by build quality and materials. They are certainly on the same level as the Asolo boots they replaced. I've noticed that they give the same level of support as the Asolos, but they have a greater level of rocker that puts a spring in your step and the slightly softer leather and design of the boot have led to a more comfortable break in. I've done as many as 6 miles in them with mild loads and to date have had no issues, once I figured out the right sock combination. They have proven to be highly waterproof as well. I look forward to longer days and seeing if these prove to be anywhere near as durable as they look. As it is, I believe these will last for several years of hard use.
Zamberlan's tag-line underneath their logo says "Discover the Difference", so I put them to the test against other backpackers in my quiver. First, I just compared them visually, and indeed, the Vioz Plus GT RR was the beefiest in appearance, but oddly, it was also the lightest. I was initially concerned about the mileage it would require to break these boots in, but it was minimal. I didn't feel any discomfort, hotspots, or circulation issues after about 11 miles of hiking in these boots. I have seriously never experienced the combination of this level of comfort and durability. I will have to put these boots in my Last Will and Testament because they will probably outlive me.