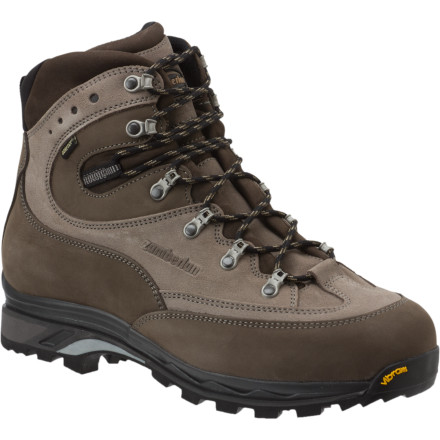 Detail Images

Videos

Community Images
There's more than one reason the Zamberlan Steep GT Boot won the Backpacker Magazine 2010 Editor's Choice award. Rugged leather uppers and weather-resistant Hydrobloc treatment are just two of those reasons.
Waterproof, breathable Gore-Tex liners help manage moisture for extended comfort
Padded and gusseted tongues prevent uncomfortable friction during hiking
Polypropylene midsoles combine with thermoplastic urethane stabilizers for optimal support on a wide range of terrain
Padded and gusseted tongue relieves lace pressure across instep and keeps out trail debris
Durable Vibram outsoles provide traction on wet and uneven terrain
Zamberlan 85th Anniversary Video
Zamberlan 85th Anniversary Video
I happen to own both of these boots. They are both really well-made, high-quality footwear. The Scarpa leans a little more to a mountaineering boot than the Zamberlan. Scarpa is heavier by a bit, sole is stiffer--it's just an overall heavier-duty boot. Scarpa also has a rubber rand that goes around the entire boot, while the Zamberlan has no rand at all--the entire upper is nubuck leather. I bought the Scarpas when I had just about worn out the Vibram sole on the Z's. I ended up sending the Z's in to "Dave the Cobbler," in Seattle, to have them resoled. I've been using the Scarpa's quite a bit and I really like them too. Scarpas are requiring more break in time than the Z's, which were comfortable right out of the box. I'm intending on keeping them both and wearing whichever is more appropriate for a particular hike. If I were anticipating really rough and rocky trails, I'd prefer the Scarpas (although the Z's would be adequate for most). A little less rough I'd use the Z's--they are SUPER comfortable. The only negatives: the Z's tend to get chewed up a bit due mostly to the lack of a rand; the Scarpas are a bit heavy and require some extended break in. I don't think you can go wrong with either.



Hope this helps.
Too Small!
Familiarity:

I returned this product before using it

Fit:

Runs small
Watch out for sizing. The sizing chart says 42.0 is 9.0 US but you will get a 42.0 size 8 mens also was very narrow. Wasn't able to wear this boot. Even Zamberlan's website said their handmade boots run 1/4 to 1/2 size larger than the US sizing. I don't think so. Looked and felt like good leather, good construction. Not for me.
Oh Yeahhhhhhh!
Familiarity:

I've put it through the wringer

Fit:

True to size
What this is:

A VERY comfortable backpacking boot with a technical fit that lets you scramble up anything short of class five terrain (though you could reasonably climb up to 5.7/5A with these guys).

Also a very decent long-distance trekker.



What this isn't:

A really tall hunting boot for wading through rivers and scraping against every tree and rock you can find. Basically, the sole is geared more toward dirt and rock than wet stuff (its grip on wet rock isn't great). It's also not a very high boot so while the support is excellent for the comfort it provides, if you're carrying a TON of weight you'll want something taller.



For me, it's the perfect long-distance approach shoe for summer/fall/spring mountaineering and climbing. I can get out of the car, hike all the way to the really technical stuff, and only then swap out shoes.



Another note:

These are low volume boots. The backcountry size chart is spot on with the sizing. If you size up, you'll get heel rub. If you size down, your toes will touch the front. As it is, on really long and steep descents I can get a bit of discomfort on the toes (emphasis on a *bit*). But honestly, it's a small price to pay for the amazing fit, support, traction, and overall comfort they offer.



I especially recommend wearing these with either the Ed Visteurs insoles or Superfeet Green.


Very Nice
Familiarity:

I've used it several times

Fit:

True to size
very good so far. I have only had a few practice hikes with the pack loaded up but I can tell I will love them. does not seem to need much break in. Quality on these are top notch.
Zamberlan Steep GT Boot - Men's
Solid
Gender:

Male

Familiarity:

I've used it once or twice and have initial impressions
I have only had the boot for a around a month, but so far it lives up to the hype. It is very well made and break-in is not bad. looking forward to these taking me to some awsome places. Worth the extra cash. Go by your european size to get the best fit.
So, I wear a 12and a half shoe. This sucks because nobody makes 12 and a half. Merrel shoes a 12 is too small 13 too big, nike 12 too small 13 too big, new balance I can fit in a twelve in some shoes and cant in others. These run about a one eighth of an inch longer than a pair of size 12 new balances that I can fit into (the ones made in america, I took out the insoles and measured) so if you dont know what size to get hopefully this helps. They fit me perfect. Have not tried them on the trail yet.
So, I wear a 12and a half shoe. This sucks because nobody makes 12 and a half. Merrel shoes a 12 is too small 13 too big, nike 12 too small 13 too big, new balance I can fit in a twelve in some shoes and cant in others. These run about a one eighth of an inch longer than a pair of size 12 new balances that I can fit into (the ones made in america, I took out the insoles and measured) so if you dont know what size to get hopefully this helps. They fit me perfect. Have not tried them on the trail yet.
Best backpacking boot I've ever owned
I'll preface this review with my cut and paste statement that I work as a backcountry backpacking guide in Yosemite National Park. Nearly all of the products I take the time to review have seen at least a half a season, if not more, of use... and I'm committed to not bothering to write a review until I feel like I've really gotten to know a product. I never thought I'd bother to write reviews, but I've recently decided that since I've spent so much time over these last many years reading reviews, and finding a tremendous amount of value in articulate and well-informed opinions, that I wanted to give back to the community. So, with that being said, here we go...

The Zamberlan Steeps are my 'go to' boot for backpacking. Almost without exception my pack weighs in between 25 and 40 lbs, so use that as a reference for the kind of loads I'm carrying while wearing these.

There's this anecdotal statement that kind of grates my nerves that one pound on your foot is like having three on your back. There is a bit of truth to this statement, but bounding around moraine or talus in trail runners is a recipe for disaster, and as far as I'm concerned, its irresponsible. If you're carrying a significant load on your back and you're off trail then you need ankle support. Period. If you don't have it you're forcing your ankles to constantly do the work that a boot could be doing for you. And, on those rare occasions you're staring at the scenery while walking along and your foot grabs a rock the wrong way, you'll be glad you have ankle support. On many occasions I've had a boot, and this one in particular, save an entire trip because I misstepped, wasn't paying complete attention, or was simply a little tired.

No, these boots are not feather light, but I wouldn't call them heavy. However, they are incredibly comfortable out of the box, though I always suggest breaking your feet in to the boot, and getting some callouses ready for a trip.

My biggest concern with boots are my low volume feet. I wear about an 11.5 with a width of B or C. Shoes like Keens in my size just flop around on my feet. Most Zamberlans that I tried simply never felt like they were comforming to my feet. However, even with the stock insoles (which are not very good, by the way) the boots were quite comfortable out of the box. (I use Ed Viesturs thermoform insoles, and highly recommend them. They do a great job of filling up a high volume boot for a low volume foot.) I initially tried 11.5s, and was a little wary of only having about a half an inch or less of wiggle room for my toes (this is with a medium weight Smartwool sock). I tried the 12s and was swimming in them, so I settled on the 11.5s. 90% of the time I hike wearing trekking weight Smartwools. I've tried liners, and like them on occasion, but the trekking Smartwools with no liners are my standard.

After spending an entire season in them (nearly 60 days total in Yosemite and Kings Canyon) I can say that these boots can truly take a beating. I have had minor issues with sharp talus or moraine scraping up the outer stitching to such an extent that it'll eventually compromise the soundness of the stitching, but they are still going strong. I think one pair will last me a couple full seasons.

Waterproofness is good, not amazing, but good. Hiking all day in the rain will leave your feet a bit damp, but not so much so that your feet will be ruined. Granted, they are not as supremely watertight as something like an Asolo Powermatic, but Asolo's require half their functional life to be broken in. Most people I hike with, whether they be clients or fellow guides, wind up duct taping their heels when they wear Asolos. Not so in these. I have had very, very minimal heel rub in these, even seeing days of 10 to 15 miles with altitude gains of 4000 or 5000 feet. And that's with my narrow feet. Downhill is slightly more problematic, though not too bad. My toes will hurt a bit after coming down 5000 feet over the course of 12 miles or so. A stop to soak my feet in some freezing cold water mid-day will do the trick, and then I'm good to go. Never lost any toenails, or even had any pain at all that I wouldn't call perfectly normal after a long day.

Traction has never been an issue. Ever. I've seen people complain about the Steeps being poor on wet rock. That's nonsense. I've had these up and down the Mist Trail, dodging dayhikers on wet granite, and never once felt that they were providing less traction than they should. I spent nine days in these boots in Kings Canyon, bouncing around moraine, and never once felt they were doing anything but a fantastic job.

The greatest recommendation I could give these is that I've purchased three spare pairs on sale, and am stocking them for the future. They are that good. Yes, they're expensive. No, they are not light. However, they are easily the best backpacking boots I've ever worn.
Zamberlan 760 Steep GTX
I bought this shoe because simply because I wanted it the moment I tried it on for size at a local store. I already have a back packing boot from Zamberlan called Vioz. But I really liked the look and feel of this boot. I was ok with having two backpacking boots. I was really in for a pleasent surprise. This is a little more of an a backpacking boot. The Backpacker magazine had described this as a Cadillac for your feet. There are NOT kidding I tell you. These shoes feel awesome, especially once you get on the trail. The way the soft leather encases your feet is something that is to be felt to be believed. The shock absorption is, well, like a Cadillac.The shoe is also has a more rigid shank than the Vioz. This makes it particularly very comfortable while climbing steep trails. The grip of this boot is amazing as well. Much better than the Vioz. There is a particular stretch in the trail that I often go to that is about 40% incline and filled with scree and small pebbles layer on top of one another, I almost always skid atleast once on that stretch coming down. But with the Steep the grip was solid. Because the boot was pretty rigid and sole was really sticky. The ankle support is fantastic and there is absolutely no issues with the toe hitting the front of the shoe.
However, be vary of wet rocks. I heard that this boot skids on wet rocks. But that is a trade off. Stiffer boots have this problem. This is due to the kind of rubber that is used on the sole of the boot.
I did not face any such problems but however, in my honest opinion this shoe is more for summer mountaineering in the West coast, Alaska or Colorado rather than backpacking say in the Applachian. This boot would handle ice and snow much better than running streams. I have carried up to 30lbs with this shoe and it is the most comfortable boot I have worn to date. I have had other hikers just look at this shoe and tell me that this shoe looks so comfortable. I tell you what they are not wrong. Go get it. Right now.
I have hiked many, many miles in these boots. I just finished a 6 day, 85 mile solo hike with them, and not one time did I have any problems with my feet. In fact, this is the only shoe I had on the trip. So 6 days in the same boot, other then taking them off at night to sleep. They offer great support, waterproof, and seem to be wearing great. The only thing I can say that is not totally positive, is they may run a bit small in size. I have bought many brands of boots over the years, and these are by far my favorite.