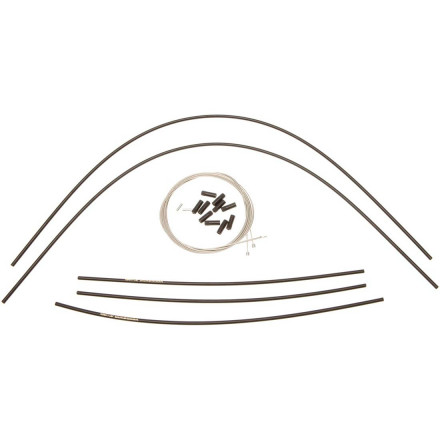 Yokozuna is a title; it is conferred upon the sumo wrestler who is the "best of the best." An odd name for a company that produces cables and housing. But on second thought, maybe not. Sumo wrestlers, despite their girth, have a graceful quality. Yokozuna Jet Lubed Shift Cables and Housing help your shifting achieve a graceful feel. -- In this case, the "Jet Lubed" name is to separate the shift cables and housing from the Reaction kit, which has both shift and brake cables and housing.
Though rumor has it that Yokozuna makes cables and housing for Shimano, Yokozuna is mum. We'd like to think these cables and housing are better than Shimano's, if for no other reason than we're loath to put Shimano-esque parts to work in conjunction with SRAM.
Yokozuna states that their Jet Lube Process injects grease into the entire length of the housing, not just the housing ends. How they do this, they're not saying. Yokozuna claims that the resulting shifting performance, when using their cables inside their Jet Lubed housing will yield 10% less cable drag than what you get from the competition. While we can't quantify what we've felt when we installed Yokozuna on our SRAM kit, it felt slippery; dangerously smooth. No lubing of the cable on installation, no need to lube at all.
The Yokozuna Jet Lubed Shift Cable and Housing Kit comes with the following: two 1.2mm diameter stainless steel cables 2100mm in length, two 600mm segments of housing, three 340mm segments of housing, ten plastic end caps, four cable ends. The color of the housing is black.
I replaced some housing on an old bike that was starting to deteriorate. The housing was being held together with some electric tape which really slowed down the shifting. As you can imagine the improvement these made was night and day different.

I don't recommend letting your housing get to that point, but regardless, this kit is great. It plays great with all the rest of my Shimano 105 components and brings back that crisp action you expect when shifting.
Unanswered Question
Are these Sram, Shimano or Campy compatible?
Great for the money!
Familiarity:

I've used it several times
I just got these and they are the 4mm OD housing, but work great with my 9spd DuraAce setup which recommends 5mm.



I actually had a set of Shimano DA 7900 cables on the 7700 grupset, but can honestly say that these feel more slick providing faster gear engagement.



The only downside are the cable ends, which are too soft and get crushed, and don't stay on. Just get some spares from your LBS.
I have continuous cable routing on my...


I have continuous cable routing on my mountain bike for the front/rear derailleurs. Do you have them in 4mm gray?
Best Answer
Sorry, This set just comes with pieces and I don't think we sell full lengths. You'll need the Jagwire JAG000A for full length
Are these the 4mm or 5mm OD housings?
Are these the 4mm or 5mm OD housings?
Best Answer
This is 4mm OD housing.