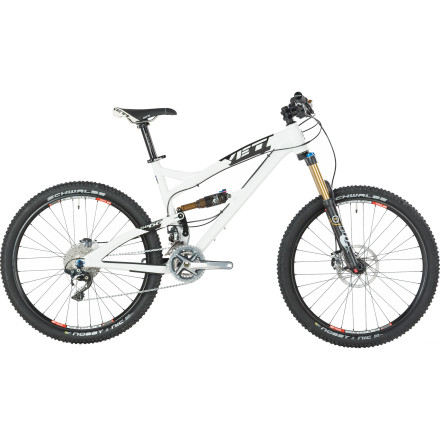 Detail Images
Dripping in steamy suspension technology and top-of-line componentry, the SB66 Pro XTR Mountain Bike begs to be ridden hard and long. Packing a game-changing eccentric lower pivot, the SB66 climbs with hardtail proficiency and descends with the accuracy and stability of gravity-fueled rigs—without the sluggishness. Step up to the quick-handling and tossable SB66 and satisfy your primal urge.
Switch Technology uses an eccentric mechanism that continuously adjusts the lower pivot position for the perfect balance of pedaling efficiency and plushness
A rearward axle path at the beginning of the stroke lets the wheel roll over small bumps while maintaining a firm platform
At 100 millimeters into the travel, the link rotates in the opposite direction for a responsive midstroke, and finally to the end position where the suspension is independent of chain forces to avoid any feedback or spikes
The compact link assembly is located inside a single forged housing and connected to a stiff rear end via oversized pins to provide wallow-free, pinpoint handling
Kashima-coated Fox 32 with thru-axle and Float RP23 offer a wide range of adjustments for optimum control and performance in varying conditions
2x10 Shimano Dyna-Sys XTR drivetrain offers ultra-fast and super-precise shifting between power-optimizing gear ratios
Shimano XTR Trail brakes with an oversized front rotor haul the SB66 down from speed with ease and traction-optimizing modulation
US Yeti dealers are prohibited from shipping Yeti bicycles to any country other than Canada, Mexico or the US.
Unanswered Question
What's the rear - 135 QR or 142x12?
What's the rear - 135 QR or 142x12?
undecided about this bike
Bought it to replace my well loved and used 2006 Yeti 575. Very different bikes. Very different feel. Have one trail ride on it and half a dozen DH runs that involve a 35 minute road climb, so I really need to take it out on the trail more. I don't love this bike, and usually I do.

Sometimes on the road climb up I can feel the suspension doing something that makes me think the grips are loose, first ride I stopped and checked the grips several times, but it was just how the frame moved. Coming down the dh isn't bad, stiffer than my 575 (but really, what isn't??).

Think the wide handlebars are bugging me, steering seems twitchy, probably will try to move controls and grips in a bit to see if that's part of my issue.

Had issues with the XTR discs, had to have a caliper warrantied. Rest of the components are working well. 2X10 is interesting, but works. Haven't had an issue running out of gears when climbing for the dh. If I was going to build this bike from scratch, it would look pretty close to this. I like the 2012 spec better than the 2013 spec. Not really excited with the Fox CTD system, wanted the CK headset, the 240 hubs are a nice treat as well.

Let me get more miles and I'll come back and update this.
Unanswered Question
Does the rear shock have adjustability? I...
Does the rear shock have adjustability? I thought it has 6"= 152mm. You list it as 160mm.
How much does this bad boy weigh guys?
How much does this bad boy weigh guys?
We'll let you know as soon as we fix the scale.The Enduro model came in at 27 pounds, 9 ounces, if that helps.