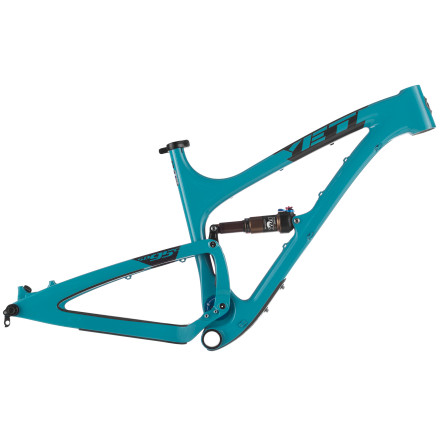 Detail Images
When Yeti released the carbon fiber version of its venerable SB-66, 29'er fans worldwide started wondering when the SB-95 would get the carbon treatment. Well, after six years, the wait is over, as the Yeti SB-95 Carbon Mountain Bike Frame is here. And true to its 'Super Bike' designation, you're looking at a sub-six pound trail bike frame with five inches of travel, and the strength and geometry to tackle anything that you'll find on your next trail ride.
The SB-95 Carbon is the latest frame in Yeti's lineup to be graced with its proprietary Switch Technology suspension platform. And while it's a new frame to the lineup, Yeti already has two years of production on the alloy SB-95, as well as years of prototyping the platform. So, this brand new bike is already exceedingly refined. At a glance, it's easy to mistake the Switch platform for a linkage-driven single pivot, but hidden underneath the blue anodized hardware is an eccentric pivot. Essentially, this turns the SB series into a whole different beast.
The eccentric pivot is basically a smaller pivot that's housed inside of a larger one. As a result, this system provides Yeti with an extra degree of control over the forces involved in the suspension action. In the beginning of the SB's five-inches of travel, the pivot rotates towards the rear axle. This means that it's rotating opposite the direction of pedaling forces that are being applied through the chain. In translation, it neutralizes the pedaling force. So, the SB remains stiff and responsive under power, rather than allowing your pedaling force to influence the suspension. This way, your watts won't go to waste.
As the bike compresses into the bottom of the travel, the eccentric link changes direction, rotating toward the front axle. This forward rotation keeps the chainstays short under full-compression, which keeps your weight centered in a neutral position relative to the wheelbase. And that all adds up to predictable feel and control throughout the entirety of the bike's travel. Better yet, the SB-95 Carbon is easily serviceable for home mechanics with basic tools.
As for the upright link driving the rear shock, it works in conjunction with the eccentric main pivot to provide a firm, responsive ride that's still capable of erasing the roughest of trail chatter. And it has the added benefit of boosting the lateral stiffness of the frame, which keeps your bike tracking straight through G-outs, hard turns, and unpredictable terrain.
The high-modulus carbon fiber construction of the SB-95 Carbon not only yields beautiful lines, but it also drops roughly two pounds off of the weight of the alloy version. Better yet, it simultaneously increases the strength and stiffness of the frame. Thankfully, though, the geometry of the carbon frame remains unchanged from the alloy version. The 67.5 degree head tube angle is on the slack side for a 29'er, which provides stability and predictable turning when you're riding wide open. The 13.5-inch bottom bracket height positions your feet below the centerline of the hub axles. In turn, this design yields a planted feel on rough terrain, and helps the SB-95 Carbon carve up turns like a freshly sharpened scalpel. And, on top of all this, 17.5-inch chainstays keep the '95 lively and responsive, while also providing plenty of climbing traction.
The SB-95 Carbon takes a 44/56 tapered inset headset. So, you're able to take advantage of the added stiffness of a modern tapered fork. The bottom bracket is a threaded 73mm shell, which makes installation and service a breeze, while also helping to avoid the creaking associated with PressFit bottom brackets. Mounting a front derailleur requires an E-Type direct mount. Or, if you prefer a chain guide to a front derailleur, there's replicable ISCG mounts available in both the ISCG03 and ISCG05 varieties. The rear wheel attaches via a 142x12mm rear through axle, which utilizes Shimano's QR through axle. The rear brake mounts to a standard post mount, which accepts rotors from 160mm to 185mm. Additionally, the 30.9mm seat tube is compatible with almost every dropper seatpost on the market. And speaking of dropper posts, there's cable routing underneath the top tube in order to keep your cable arrangement clutter-free. And on the topic of cable routing, the rear derailleur cable is routed internally through the rear triangle.
The Yeti SB-95 Carbon Mountain Bike Frame is available in four sizes from Small to X-Large and in the colors Turquoise and Raw/turquoise.
Please note that US Yeti dealers are prohibited from shipping Yeti bicycles to any country other than Canada, Mexico, and the United States.
Bash Guard
Familiarity:

I've put it through the wringer
How come this doesn't come with the ISCG tabs? I have to buy a proprietary part to put a chain guide on this thing?
One of the best...
Gender:

Male

Familiarity:

I've put it through the wringer
Built up a 14 SB95 carbon with full XO1, 140mm RS Pike and a set of Roval Carbon Wheels. The bike truly is amazing and at approx. 25 lbs, is one hell of a bike that can do just about anything. This bike does everything better than the full line of Specialized bikes I had prior(Camber, Epic, and SJer). I test rode a 429 Carbon and a Niner RIP RDO, and the Yeti has blown them both out of the water. Pedals very well even with the FOX CTD on descend and the RS Pike continues to amaze me. The bike gets even better on descents and is super stable at high speed. I'm 5'7" and went with a Medium. I'm using a setback post as well as a 50mm stem and it feels spot on fit wise. I've ridden this bike on super fast singletrack in FL to technical rock gardens in PA and can't imagine owning another bike. This is the first bike I've owned that I haven't thought about what bike I will be buying next season...
Worlds most perfect trail bike?
Familiarity:

I've put it through the wringer
I'm seriously in love with this bike. I came from riding a Niner RIP 9, so I had pretty high standards, but this bike just blows everything out of the water I've ever ridden. It's incredibly responsive and stiff- it just goes the second you push the pedals down, and you feel like everything you put into it while climbing gets transferred so well. It seriously flies up hills.



The slightly slacker head angle is something I wasn't sure how I'd like, but it makes for super fun descents. I feel very confident tackling all sorts of terrain on this thing. I'm running a 140mm fork, which I think just makes the bike all the more fun.



For me (I'm 5'8"), the shorter top tube and chain stays make the bike super playful, but the slacker head angle also gives the bike a ton of stability and confidence when going down. I'm riding a size medium, and it fits me so much better than the Niner Rip 9 medium, which just always felt a tad too large.



Can't say enough good things about this bike. I wish I could ride it every day for years on end. Way to go, Yeti!
Super Bike Indeed!
Gender:

Male

Familiarity:

I've put it through the wringer
I've ridden Yetis for the past ten years, starting with the long defunct alloy Kokopelli, and then moving to the hard to replace ASR5 Carbon. Yeti's Switch technology suspension design has always been one I've been high on. After demoing a number of 29ers from other brands, the SB95 and the switch suspension felt the best in my opinion. Power input to the pedals feels very direct and responsive to provide a snappy acceleration, and the 5 inches of travels feels endless. I'm 5'7" and 140lbs and can ride almost exclusively in the descend setting. I ride a small size frame with a 70mm stem and a 140mm RS Pike out front. This bike RIPS!
Great frame!
Familiarity:

I've put it through the wringer
I've got about 350 miles on mine now and love it! Climbs great, descends even better. Road the Yeti back to back with an Ibis Ripley and couldn't tell the difference on climbs. On descents the Yeti feels a lot more stable and the slack headtube is great. I tried this frame with a 50, 70, and 90mm stem. I'm 6'1 and 200lbs and ride a Large frame. The 90mm stem feels best, regardless of what reviews say about throwing on a short stem. I also swapped out stock bars for 740mm ibis bars that had the same geometry as the carbon haven's.
This bike is on my radar. YETI changing...
This bike is on my radar. YETI changing anything on this frame next season ?
Best Answer
Clint, This model was released late 2014 making it a 2014 model actually. No changes going into next year that Yeti is telling us about.
Yeti is offering a Yellow color variant for 2014. Everything else on the frame remains the same.
Yep, these guys are correct, Clint. It's a killer bike- you should definitely consider it!