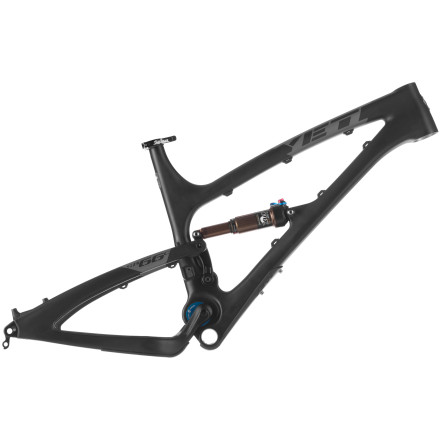 Detail Images
Description
Trail magic.
Yeti's Switch Technology continues to work its magic on the trails, and Yeti's six-inch (152mm) travel SB-66 Carbon Mountain Bike further enhances the technology with a lighter and stiffer carbon frame. This hand-laid carbon frame is a full pound and a half lighter than its aluminum counterpart while increasing stiffness. Yes, it's a six-pound (2.72) six-inch travel bike.
The SB (Super Bike) line is built around the laudable suspension design. Yeti's Switch Technology features an eccentric mechanism that continuously adjusts the lower pivot position so that it absorbs bumps while maintaining a firm pedaling platform. What this means to you is that the "bounce" that you feel when riding a full-suspension bike is minimized. As the suspension's travel maxes out, the eccentric link rotates in the opposite direction to keep your pedal stroke strongly engaged while it continues to absorb big bumps. This suspension system gives you the best of big shock absorption with efficient power transfer to the pedals and through the drivetrain. The pivot hardware is collet-type to ensure correct bearing preload which also preserves the structural integrity of the carbon frame.
The carbon frame has been fully hand-laid using high-modulus carbon. This process allows engineers to optimize the placement of the carbon to areas that receive the most stress. The ISCG tabs are removable which gives you the option to run a triple, double, or single ring. Internal routing for a dropper seat post, a direct-mount front derailleur, and a 12x142mm are added details. The headtube is a tapered inset (ZS44/ZS56mm) for extra durability for long-travel forks. For forks in a 150-160mm range, which Yeti recommends, the resulting head tube angle is 67 or 66.5 degrees. The 150mm with 34mm stanchions is ideal for all-trail riding, while a 160mm form with over-sized stanchions takes you down the gnarliest of trails.
The SB-66 Carbon come standard with the FOX FLOAT CTD Adjust. However, this isn't any standard shock. Working hand-in-hand with FOX, Yeti makes sure that this factory-tuned Float CTD with Kashima coating is the perfect complement to the SB-66.
The Yeti SB-66 Carbon Mountain Bike Frame is available in the color Raw Carbon with either Black, Grey, or Turquoise decals. It comes in four sizes from Small to X-Large. The SB-66 uses a High Direct mount for the front derailleur, a post mount rear disc, a 73mm English Bottom Bracket, and you'll need a 30.9mm seatpost.
US Yeti dealers are prohibited from shipping Yeti bicycles to any country other than Canada, Mexico or the US.
Not worth it
Familiarity:

I've put it through the wringer
I know this frame is out of stock and discontinued, but felt obligated to write a review. I have had the bike 6 months in North Carolina so I have about 500 miles on it already. This bike is very capable and great to ride but I have broken 2 rear triangles and every bearing in the bike is completely bad, $140 to replace them too. I rarely ride in the rain and when I wash my bike I use a gentle shower to rinse that is it. I do have to say Duncan in Warranty has been Great on helping me get the triangles. I do not recommend this bike even though it is great to ride, I will be looking to sell this bike soon because of this.

Which model of 2x10 XTR front dérailleur would fit this frame?
This uses a high direct mount derailleur with top pull.
What is the frame weight.
six pound (2.72kg)



If you have any questions or want to palce an order please contact me directly. Cheers.



My number here is 801-736-6396 x 5630 or email adewitt@competitivecyclist.com
What size wheels does this frame take?
This is one awesome frame setup for 26"ers that'll put those doubts of the 29ers back into your mind. Great price by the way.
Best Bike EVER!
Familiarity:

I've put it through the wringer
I bought this bike last summer and since then have ridden it all over Colorado and Utah. It simply is the best bike I have ever ridden. It climbs like a gecko and descends like a snow leopard on crack! It is a little extra work on the uphills but makes the downhills so worth it. If you truly enjoy riding then this bike is for you.
SB for Super Bike
Familiarity:

I've used it several times
That bike is a killer. It's clearly the best bike I have ever ridden.

It climbs very well, without creating pedal bob, and it is a pleasure to ride down.

I wouldn't say it is a "quiet" bike", it doesn't translate a rough terrain into some gravel road. Instead you get a direct feel of the terrain, but in a good way, because you can feel the bike giving you grip on any terrain. Plus the suspension is quite progressive, so even on big impact, you keep control.



So to summerize, it is a bike I think is for people with a good level of fitness and skills, because it is a bike that shows his best when ridden hard. You'll probably find your limits before the one of the bike.



I'm 5'9 and I weight 135 pounds and I love my S frame.
Love this bike
Familiarity:

I've put it through the wringer
I have had the alloy version and recently upgraded to the carbon version. This bike seriously rips. It is an attention grabber on the trails as well. This bike climbs extremely efficiently and bombs downhill.
Who says 26in is dead?
Gender:

Male

Familiarity:

I've used it several times
SICK SICK SICK!

Love this bike! I was pedaling an "old school" 4-bar linkage bike before this (2010 Kona Dawg Deluxe) which sucked on the uphills with all the pedal-bob (even with pro pedal not too efficient), but was hard to beat on the downs as far as plushness. The SB-66C retains all the plush of the downhill with more responsiveness, destroys the climbs efficiently, and sheds considerable weight to boot. This bike BEGS to be ridden aggressively. It seems like the harder I ride it, the more efficient it is on the up and the down. If you're the type of person who likes to be their own chairlift and rides as fast as possible on the way up and down this is the bike for you. Love it!



I am 5'6 and 140lbs riding a size S frame. Fits perfect with a short stem (45-55mm).



Details on my build:

SB-66C Frame

Rock Shox Lyric R 160mm

Full XT drivetrain w/ Raceface NW 34t chainring up front/ 11-36t cassette rear

Easton Havoc bars (711mm wide I think..)

Stans Flow Evo rims on Hope Pro 2 hubs (142x12 rear, 20mm thru up front)

Nukeproof Ion pedals because I hate SPDs

2.35 Kenda Excavators for tires.


What a ride!
Familiarity:

I've used it several times
I really don't know why YETI is dicontinuning the SB-66C? It's a brilliantly balanced bike. I climbes effortlessly and descends with confidence. If you're looking for a high quality do-it-all bike, get it while it's still availible.

I've had no issues what-so-ever. It's a joy to ride.
Is the SB66 Carbon a 2013 or 2014 model?
Is the SB66 Carbon a 2013 or 2014 model?
They're probably 2013 because the aluminum versions are 2013
2013 i have dont the research and calling yeti direct. as i need a new bike and want this in 26" yeti discontinued the 26" versions just like most companies and its a shame
This Bike Rocks
Familiarity:

I've put it through the wringer
Great pedal platform, Switch eats up the down hills. The Fox CTD is an added bonus. Go with XT or XTR brakes. They are awesome. Been to Moab, Sedona and Western Nc on this bike. It takes it all.
SB-66 Climbing - Yeti Cycles
By YetiCycles
SB-66 Descending - Yeti Cycles
By YetiCycles
2013 Bike Magazine Review--Yeti SB66c
By TheBikemag