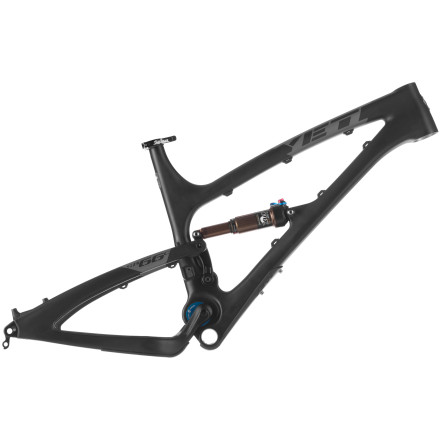 Detail Images
Description
Trail magic.
Yeti's Switch Technology continues to work its magic on the trails, and Yeti's six-inch (152mm) travel SB-66 Carbon Mountain Bike further enhances the technology with a lighter and stiffer carbon frame. This hand-laid carbon frame is a full pound and a half lighter than its aluminum counterpart while increasing stiffness. Yes, it's a six-pound (2.72) six-inch travel bike.
The SB (Super Bike) line is built around the laudable suspension design. Yeti's Switch Technology features an eccentric mechanism that continuously adjusts the lower pivot position so that it absorbs bumps while maintaining a firm pedaling platform. What this means to you is that the "bounce" that you feel when riding a full-suspension bike is minimized. As the suspension's travel maxes out, the eccentric link rotates in the opposite direction to keep your pedal stroke strongly engaged while it continues to absorb big bumps. This suspension system gives you the best of big shock absorption with efficient power transfer to the pedals and through the drivetrain. The pivot hardware is collet-type to ensure correct bearing preload which also preserves the structural integrity of the carbon frame.
The carbon frame has been fully hand-laid using high-modulus carbon. This process allows engineers to optimize the placement of the carbon to areas that receive the most stress. The ISCG tabs are removable which gives you the option to run a triple, double, or single ring. Internal routing for a dropper seat post, a direct-mount front derailleur, and a 12x142mm are added details. The headtube is a tapered inset (ZS44/ZS56mm) for extra durability for long-travel forks. For forks in a 150-160mm range, which Yeti recommends, the resulting head tube angle is 67 or 66.5 degrees. The 150mm with 34mm stanchions is ideal for all-trail riding, while a 160mm form with over-sized stanchions takes you down the gnarliest of trails.
The SB-66 Carbon come standard with the FOX FLOAT CTD Adjust. However, this isn't any standard shock. Working hand-in-hand with FOX, Yeti makes sure that this factory-tuned Float CTD with Kashima coating is the perfect complement to the SB-66.
The Yeti SB-66 Carbon Mountain Bike Frame is available in the color Raw Carbon with either Black, Grey, or Turquoise decals. It comes in four sizes from Small to X-Large. The SB-66 uses a High Direct mount for the front derailleur, a post mount rear disc, a 73mm English Bottom Bracket, and you'll need a 30.9mm seatpost.
US Yeti dealers are prohibited from shipping Yeti bicycles to any country other than Canada, Mexico or the US.