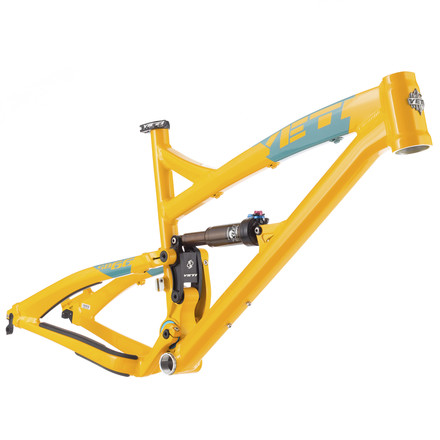 Detail Images

Community Images
Description
Alloy never looked so enticing.
The Yeti SB-66 was the first frame to receive Yeti's Switch Technology, a rear suspension system that is designed to keep the rear of the bike neutral , as the shock moves through stages of compression and decompression. The 152mm travel alloy SB-66 continues to push technology within the parameters of an affordable, all-mountain bike.
Full suspension bikes have always been great at one thing, going downhill. When trails start to lean skyward however, more often than not, power that you're trying to put into the drivetrain is zapped by the bounce of the rear shock. Yeti's Switch Technology is designed around an eccentric pivot system in the lower pivot. It is in basic form, a mini dual-link system that moves in two directions-hence the "switch" designation. As the rear suspension compresses into its travel, the eccentric design rotates counter-clockwise as viewed from the drive-side of the bike. It moves this way through the first 100mm or so of travel to provide an anti-squat, neutral characteristic to the suspension. Once mid-stroke is exceeded, the technology changes direction and rotates clockwise. In layman's terms, this keeps the "growth", or horizontal movement, of the chain stay at a minimum so that you get reduced pedal kickback. It creates a solid platform to pedal on, much as you have with a hard tail frame.
The bottom bracket, eccentric, and lower pivot for the swing link are all machined into a single, forged aluminum structure, which means that, on every bike, alignment is perfect. This translates into a rear swingarm that moves freely throughout its travel range, and to a longer life for the Enduro Max sealed cartridge pivot bearings.
The shaping of the frame complements the Switch Technology. The seat stays flare in the vertical plane towards the dropouts. On the left side, this helps distribute loads from the post mount. The larger cross-section handles compression loads without flexing. The down tube is ovalized at the bottom bracket to enhance stiffness, and it features flattened sides to channel and distribute stress from the shock mount.
Since Yeti partners with FOX for its World Cup team, it's no surprise that its frames use the latest FOX engineering. The FOX FLOAT CTD features a Kashima Coat for a slick, durable finish which allows the shock to respond faster. The CTD offers three pre-tuned compression dampening options for Climbing, Trail, and Descending.
The Yeti SB-66 has a 73mm bottom bracket with splines that accept removable ISCG 03/05 chainguide mounts. The tapered head tube (44mm ID top and 56mm ID bottom) takes a zero-stack tapered headset. The rear wheel dropouts accept a standard quick-release. If you're interested in added swingarm stiffness, a 12x142mm chip kit is also available. The post-style caliper mount allows a direct fit for a 160mm rotor. It takes a direct mount top-pull front derailleur, and the top tube bears cable guides for a dropper seatpost.
The Yeti SB-66 Mountain Bike Frame is available in four sizes from Small to X-Large and in the colors Black, Lime, Turquoise, White, and Yellow.
Unanswered Question
Would it be possible to organise shipping of this frame to a bike shop in Ketchikan Alaska, so that I could collect the bike on my way through there via a cruise ship stop-off on 11th June 2015?
Did you raise the price of this frame? I thought it was $999 or $949 a month or two ago and was just about ready to order now.
Check out their sister site Steepandcheap. $899 if they have your size.
Is the warranty still good for 2 years on this frame?
Yes, the 2 year warranty on the SB-66 frame is from the date of original purchase.
Is this frame compatible w/26" wheels?
Yes the SB-66 uses 26'' wheels exclusively.
Best Answer
Yes, that is made to be used with this frame.
Can you get this frame in size small?
Sorry, these are a close out and we cannot get more.
Hello I am from Germany. Is it possible to ship to there?

Best regards
Chris,



We can ship some brands to Germany, but Yeti requires a US address for shipping. Do you have friends or family here we could ship to?




Hi, I am in China , may you ship the frame to China ? I want a 2013 Sb66
We can often ship to China, but this brand doesn't allow us to do so. Do you have friends or family here we could ship to/
Hi is this the right top cup for this frame? Cane Creek 40 1 1/8" ZS Upper Headset 40 ZS Tall Top 1 1/8 Threadless. Or should I get the short one 8mm not the tall one since its 15mm insert. Thanks!
Best Answer
Either one will work. Just depends on how low you want to position the stem. You just need to makes sure its a ZS 1 1/8th and it will work.
Great all mountain bike!!!
Familiarity:

I've put it through the wringer
I bought this bike on sale in early October after my Felt Virtue frame cracked (After 2 months, still waiting to hear back from Felt on the frame warranty by the way). I am now a proud member of the Yeti tribe. While 2 pounds heavier than my previous bike after similar build, it is hard to notice the extra weight going up and putting the rear shock on "Climb" makes a big difference. I built mine up with a Fox Float 150 mm CTD fork. This bike is super fast going down and very forgiving... No need to worry about picking your line, this bike will let you make your own line. It took a while to get used to the geometry and rake angle, and feels large and the frame is a little bulky, but hell, it is so fast and so much fun going down. In my case, with my build it came out to 29lbs, so not bad for a 6-inch travel bike. Shipping from Backcountry was outstanding, with the order being placed on a Wednesday and having the frame waiting for me when I got home from work on Friday. The only dislike is the location for the bottle cage is useless and the routing of the rear brake line requires disassembling of the rear linkage...
What Chris king/Cane Creek Headset will fit with this frame?
The Sb66 uses a Zero Stack headset (44/56mm) also called a Inset 2 in Chris King. Give me a shout if I can help your with and order and make sure you have all the right parts needed.




a little flaw
Familiarity:

I've put it through the wringer
I got this frame two weeks ago and started building on it. When I finished almost everything and started routing cables, I found that the first cable anchor on the downtube was accidentally sealed during the welding, hence it's not usable. It would be too much hustle to disassemble all the parts I put on it (especially the headset) and return this frame, so I decided to live with this imperfection. Other than that, the frame is pretty good.



I highly recommend that everyone upon receiving of the frame check all the cable anchors.
hi! do you ship this frame to singapore? thanks!
Unfortunately, we cannot ship Yeti products outside of North America.

Here's a link to our international shipping policy and brand restrictions:



http://sales.liveperson.net/hc/s-9551721/cmd/kbresource/kb-3097039337437249346/view_question!PAGETYPE?sc=120&sp=94&sf=101133&documentid=239527&action=view&VisitorProfile=BCS2&MESSAGEVAR!home=yes&MESSAGEVAR!cookie=no&MESSAGEVAR!docid=239527


Unanswered Question
Will this bike ship with rear shock? If so can you please proved link to rear shock specs?
Does the sb66 ship with chainguide tabs?
It does not. You'll have to pick up one of these as well if you want to run a guide. Item - YTI0130
Hi,

I just bought a SB66 aluminium version and my question is if I can install a RD XTR M986 or I can only use the previous model (M985)because of the hanger....

I'm trying to buy something now and I do not want to screw things up :)

PS: I bought a Shimano chip kit as well for 12x142mm, I do not know it that matters or not here....

Many thanks



Walter
HI Walter,



The new Shimano Direct-mount derailleurs like the RD-M986 should include a link that makes them backwards-compatible with traditional-mount frames like the SB-66.
what are the shipping dimensions and weight of this frame?
HI,



This frame ships in a box measuring 42x8x23 inches. A medium frame in the box weighs about 17 pounds.



Give us a call or chat if you have other questions about the SB-66, or to place an order!
WILL MY Fox Racing Shox 32 Float 140 RL , 1.5t, 9mm QR FRONT FORK WORK WITH THIS FRAME???



MORE INFO ON FORK: Check out Fox Racing Shox 32 Float 140 RL Black W/ Grey Logo, 1.5t, 9mm QR attributes :

Travel: 140 mm

Stanchion Material: aluminum

Lower Material: magnesium

Crown Material: aluminum

Wheel Size: 26 in

Steer Tube Diameter: tapered 1.5 - 1.125 in

Stanchion Diameter: 32 mm

Axle To Crown:

Spring Type: air

Damper: rebound

Adjustability: preload

Lockout: yes

Axle:

Max Rotor Size: 203 mm

Brake Compatibility: post mount

Rotor Compatibility:

Compatible Components:

Weight: 1733 g
It is on the lighter end of what will work with this frame, but your fork is within the range of what the SB-66 was dexsigned to work with. Build it up and go have fun!
what options do I have if I want to put a DT swiss or Mavic rear axle 12x142?

From what I read here the chip kit only works with shimano axle....which sounds kinda stupid, but anyway....



Thank you

Walter
The 2013 SB66 would need the Yeti Chip kit, YTI0108, to run a 12x142 axle. It does require the use of Shimano's 12x142 axle.
The Shimano axle will work with DT and Mavic wheels. The Shimano nut just sits outside the frame, whereas DT 12mm axles are paired with frames that have the threading molded into it.
Thanks man, real help! I have everything now!

Cheers