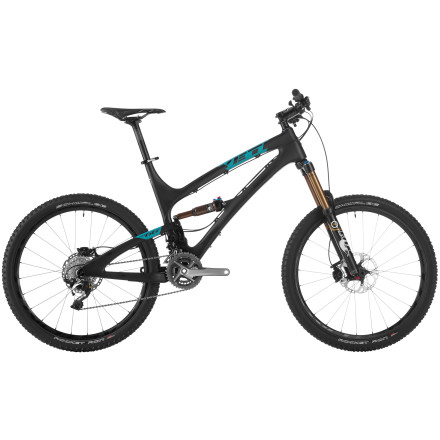 Detail Images

Community Images
When Yeti introduced its Switch Technology to the world of mountain biking, it marked a drastic change for the company and put heat on the established designs that have been dominating the market. With the new suspension design proven across the globe, Yeti's now turned the burners up on the competition with a carbon version of the Super Bike. We've taken this ultra-light, six-inch (152mm) travel chassis and adorned it with the XTR-XT Complete Mountain Bike kit to squeeze every ounce of trail ripping performance from the SB-66 Carbon.
The combination of XTR, XT, Easton, and Fox Racing Shox components with Yeti's Switch Technology suspension in a new, weight-dropping, and stiffness-enhancing carbon chassis is going to take the trail bike to uncharted levels. In fact, the hand-laid high modulus carbon front and rear triangles knock a whopping pound and a half off its aluminum counterpart -- and that's without sacrificing anything to the stiffness department. That's right; you're looking at a six pound (2.72kg), six-inch trail bike frame.
This is the first Yeti SB series frame to feature collet-type pivot hardware, which ensures the correct bearing preload while protecting the structural integrity of the carbon fiber. Enduro Max angular contact bearings fill the bores and offer ultra-tight, flex-free tolerances while easily managing side loads that would send conventional cartridge bearings straight to the dump.
The heart of the SB line lies in the suspension design. Unlike multi-link systems, which require linkages packed in between the main triangle and rear triangle, Yeti's Switch Technology features an eccentric mechanism buried low in the frame—enabling super-short chain stays and a low center of gravity for lively handling. This compact eccentric continuously adjusts the lower pivot position for a rearward, small-bump-damping axle path while maintaining a firm, pedal-friendly platform. Towards the end of the suspension's travel, the eccentric rotates in the opposite direction for a responsive mid-stroke, and finally to the end position where the suspension becomes progressively stiffer to provide big hit absorption. Think efficient pedaling perfectly meshed with big hit capabilities. Aside from the major drop in heft, updated bearings, and hardware, the SB-66 C chassis is loaded with new-school features. You'll find an XTR crank on this build, but if a chain guide is your cup of tea, the splined bottom bracket shell will accept removable ISCG03/05 tabs. You'll also find an XT front derailleur using the new direct mount standard for perfect alignment and exact shifts. It's also only available with the stiffness enhancing 12x142mm thru-axle. That 12x142 axle nicely complements the 15mm thru-axle found on the fork to complete the strong, stiff package.
Riding on those stout axles is an Stan's NoTubes Flow EX wheelset with 2.25-inch Schwalbe Performance Rocket Ron tires. This combination offers excellent strength for aggressive riding, while remaining light enough for all day backcountry adventures. At the front of the SB-66 is a Fox Float 34 with 160mm of travel.
This nicely complements the SB-66's rear travel for a balanced ride, whether going up or down. The fork uses Fox's new CTD dampening system with three distinct tunes for Climbing, Trail, or Descending. Accompanying that is a Float CTD shock for rear suspension motion control -- with the same simple three position damping found on the fork. This makes tuning the SB-66 Carbon for the conditions at hand as simple as possible, and keeps handling dynamics balanced without finicky high- and low-speed compression/rebound adjustments.
Completing the Yeti SB-66 Carbon/Shimano XTR-XT Complete Mountain Bike drivetrain is an XTR rear derailleur, XTR shifters, and an XT cassette. XT Brakes keep speed in check with smooth operation and mega stopping power. Easton's EA70 line gets the nod for the handlebars, stem, and seatpost, atop which a Selle Italia SL saddle resides. The SB-66 Carbon comes in sizes Small through X-Large and two colors, either Raw/Turquoise or Raw/Grey.
Are you building these bikes from scratch?...
Are you building these bikes from scratch? Do you by chance have large frames available?
For the most part the bikes come to us from the manufacture boxed and un-assembled but we might draw from general inventory for specific circumstances. If we do not have a size listed however we do not have the inventory to get you that size unfortunately.
Dream Bike Priced Within Reach
I worked with Backcountry/Competitive Cyclist to custom build my dream bike SB-66c and must report that they delivered big time. My build consists mostly of the XTR-XT build seen here but I changed the drivetrain to a 1x10 with a Race Face Narrow-Wide with light bashguard, swapped the bar to Easton Havoc Carbon 750 (running 70mm stem), installed a Thomson Dropper Post, and finished it all off with some Troy Lee clamp on grips. I opted to forgo the rubber that was spec'd in favor of some Maxxis Ardent 2.4 (regional consideration) which I had no difficulty mounting tubeless on the Stan's Flow EX rims with a floor pump. All the components are bomber and the bike is still sub 30lbs.



The bike arrived days ahead of when it was promised, mostly pre-assembled. I went over every part from BB to brakes and could not find so much as a loose nut. Everything was adjusted perfectly.



I've been riding the bike for a couple of weeks now and can say that this super bike is no hype but I will reserve posting a more detailed performance review for after I've had a chance to put 'er through the ringer.



A huge thank you to all the staff that worked with me on the build. You exceeded my expectations in every way shape and form.




so far so good
Familiarity:

I've used it once or twice and have initial impressions
I've only taken this bike for a short 10 mile ride. The price is very good for a xt/xtr carbon bike even though it's a 26". The bike shifts flawlessly, brakes without much effort and it's incredibly light. This custom build by backcountry is very well thought they put some xtr components where wear is not much of a problem (crankset, shifters and rear derailleur ), I'd have liked xtr brakes as well but xt brakes are awesome too!



The 6" travel is amazing and I can see I will be able to drop from anything I'm able too without any problems, I can definitely say that this bike can stomp big airs, higher than I can !



The cable routing in this yeti is not the best around, but it works, there will be some cable rub if you don't use some protection in the frame, this frame is very prone to marks so some clear protection will be welcome! I'm not sure why the build guys decided to route the left shifter cable straight down the bottom of the top tube instead of across the head tube first, but that was no big deal and it took 5 minutes to re-route across the head tube to reduce cable rub.



The packaging and shipment was very good, the bike arrived in perfect condition and the brakes and shifters were working very well, I only had to do some minor adjustments in the rear derailleur stop limits. But the suspension was way off for me, so if you don't have one yet get a shock pump to dial the suspension to your liking and riding style!



Btw, the head tube was the perfect spot for my patriot goat! :-)
What's the length of the crankarms for...
What's the length of the crankarms for Size Small? Also, what's the length of the stem and width of the bar?



Thanks!
The crank arms are 175mm, stem is 70mm, and handlebar width is 685mm. We might be able to make some changes to the stem/handlebar if you want to customize this bike a bit- email me at mfarr@backcountry.com

Thanks!
Hi, Wondering about the non-listed parts...
Hi,



Wondering about the non-listed parts spec, specifically brakes/crank/cassette/fork?

Is the rear derailleur clutch?

Also, I see that the listed tires (Rocket Ron) are not what is on this build (Mountain King) - is there anything else in the part spec that is inaccurate?



Thanks.
Best Answer
that's what I got when I sent an email asking!



other than what you ask it comes with notubes flow ex, better to send an email! but you can always change components, I asked for a different stem. you might need to pay extra though



FOX Racing Shox 2014 34 Float 26 160 CTD OE Black, 15qr/1.5t



Shimano XTR Dyna-Sys FC-M980 Trail Crankset - Double 175mm, 38x26T



Shimano XTR Shadow Plus RD-M986 Rear Derailleur, Medium Cage



Shimano XT BL-M785 Hydraulic Disc Brake



Shimano XT Dyna-Sys CS-M771 Cassette, 11-36
Is this a custom build? Wondering about...
Is this a custom build?

Wondering about the Easton wheels, since Yeti doesn't list them. I'm interested and have the SB95 with DT Swiss wheels.

Also, is it a 2014 model?
Best Answer
This is a custom build. The wheels on this are actually the Stans Flow EX wheelset and Mountain King 2.4 tires.

It is a 2013.
What's the brakes on this bike? Can you post full spec of this custom build?
Wow, a 6 pound trail bike? For only $6,400?...
Wow, a 6 pound trail bike? For only $6,400? Sign me up.



Maybe you should have someone double check the write up on the weight (12.27 kg vs 2.72 kg).
Best Answer
Hey Matp,

That weight is listed for the frame only. These frames do weigh around 6 lbs per frame. You can easily build these bikes up to be anywhere between 26 and 30 lbs depending on parts spec!
do you have this build in size small?