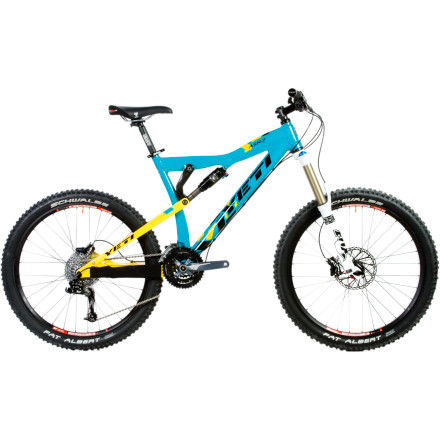 Detail Images
Yeti's ASR-7 stands out form the rest of the crowd. Actually, there really isn't a crowd. The ASR-7 is its own category of bike, more or less. Yeti challenges every convention of bike building with a lightweight all-mountain frame that climbs as well as an XC bike but delivers a full 7 inches of plush travel. Who else can claim this? Nobody.
Lightweight Fox RP23 shock with Boost Valve and Propedal gobbles harsh terrain like a freeride bike and pedal like an XC racer
Fox Float 36 fork with 160mm of plush air-sprung travel and stiff 36mm stanchions
Avid Elixir 5 brakes with increased modulation control, Anti-fade technology, and increased braking power
Share your thoughts
What do you think of the
Yeti Cycles
AS-R 7 Enduro - RP23 - 2011
? Share a...
No regrets getting this bike. Perfect bike for the the rocky, rooty, up and down terrain out here. Climbs very well and the downhills... Wow! The HuckNRoll crew did an excellant job on the build. Nice to see folks taking time on the details as though they are building it for themselves. Thx guys! Only things I changed were putting my sram 2x10 setup on, avid elixir cr's, easton stem and bars and my reverb post - perfect.
Since the weather cleared I rode it at Skeggs point and loved it's handling. The 7 inches of travel definitely help keep the wheels in contact with the trail. My older bike has 110mm(4.5 in) travel and compared to this, the ASR7 feels more planted around the corners. It feels stable on rock gardens and steeper sections as well( just lean back a bit and let the bike do it's thing). Climbing is not bad either. The RP23 pro-pedal definitely help, I can climb just as well. I use clipless pedals which additionally help as I tend to balance out the pedaling forces. Shifting is nice and precise with the SRAM bits. Huck N Roll did a wonderful job packaging the bike. It arrived in perfect condition. All in all, the experience is very positive!