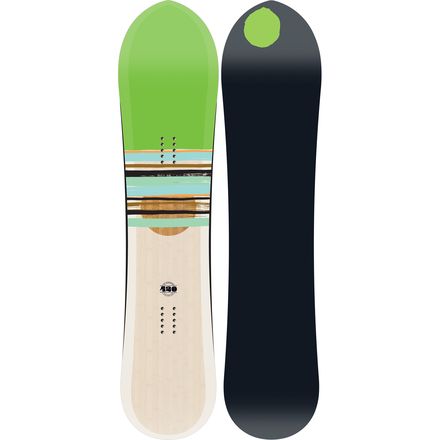 Cramming a gigantic surface area into a pint-sized board, the Yes. 420 Snowboard offers effortless float and maximum mobility in the deepest powder. Shattering misconceptions about riding powder on a radically shorter board, the 148-centimeter 420 has about the same surface area as a typical 160-centimeter board. The result is amazing powder flotation with the super-agile feel of a much smaller board when you're carving between tight trees and cranking spins off cliff drop and natural hits.
Stuffing incredible float into a small package, the 420's stubby-short shape measures a whopping 286-millimeters at the waist. This incredible width lends extra surface area to the board, giving you the float of a much larger deck without the unwieldy turning radius or extra swing weight. Next, you'll notice the board's spoon-like nose rises early, keeping you floating over bottomless pow, not helplessly submerged beneath it. The last feature that radically enhances float is the 420's tapered shape (16-18 millimeters, depending on size) with a slightly set-back stance. This slight set-back and moderate dose of taper work in conjunction with the large, early-rise nose, keeping you floating across the deepest powder stashes without having to lean in the backseat just to stay upright.
New for this year, the 420 features a Weightless core made of smooth-flexing poplar and super-light paulownia. Triax fiberglass keeps the board torsionally responsive at high-speeds. And because it's designed as a single-minded powder board, the 420 features a Sintered Spec base that glides across the deepest snow to prevent you from bogging down, especially across flat sections at the bottom of the mountain.
Super-wide, tapered directional shape
Powrock profile
Weightless core (poplar, paulownia)
Triax fiberglass
Sintered Spec base