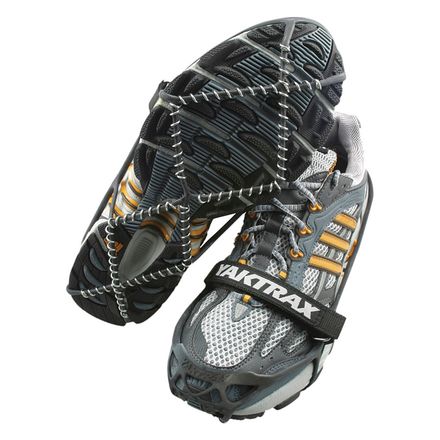 Community Images
Description
Stay sure-footed when things get icy.
Fear not the slick, icy surfaces of your front walk or urban streets when you strap on the Yaktrax Pro Shoe Crampon. This spikeless rubber device slips over your boot or shoe and provides ice-biting traction thanks to its SkidLock steel coil design. The flexible, natural rubber strapping conforms to your foot without hindering your natural step, and Yaktrax also added a hook-and-loop strap to keep your foot securely locked in. When you get to your destination, the Yaktrax pack up small until it's time to head back onto the ice.
Work great
Familiarity:

I've put it through the wringer
They fit any shoe and great for running on snow/ice. No complaints here.
Exactly What I Needed!
Familiarity:

I've used it several times
My wife and I purchased these a few weeks back for this year's icy terrain in the mountains. It took some time to figure out how to slip them on appropriately and stay, however after our first test trial, they have been working great. We have been able to last longer on hikes because of the excellent grip. Will no longer do winter/spring hikes without these guys!
Excellent fit
Familiarity:

I've used it several times
These fit great over my boots and strapped on tight. The traction they gave in the snow was excellent!
I am the rep for Implus, who makes Yaktrax, and I want to add to the reviews on here from a while ago. In the last few years we have worked to make the Pro stronger by increasing the rubber content in the compound and redesigning the toe and heel. It has resulted in a much stronger product that is great for everyday use on snow and ice. If you are needing traction for mixed surfaces or trail running, you might look at the IceTrekkers Diamond grip, which is much more aggressive and even stronger in the heel.
Easy on off, worn 2 seasons
Gender:

Female

Familiarity:

I've put it through the wringer
I wear mine for running and dog hiking in Madison, WI, so I'm on a blend of snow, ice, and dirt/mulched trail blended w bursts of cleared pavement. Beast and I cover 3+ miles 7 days a week at a local park, plus neighborhood jogs. I did add a security velcro strap running side to side over the top of my foot (used my bike pant straps) after losing one trax off my narrow boots. Otherwise they'd be a five star. Lasted 2 seasons and are ready for more. Back to get new pair for my daughter. Even if they only lasted one winter, well worth ease and safety!
I bought these despite all of the reviews about yaktraxs not lasting very long. I've had them now for 2 years and used them probably 30+ times. I have yet to have an issue with them. I wear them hiking in the snow/ice with my dog and they are a lifesaver so that I'm not slipping all over while she runs circles around me. They are very lightweight and easy to put on my boots. I do not regret my purchase.
I busted my ass pretty hard when shoveling my driveway. I bought a pair if these and my tush hasn't gotten snowy since then. I put them right over my size 10 work boots, and they fit well. The funny thing is that they are slick once you walk into your house if you have hard floors, be careful.
Looks ok, easy to put on and easy to break. Lasts only 1 year.
I have been using the Pro for several years. I had them when they first came out, and like some others on here, they didn't last more than a season. Since the first time I used them, they have been changed a lot. The toe and heel have been redesigned and beefed up. I noticed the box for this year says that they are 20% stronger - using a heavier compound. I love these for the simpleness of the design - they really work.
Your YakTrax Pro broke the second time I wore them.... very disappointed.................. BKH
I walk to and from work, it's 15 km round trip. In the winter, I am on hardpack snow and ice most of that trip and I had a pair of these last winter. They lasted about two months, and then the coils started to unravel. When they were working, they worked great.
I bought a pair of these for my GF and they kept her vertical for the season. But after the first year they started to fall apart. The rubber cracked and the snow and ice build up was a little much. So I'm glad we got a season out of them. Cheap enough. I wouldn't go crazy with these, stick them in the pack for a quick frozen pond crossing and make sure you keep them clean from debris.
Good for the casual snow walkabout
I haven't used these for hard-core trail running. But for the occasional lunch-time hike in the packed snow, they work great. The only "issue" is the snow will sometimes clump up in them and it feels like a giant lump under your foot until you clean them off. I have not tried them on hard core sidewalk ice yet, so I can't speak for their traction there.
I love YakTrax (and the beefier Kahtoolas if it's icy outside) when I take my dog out on snowy trails or hike with dogs from the Salt Lake County Animal Shelter where I'm a volunteer dog-walker.

See my other photo with comments about the Kahtoolas at http://www.backcountry.com/store/cpi/17180/better-than-YakTrax

or general info at http://www.backcountry.com/outdoorgear/Kahtoola-MICROspikes-Traction-System/KHT0012M.html
Yak Trax evidently are for the trek between your limo at the curb and your office building door. They disintegrated on me within a couple miles and a couple hours on snow covered trail. Catch a rock or stress them the wrong way and the rubber straps break. Great idea just not stout enough for backpacking.
Perfect for its intended use
I walk in my pair of YAKTRAX about 2-3 miles on a daily basis. They aren't designed for trail running, so don't expect them to hold up against rocky, technical terrain. For low-volume road running, they're fine, but they truly excel as a commuting tool on icy sidewalks.

Lastly, don't be that guy (or gal) that leaves them on and walks inside of a building with tile floors - you'll find yourself flat on your back and totally embarrassed!
These things are pretty light and unlike other options are compressible. I've taken them on several icy road and trail runs and they held up well.
However, with the recent snow I took them on a trail run and hike up Days Fork in the Wasatch Mountains of Utah. The conditions were icy refrozen snow and sun soft powder, with some bare rocky patches. Inspecting them post run, it would not be at all surprising to see them break on the next run if more rocks were involved.
Bottom line... when unsure of the footing you'll encounter and traveling light they do the job in a pinch and just might save you a hip flexor, or groin pull.

FYI: Had no problems with the product slipping off my toes. Perhaps, a smaller size would help those who had this experience.
These aren't track shoes but they do aid in walking on hard packed snow & ice. I feel very confident using them on slopes up to 30 degrees. For best results, remove ice & snow that accumulate on the coils from time to time.
Work extremely well...for a while
Took these on a 2 day winter hike up mount mitchell and the black mountain ridgeline. Snow reports were 6-8 inches on the ridges so I knew I needed some extra traction. I wore these the entire time, with conditions ranging from slush to ice to deep snow. The yaktrax performed extremely well in all conditions. In 2 days I did not slip once, including going up a stairway of rocks that were covered with 2 inches of smooth ice with a 45 pound pack on. My only complaint on functionality is that wet snow will clump up very quickly and needs to be broken up. Other than that, these perform beautifully. But by the end of the 2 day trip, the rubber straps on each crampon had broken, which caused the metal coils to fall off. With only two days of use, these are basically disposable, one time use, which is not ideal.
good for streets not for trails
Someone recommended these as some extra traction on snow/ice on trail for hiking. While the weight and ease of use (even with frozen fingers) was great they kept popping over the front of my trail runners while hiking/stepping up on a rock or root. They did add some traction but this was outweighed by having to constantly fix them. I think they would be 5 start for the street, 1 start for the woods.