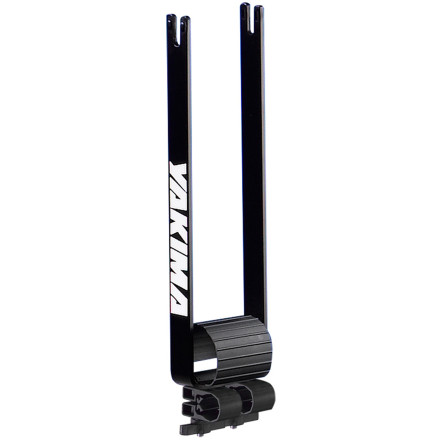 Colors

Detail Images
Description
With improved security features, the Wheel Fork Tire Mount will stick around for the long haul.
The Yakima Wheel Fork Tire Mount securely holds one front wheel and comes equiped with quick release secondary security tabs. An anti-spin device stabilizes wheel, and it mounts equally well to round or square crossbars.
Does what it looks like it does
Familiarity:

I've used it several times
Works just fine for use as a backup option when there's too much stuff in the car to fit a front wheel. I've used this fork with both mountain and road wheels on short highway trips and a long highway trip with no issues. As other reviews have mentioned, there are a few minor annoyances that could be better:



-- No "safety" catch. The notch at the end of the fork is straight, so it's just the wheel's quick release that holds the wheel on.

-- The clamps do not totally lock the fork in place on Yakima round bars when loaded with a wheel, it will rotate down so the wheel rests on the car roof.
Average Design
Familiarity:

I've put it through the wringer
There is no back up to secure the wheel. I nearly lost a wheel and cross country road trip. Also the "anti-spin" device is flimsy and didn't last all that long. Another thing is that the arms don't stow away when not in use.
I've been using these wheel forks for 17 years! On over 4 different vehicles,never lost a wheel or anything. My wheel fork doesn't have the anti spin device, it's just an aluminum fork. Chalk one up for the old school.
Good for paddles, not for wheels
I've lost one wheel from not cranking the wheel down onto fork. The wheel (with road tire-so low drag) popped off with a gust of wind from a semi. Thule make a far better design because the skewer goes in the front then down instead of straight down. I still use this fork but I threw some pipe insulator on it and now use it for strapping kayak paddles down inside the fork. If you use this for a wheel throw a saftey strap on the rim just in case.
A great little product to keep your tire out of the back of the car making more room for you and your buddies. They do not take up much space on the bar and can go on the back or front so it is really versatile. They are pretty convenient when carrying a lot of junk. I love mine use it most trips.
Yakima Wheel Fork Tire Mount
Nothing worse than having a full car with bikes on the roof, ready for a road trip to a race, and realising you have to fit three or four front wheels into the car! These things are cheap, and a great convenience.
I recently outfitted a 15 passenger van to hold 12 bikes and 12 wheels. Yakima's wheel forks are crazy simple to install and use. The anti-spin devise applies enough pressure to keep the wheels from spinning, yet not enough to make it difficult when I attach a wheel. People have commented about the forks tilting back on them while driving, I have not had any issues so far, but I will keep a close eye on it.
Pretty simple design, sturdy and lightweight construction. I feel completely safe with my tire on here, the little tabs really help keep the skewer from being able to slide off. Fits my 29" tire too. I will be ordering another one soon, so I can put two tires on my roof.
I have to agree with Ekatalin, these tire mounts are not the most stable when mounted on round bars. That is because they always angle backwards no matter how tightly I screw the two clamps. This, in turn, causes them to rest against the roof of my car, which in and of itself isn't a very bad thing, but it does make me worry that a sudden and or sharp jolt will loosen the tire from the mount itself and cause my tire to go bouncing down some highway like Ekatalin's had done. So, I would recommend that anyone who purchases these tire mounts really tighten their quick release axle into/against the fork and that they check it as often as possible.
does the wheel holder fold down (to a...
does the wheel holder fold down (to a horizontal position) while not in use? i'm not too keen on the idea of having this thing sticking up in the air all the time.
Yes. Just loosen the two hand tightened fasteners, fold down, re-tighten.
Can I mount it directly to a factory Dodge...
Can I mount it directly to a factory Dodge roof rack?
It completely depends on what your crossbars are like. If you have round or square crossbars, you'll be fine. If they're the typical airplane wing-shaped factory crossbars, you'll need to get a set of towers and crossbars before you can use this.You can also use the Yakima "Multi Mounts" to mount this to a factory wing shaped bar - they don't tell you this, but it does work....
Great for mountain bikers, okay for road
I purchased two of these wheel forks because I started racing cross and I didn't want to put my muddy tires inside my car. The things work great, but I'm not that thrilled with the anti-spin device. I'm not sure if anyone else is having this problem, but it is difficult to get the wheel into the fork. So I took the anti spin device off and just position the tire so that it sits on my roof. Looks awesome with the rest of my rack though!
Yakima Fork Tire Wheel Mount
The product itself is great. Far improved over past models with both the stop that keeps the wheel secure and the device which keeps the wheel from spinning.
That said I wish the website would have had dimensions for the mount. With two bike mounts and one kayak mount on top of my Xterra, I had a hard time fitting them (I bought two) on because they were wider than I expected.
Anyway, excellent product. Just make sure you have room on top for the product.
Good product, secures the wheel very strongly if you properly adjust the quick release.
The wheel fork tire mount is okay. We love our Yakima roof rack and wanted to be able to store the tires up there as well as they get muddy quite often. The first problem was that the mounts have to go in between the two bike holders, meaning that I cannot put my wheel up there from the ground. Either I have to climb up the car or my boyfriend can reach. So placement was a bit of a problem, getting 2 bikes & 2 tires on top of a Saturn. They are also not lockable as far as I can see, so that's a risk. Lastly, they're not the most sturdy. We have them pretty tight but sometimes they slide backwards on the round bars. Yesterday that happened on the highway & the wheel came off & hit the car behind us. Luckily no damage or accidents, but needless to say I likely won't use it again on the highway unless I am 100% sure it's safe. Not sure if that was our faulty securing of the wheel or the product design, and I will use it for when I ride locally and get the bike muddy, but we are a lot more careful with it now.
No more muddy trunk space
The perfect accessory to go with your Boa or similar bike mount. I don't know about you, but I don't really want my muddy tire inside my car with me…this is a totally secure way to store the dirty tire on the OUTSIDE of the car…where dirt really belongs! This thing even comes with an anti-spin device that helps eliminate the noise that comes when you don't have one equipped!