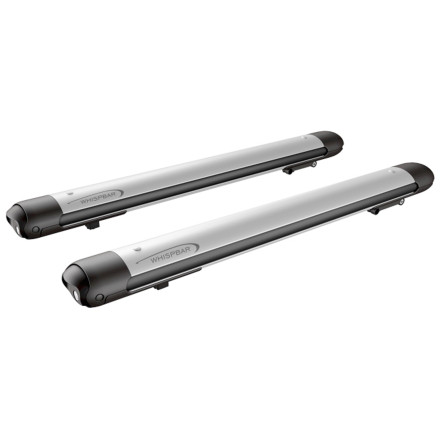 Load up the sleek Yakima WB300 Rooftop Ski and Snowboard rack, drive to the mountain, and let the pow slaying ensue. The innovative hinge system accommodates six pairs of the fattest powder skis or four snowboards, and the included SKS Locks send would-be thieves packing.
WB300 will securely hold up to six pairs of skis or four snowboards
DoubleJoint hinge system is specifically designed to hold fat powder skis and boards
Mounts with industry standard T-Bolts and universal clamps to Yakima Whispbars and most factory square and aerodynamic cross bars
Integrated ski lift provides the necessary clearance for ski and snowboard bindings
Included SKS Locks keep your skis and boards safe and secure
Anodized aluminum and polymer construction lends a sleek look and exceptional durability
Consult the Yakima Fit Guide for specific mounting information regarding your vehicle
Sweet Rack
Familiarity:

I've used it several times
Nice low profile rack, really quiet as well. My only complain is that with more then 2 boards in the rack the lock is pretty hard to lock down. Overall awesome rack.
Great Rack
Familiarity:

I've used it once or twice and have initial impressions
Base: Whispbar Flush

Car: '12 Mazdaspeed3



I have another review of the base bars which covers their installation and attachment installation. Once I got the snow mount attached, it was smooth sailing. I couldn't hear this rack above the standard road noise I get from my snow tires. As for ease of use, it's the same as all the others; open it up, slide in your skis and boards, then lock it up. From what I'm told, you're supposed to put the tips towards the rear of the car with skis.



When all is said and done, the best part is that you can leave the wet skis outside and carry more people and gear inside.
Will these racks fit a round Yakima bar...
Will these racks fit a round Yakima bar cross?
Best Answer
Brannen,

The Yakima WB300 Rooftop Ski & Snowboard includes two styles of mounting hardware -- 1) T-slot Mounting Hardware - allows the WB300 to connect to Whispbar cross bars T-slot channels and Thule AeroBlade T-slots. 2) Stainless Steel Mounting Straps w/ Protective Rubber Covering - allows the WB300 to attach securely to virtually all factory racks as well as any aftermarket base rack systems including Yakima Racks round bars, and all Thule Rack load bars (WB300 fits AeroBlade and Xsporter crossbar T-slots).
Great winter sports rack
Familiarity:

I've used it several times
It fits 4 boards pretty snugly, the straps grip well to the bars and I can take off/put on the whispbar holders in probably 2-3 minutes, which is nice. I haven't really noticed too much extra noise on the highway which the fairing helps with but my car is kinda loud anyways. The height is also good, doesn't look goofy but gives just enough room for boards to go in upside down without hitting the roof.
I got these to put on my Thule Aero blade bars and have used them extensively for a full season. The fit great in the slots for a nice streamlined aerodynamic mount. I can realistically fit two snowboards and 2 pairs for skis. I really don't think that you could fit the advertised 6 pairs of skis or 4 snowboards. Maybe 4 pairs of skis or three snowboards max.

Otherwise they are really easy to use and super easy to mount. The large button to release is a really nice feature.

They will still increase your gas bill, even though they are quite aerodynamic.

I would definitely recommend these, although price is a tad on the high side (hence the 4 stars).