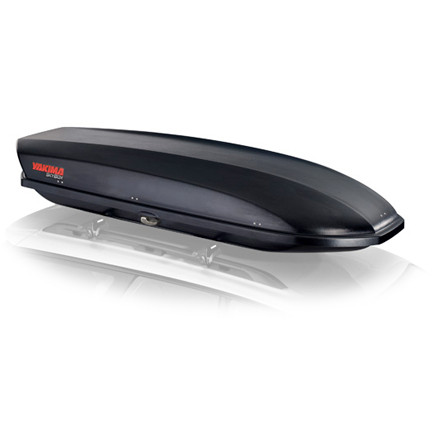 Community Images
Use your seats for people instead of gear thanks to the spacious carrying capacity of the Yakima Sky Box 16 Cargo Box. This versatile roof carrier holds enough gear for the most epic roadtrips and its super-safe security features let your store even your most precious outdoor toys.
New lid design is 50% stiffer for less rattling and easier opening
Super Latch Security provides a safe and secure closure
Quick-Installation hardware easily attaches to any roof bars and most factory racks
Aerodynamic shape reduces drag and wind noise
Unanswered Question
Will this fit on a Mini Clubman? If so, do I need anything additional to mount it on Mini-installed crossbars? (Huge thanks in advance for any information you can give me.)
Perfect for a family of 5.
Familiarity:

I've used it several times
We have a family of 5 (including our two huskies) and this is perfect for us to be able to go on road trips. The dogs get the back of the subie all to themselves and all our gear goes up in the cargo box.
Unanswered Question
What is the difference between the 16 and...
What is the difference between the 16 and the 16s?



Phil
Great product
Familiarity:

I've used it several times
I've had my Skybox for about four months and we've used it on a few road trips. It has plenty of room to carry our skate and touring skis, or a stroller and a week's worth of clothes. It cuts down a bit on our gas mileage, but that's to be expected for any cargo box. It fits well on our 2006 Outback, leaving plenty of room to open the tailgate door. Now that I've done it a few times, I can install it on our car in under ten minutes and remove it in about two.
Do you know the internal dimensions? Ski...
Do you know the internal dimensions?

Ski of any length up to much does packable?

Can accommodate Renegade 186?
The Skybox 16 is just a little shorter than 7 feet long and should easily fit your Renegades.
Do you ship to Canada (Nova Scotia)? If...
Do you ship to Canada (Nova Scotia)?

If yes What would shipping charges be?

How long would shipping take?

Do you know if any duty is required for shipping across border?

Thanks

Curious in Canada
Best Answer
Hi Robert, thank you for your question.

We can ship to Canada, but unfortunately not all brands. Here is a complete list of our restrictions:

http://sales.liveperson.net/hc/s-9551721/cmd/kbresource/kb-3621950925889197663/view_question!PAGETYPE?sc=120&sp=94&sf=101133&documentid=239527&action=view&VisitorProfile=BCS2&MESSAGEVAR!home=yes&MESSAGEVAR!cookie=no&MESSAGEVAR!docid=239527
Skybox 16s
Familiarity:

I've used it several times
Just bought my yakima skybox 16s the "s" Stands for short and is truly the only difference between this box and the SkyBox 18.

I fit 5 snowboards in this box with room to spare.

Installed in 10 minutes in the parking lot of Backcountry.com's warehouse here in SLC and couldnt be happier with the look and space this box provides.

Its practically silent on top of my 06 Pathfinder and I haven't noticed and MPG loss.
I have a 2008 Subaru Outback with factory...
I have a 2008 Subaru Outback with factory side rails, without crossrails. What do I need to get to be able to use the Sky Box 16?
This is the box that I have on my 2000 outback. I think the side rails are slightly different on the newer generations, but for my setup I have 4 RailGrab Towers (http://www.backcountry.com/yakima-railgrab-tower), and a set of round Yakima crossbars, I think they might be ~48" but not positive. The size of those that you'll need will depend on if you plan to put anything else on your roof (I also have a bike rack up there, so I needed some wider bars). Also, you'll probably want a 4-pack of SKS cores to secure the bars to your vehicle.
will this fit a 2012 honda pilot without...
will this fit a 2012 honda pilot without blocking the rear hatch and moon roof?


Best Answer
It'll sit over the moon roof, but it'll still be able to open. As to the back, there's usually quite a bit of leeway in how far forward you can mount it to let the hatch open. I have a friend with a slightly older Pilot and a box (not sure which model) and he doesn't seem to have any issues with it.
I love that it opens from both sides, making my gear easy to reach. I purchased it with the intention to us it primarily for snowboards. I decided on this instead of something snowboard specific because it is versatile and can be used year round for various things. I?m also very impressed with how dry it keeps its contents, I even took it though the car wash and was thoroughly impressed. Great job Yakima! Worth your peso!
Depends on how much stuff you put in it. But my step dad has one on his coleman trailer and it holds it just fine.
Unanswered Question
Will the Yakima skybox 16 work on a 2007...
Will the Yakima skybox 16 work on a 2007 Camry? Is there enough room for a couple bike racks? I have the bike racks , could this be attached to the bike rack bars, or would that be to much weight and width for the top? Thanks Ron
This was my first big camping trip, the box accommodated gear for two adults and two big dogs with separate tents. It was easy to secure to my Nissan Rogue's factory roof rack with cross bars. It did touch the spoiler but no biggie. The ease of use and added cargo room was worth it.
Short Base, Awesome Cargo Box
I bought this to replace an old Rocket Box that was forcibly removed from the top of my car. Perfect for me. Wider and taller than the Rocket Box which I thought was a bad use of space, but shorter so It doesn't hang over the front or back of the car. I can fit everything for my family and I in the box, leaving room in the back of the Outback for the dog. Very easy to take on and off if you desire. I can do it by myself with no problem. The new levers used to tighten the clamps on the factory bars are a blessing. Less sound and wind resistance. No more rattling, and just a small amount of wind noise when no music is playing. Overall perfect and exactly what I need.
I've been looking to get a roof box for my 1998 Subaru Legacy Outback Wagon for some time now and my two requirements were that it fit my skis and that it fit my crashpad (not at the same time). It turns out this was the perfect box. It will fit any of my skis up to 186cm without any tweaking and it will fit my crashpad, an Organic Full Pad (36in x24in x8in. folded) without any problem. There is little to no windnoise when driving at highway speeds and so far I haven't noticed a major drop in gas mileage at all. It was very easy to install (with the help of a friend) and goes on and off easily for when I am not using it on my factory crossbars.. The latch mechanism and the general "hand feel" of the plastic is also very reassuring and certainly stiffer than older models I have used on friends' cars.
Write your question here...Will this sky...
Write your question here...Will this sky box fit my 2007 tahoe z71 with factory crossbars? with out rail grab towers?
Yes it will fit with no problem.
Yes, as long as you have it placed towards the front to where the rear hatch will clear it.
I just returned my Yakima Sky Box 16 after it popped open for the second time in a few years. Coincidently, this occurred while crossing bridges both times and we lost lots of gear both times. Also, the lid popped off the hinges after while packing it during a blizzard at Alpine Meadows. Yakima has not even given me the courtesy of a response from so-called customer service.
On to Thule.