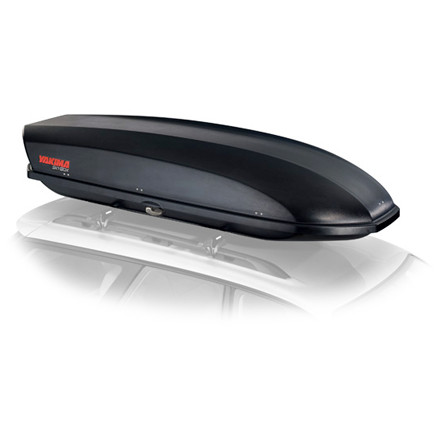 Community Images
For those uncontrollable roadtrip urges that inevitably strike throughout the year, the Yakima Sky Box 21 Cargo Box is ready to swallow up a weekend, week, or an open-ended trip???s worth of gear. Integrated padding and organization keeps your toys neatly protected, and the super-safe locking mechanism keeps trailhead thieves from ruining your trip.
Quick-installation hardware easily mounts to nearly any rack system without tools
New aerodynamic design and stiffer lid cut down on wind noise and drag
Super Latch Security ensures your stuff stays safe while you???re away
Box opens on either side for quick access to your gear
Integrated tracking system
Share your thoughts
What do you think of the
Yakima
Sky Box 21 Cargo Box
? Share a...
HUGE
Familiarity:

I've used it several times
You can pack some, and then some. Perfect for a big group and all of your gear.

Only issue, on a wagon, your hitch might hit the back of it.
is this a waterproof carrier? Can i hold gear in the Sky Box 21 on a rainy drive and everything stays dry? or over night in a rain storm for example?
Thanks!
Yup. I put all my clothes in this and drove across the country. They were not in water proof bags, they were just folded and laid flat with a mess of other gear stuck in there.
A black hole for gear
Familiarity:

I've put it through the wringer
This thing is HUGE!!!

It fits so much gear! full loaded packs, skis, ropes, tents, muddy boots, and still has room for more! I Put this on top of my Subaru forester and have doubled my cargo space. Its the best not having to pile your car to the ceiling with gear on long trips. I have noticed when driving faster than 50 in heavy rain a bit of water seems to get in near the front, I think its just road spray that makes its way up there with the wind, but its not much water at all.

I have some friends who have this size box and they said it drops their gas mileage about 2 MPG but I have not noticed even that much! I have an app on my phone I have been tracking my cars mileage with for over a year and I am staying right on my average and on a road trip to California there were some tanks that I got way better than average. Not sure if this will be true for all cars but its working great for me!
It is massive and awesome
Familiarity:

I've put it through the wringer
Have used this for a several trips now and it is great! I currently use it on a 2013 Honda Pilot with Yakima crossbars. This thing holds a ton of gear. I wish it opened just a little bit wider, but you can still cram all your duffles, sleeping bags, camping chairs, and anything else in there. It is pretty heavy, but I am able to put it on and take it off by myself. It gets stored on a shelf in the garage rather than left on the car.
Yakima Skybox Install video
Works great, easy to mount, huge capacity
I have a 2011 outback. I am considering...
I have a 2011 outback. I am considering the skybox 21. I am concerned with access to the hatch and also will I be able to receive satellite radio with the sky box 21 attached? It looks like the antenna would be completely covered. To be honest the satellite radio is not too important but my wife is wondering.
You will NOT be able to receive satellite signals with the box covering your antenna. If its a factory antenna, you will have to position your box for line of site to the antenna, otherwise try and relocate the antenna. I can't comment on your hatch question, but if Yakima shows this as compatible with your car, then I am sure they have done the math already.
This box has made my life so much easier. It is very large, and I can throw a few pairs of skis and a couple of boards in it, yet also have room for boot bags and other stuff. On roadtrips, it easily swallows a couple of large duffles, camp chairs and sleeping bags for the whole family (leaving much more room in my vehicle).

It is easily adjustable to fit different roof racks, and clamps down on the crossbars very securely. I have used it for multiple trips over at least several years, with no real signs of wear. It's really nice that it can be opened from either side. I have used it in heavy rain, snow and slushy roads and my gear has always stayed dry. And I haven't had any problem with wind noise.
This bin is great. I can keep the full quiver of skis in it, have easy access from both sides. In the summer, I can store all of my camping gear to not take up the space in my xterra if I need more room. I can easily carry 8 pair of skis in the bin. I have used it for four years now without issue.
i purchases this cargo box for a trip to P.A. it was perfect. i used it on our 2010 tahoe. myself and 5 others traveled and we fit everything we needed in it. it was easy to use. attached easy and rode great. have since used it several times for travelin with or without my husband it has been ideal. everything stayed dryed aswell. price was great if you shop around id be very surprise if u found anything this perfect and this price.. i suggest this product to anyine looking for a cargo box.
When my Sky Box arrived one of the latches was broken and the other two latch pins were bent. Appears that the unit may have been used already. Had a replacement sent out and the Yakima logo stickers were already pealing off. The box is easy to install and has loads of room but I am not sure it will hold up.
I got this for more room on our road trips. There are 5 of us, my husband, 3 young kids and myself. We can put a double stroller, pack and play, 2 large packs, and 4 sleeping bags in this thing! It's easy to use and easy to install. Drove thru some rain and everything stayed dry. Have yet to test it out in a crazy storm but will post once I do.
Just got back from a 3000 mile adventure and must say that the skybox is rad! The hardware is top notch and we barely knew she was up there. Holds lots of gear even a jogger stroller w/o wheels.